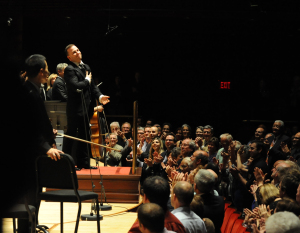 Since taking over his full musical directorship of the Philadelphia Orchestra, conductor Yannick Nézet-Séguin has done as much as any single person could to bring audiences back to the concert hall in Philly. He was not only on hand the NYE concert, usually an occasion for a guest maestro, he hung out in town for a usually dank musical January, essaying three separate programs, then led the 156th Academy of Music Anniversary gala concert and ball, sharing the stage with everybody's favorite Broadway hottie (& Wolverine) Hugh Jackman. (Photo by Pete Checchia.)
There were unexpected surprises in the series; the January 19 concert in Verizon Hall, which swung into steeled action with the power of the Philadelphia Orchestra strings, showed without doubt they are back under Yannick's directorship. The strings just grabbed us by the throat for Ravel's La Valse which can satisfy almost by rote, but Nézet-Séguin's signature is to drive deep into a composition and building its force from within. Here they busted open the waltz progressions with sonic translucence.
Greek violinist Leonidas Kavakos then played Karol Szymanowski's Violin Concerto No. 2 hypnotizing with the composer's earthy, ever wending violin line, punctuated with stellar orchestral interlocks. The capper, Shostakovitch's titanic Symphony no. 5, wasn't as cohesive as the orchestra is capable of (weighed down with erratic pacing in the center), but that didn't dampen the finely detailed solo work. The final two movements had such orchestral thrust that it was ultimately triumphant in the hall with the audience bounding to their feet and Yannick taking four curtain calls.
At the Academy Ball concert on January 26, the city's business and civic community payed big bucks to support the upkeep of the historic opera house, not to mention the Fab Phils. Local luminaries mingled with a diverse crowd of local luminaries from Philadelphia Gay News editor Mark Segal to Philadelphia Phillie's star pitcher Cole Hamels. Michael Nutter, Philly's Democratic Mayor traded barbs with Gov. Tom Corbett, and both invoked past celebrities who stood on the Academy stage -- Tchaikovsky, Stravinsky, Mark Twain, Marian Anderson and Bullalo Bill -- just to mention a few.
But even with all that formal window dressing, the night belonged to Hugh and Yannick. In fact Hugh was so game he even mopped the maestro's brow with a hockey t-shirt that was tossed onstage. Yannick chose all showpieces to entertain the well-healed crowd. Rossini's overture to William Tell played with thrilling intensity and in the finish an orchestral gallop as glittering as the Academy chandelier.
Last year, Yannick played Bach's Brandenburg concerto at the harpsichord before he conducted Mahler's titanic 6th symphony. As game as he was, it wasn't his finest moment at the keyboard, obviously saving himself for what could go down as a historic performance of Mahler. This time he was ready for a section from Mozart's piano concerto no. 21, conducting from the keyboard and instantly conjuring the delicacy and drama of the piece. The orchestra concluded with J. Strauss' 'Emperor's Waltz' big and beautifully animating the hall.
Then Hugh Jackman entered singing "Oh, What a Beautiful Morning" from Oklahoma and proved he is one of the best Broadway vocalists around -- and belter. In fact his finishes have a bit of Merman in them and he knows how to play to every seat in the house. Jackman tossed off ear candy versions of "One Night Only" from Dreamgirls and a very Vegas circa 1961 "Mack the Knife." Nothing distracted from his charm. Straight women and gay men hung on his every word and the business cultural crowd was just as impressed. Jackman showed real musical muscle on the father "Soliloquy" from Carousel . And he brought the house down with "Who Am I" from Les Miserables.. He told the crowd that for this occasion it would be the first time he's had the opportunity to sing it with an orchestra.
Jackman chose a song by fellow Aussie Peter Allen to commemorate Australian Day with accompaniment by the great Philadelphia Boys Choir, who stood in back of the orchestra, but Jackman without doubt was genuinely impressed with them and vocally sublime. The star also took it upon himself to recite the first name of every member of the orchestra purportedly from memory which provided for some laughs when he struggled to remember. Classy would be the word.