Hey Everybody, Welcome to Pleasantville. If your screen has turned to black and white, please do not adjust it. It is here that the Religious Right exists, and welcome to your glimpse of it.
This may feel weird to you, that's because it is.
Even though I grew up in the Church, I was still caught off-guard when immediately following the grand announcement that the Royal Baby had been born, the Religious Right took to Twitter to remind us that Jesus -- the same dude who is begging Christians to get off Pat Robertson's nip, to help homeless people, and who like, delivers Peace for a living -- is also apparently, a narcissist. Because after all, Jesus loves being depicted as a guy who can't handle anything in the entire world happening without him. Not award shows, not sporting events, and especially not effin' royal babies taking attention away from him on social media. You see, Jesus did not selflessly die on the cross for us to forget about how much everybody owes him on Twitter. #Jesus #NoOffense #Jesus #sorryIsaidNip
But seriously ya'll, I truly believe that if Jesus came back today, he would probably be holding his face in his hands in utter disbelief. In fact, I'd even bet that he'd opt for a name change.
That's assuming that he'd even arrive safely. Jesus has been presented to be white and conservative and republican for so long, I honestly believe the Religious Right is expecting someone who looks more like them in the mirror than someone from the Middle East (because Jesus was, after all, Middle Eastern). Can you imagine the reaction if the return of Jesus looks more like an undocumented brown man flying through American skies without a passport, than it does the white-washed version of American Christianity?
I wrote a rap about it: Kum-by-ya? I think naw.
You see, even though not a single person said that the birth of the Royal Baby was more important than Jesus, the Religious Right took to twitter to remind everyone of what not a single person said in the first place; it appears that Fundamentalist Christians continue to be obsessed with starting and finishing wars against themselves.
To them I say, in the most kindest way possible: stop hitting yourself.
But back the Royal Baby. My point is everyone calm down. Jesus is pissed.
To the Royal Baby: Welcome! It's your big day. I was completely apathetic to your birth (I was so hoping you'd be a girl) until I realized we have something in common. People who made our special day about Jesus.
You see, I was born on Christmas day to a Southern Baptist preacher. It was then that I learned about a man whose birthday I stole. I would later learn that Jesus actually stole his birthday too, because he was really born in like, September or something, but Christians needed to utilize a widely celebrated holiday by Pagans who were celebrating the birthday of the sun. What better way to honor the sun than to misspell it and recast it as the celebration God's "Son." Catchy, right? But facts are weird. Blahhhhhh. (Can you even read this, you're a baby?)
What I mean to say is that I too have had people remind me my entire life, even as I clutched my Texas birth certificate with my cold white baby knuckles that it's not really my birthday, it's Jesus' birthday. In fact, even last year my birthday cake had parenthesis on it, "Happy Birthday Jesus! (and Lianna!)"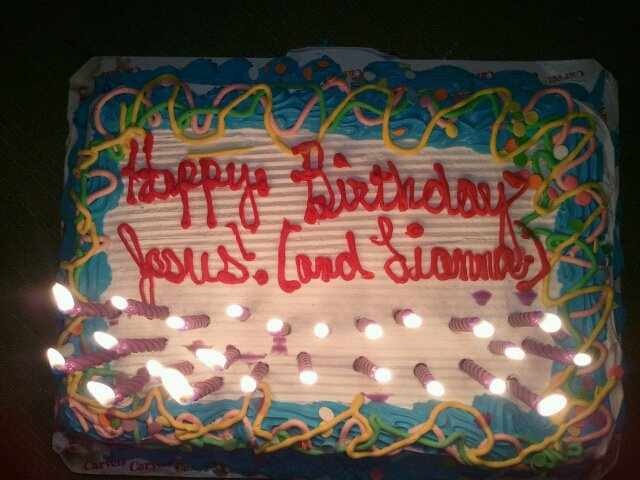 Yes, thats real. And it's also hilarious. And rude. And ya know what? Jesus probably thinks this it's hilarious and rude, too. And isn't that the point: To get over stuff and love stuff and laugh and stuff and find things that don't contribute to the good stuff as rude. And then just leave it behind in rude-ville.
So, Royal Baby, this is where our similarities end. I will never know splendor like you, or fame like you (call me?). But the flip side is that you will probably never be as handsome as this devilish tomboy. So from me (and Jesus), sorry about the unneeded misdirection. Because maybe, just maybe, Jesus hates the Royal Baby they're making him out to be. Happy Birthday kid. #Nips
Xo,
Lianna
oh its a boy...its a boy, let me remind everyone of the REAL Royal Baby born a while back and His name is Jesus and HE died for you!

— ∞Ρastoʀ✟ʀobb∞ (@PastorRobbM) July 22, 2013
Jesus could've come just like this royal baby with a bunch of publicity and in a palace, but he chose a barn... #woah #truehumility

— Kristin Rivera (@kristin_rivera) July 22, 2013
The only royal baby I will ever bow down to is Jesus Christ y'all. #SorryNotSorry

— Isaac Mier (@iMier7) July 23, 2013
The royal baby was born a long time ago. His name is Jesus Christ, and we should be looking for his arrival.

— Erin West (@erinmichellewes) July 23, 2013
and lastly, this Pastor's response to a genuine question could not be more perfectly ironic:
.@TinkaMyrrh @jennifer_knapp seriously? you totally miss the point..wow.

— ∞Ρastoʀ✟ʀobb∞ (@PastorRobbM) July 23, 2013
#SMH