I have the best job in the world.
My husband and I have taught karate for over 20 years. Sure, some days I feel like I'm herding cats, but teaching karate to a talented group of kids is an amazing experience. To see a child walk in with no skills or confidence, and to watch as they grow into strong, respectful and courageous young people is incredible.
We hosted our annual tournament, the U.S. Kyokushin Open, a few weeks ago, and once again I was blown away by how much we can learn from these kids. Neither their age nor sport really matter. What matters is how they act under pressure and how their strength, determination and grit always show through.
Some of the lessons will make you laugh, and a few will make you cry. But each student shows how special and unique they are and this is just a glimpse of what these kids have to offer the world.
Reggie: Always Dream Big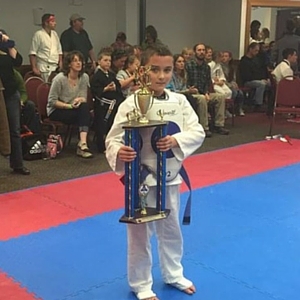 Reggie is one of the best students we have ever taught. He's positive, never complains, and always gives 100%. He's extremely easy to teach and it's been a joy to have him in class.
Yet, Reggie started off as a timid fighter. He always placed either 2nd, 3rd or even 4th whenever he fought in competitions. I'd call Reggie a solid fighter, but I wouldn't have said he was the favorite to win his division this year.
Reggie thought differently and set a goal of finishing 1st place in the fighting division, no matter what. He didn't brag or make a big deal about this -- we only found out after the tournament. And that is why you see Reggie standing proudly with his 1st place trophy!
Reggie's lesson: Set big goals. It doesn't matter what anyone else says, as the only one that has to believe is you. Until you prove them all wrong.

Carlos: Kindness Matters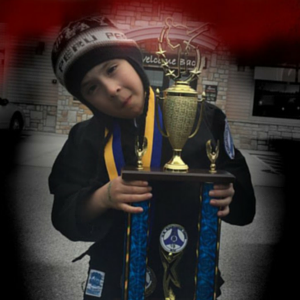 Carlos is a character. He's the smallest kid in class, yet has one of the biggest personalities. He's always cracking a joke or making us laugh. He's currently the top student in his class, and loves being a leader. He's got a wicked round kick. He's only 6 years old.
Carlos was scheduled to fight Courtney, a 7 year old fellow student. Courtney was extremely nervous about fighting, even though she towers over Carlos. With tears in her eyes, Courtney told me she wanted to fight but was really scared.
Carlos saw how Courtney was struggling and came over to talk to her. He told her that he wasn't going to hurt her. He showed her the trophy she was going to win. He told her it was going to be okay.
Courtney beat Carlos, but that didn't matter. The grace and compassion Carlos showed his competitor is something that I've never seen before. I'll never forget it.
Carlos's lesson: Kindness matters. It matters even more when you're kind to your opponent.
Courtney: No Limits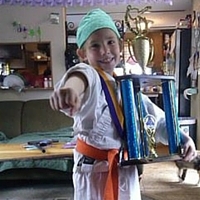 Although I will always be impressed with Courtney on the day of the tournament, her story actually goes much deeper. Courtney lacked the confidence to perform in public. She was in a few school plays and was too shy and hesitant to speak (picture lots of tears).
But Courtney isn't the kind of girl to let anxiety keep her down. She struggled on the day of the tournament and overcame her fears (with a little help from Carlos!). And Courtney didn't stop there!
A few weeks after the tournament, she volunteered to be part her school's performance of Circus Circus. In fact, Courtney created an entire dance/gymnastics routine for the final act. She did this all herself. She's gone from a girl who shied away from the spotlight to The Girl on Fire.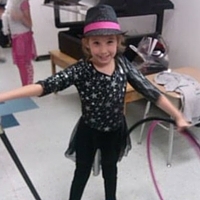 Courtney's lesson: Don't put limits on yourself, even if you're scared or anxious. It took some time, but each of Courtney's small victories led to greater confidence in other areas.
Bradyen: Celebrate Small Victories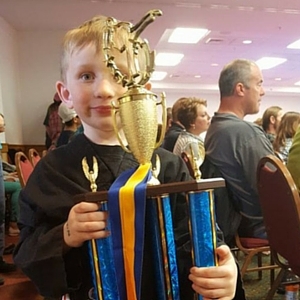 Bradyen strength is not coordination. Bradyen made a lot of mistakes while practicing for the tournament, but showed incredible enthusiasm for the simple things he accomplished. Some of the other kids jump without ever tripping and they don't realize how difficult this is for a kid who hasn't mastered his growing body quite yet.
Yet, Bradyen gets so excited when he lands without falling or he hits the right target -- things other students take for granted.
I wasn't sure how Bradyen would do at the tournament, but I was convinced he would have fun doing it. I want students to enjoy competing and have a good time. And Bradyen did both as he sailed to first place!
Bradyen's lesson: Be proud of yourself. Don't live your life comparing yourself to others. Celebrate your small victories because they can add up to huge accomplishments!
Christopher: It Never Hurts To Ask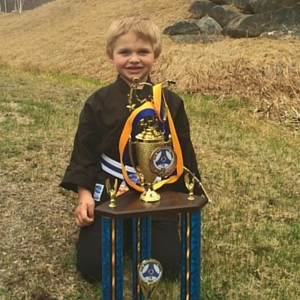 What can I say about Chris? He's one of a kind.
Chris has struggled to find his place in the world, and has a bit of a temper. He kept telling me that he wanted to win first place. He wanted the biggest trophy, regardless of how he did or who else was in his division. Chris was laser focused on walking out with the first place trophy (not really on winning!).
Chris actually won 2nd place, not 1st place, so I was a little nervous as the trophies were handed out. I knew he may lose his temper, yet Chris simply turned to Bradyen and asked him if he could trade trophies. Bradyen declined.
And Chris was okay with that.
Chris's lesson: You'll never know until you ask. The odds were not in Chris's favor, yet that didn't stop him from trying to get that 1st trophy one way or another. In the end, Chris had a smile on his face and an almost 1st place trophy.
The Monto's: Don't Judge a Book by Its Cover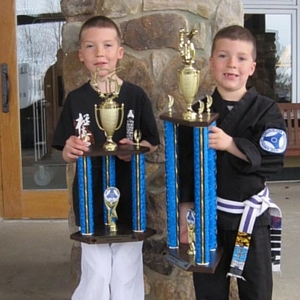 The Monto boys, Cody (on the left) and Brayden (on the right) are born fighters. Cody has never backed down from a hard fight and shows no fear. He'll fight the biggest kid in the room - it doesn't matter to him. Brayden is a little more reserved, but shows the same "bring it on" attitude that Cody has when fighting.
But fighting isn't everything.
If you only judged these two boys on their performance at the tournament, you would say they are rough, strong, fearless boys. You wouldn't be wrong, but you wouldn't be right either. Both Monto boys are excellent fighters and I would put them in the ring against any competitor.
Yet that's not who they are. They are both love the outdoors, building things, going on adventures, and actually eat their vegetables. They are so much more than good fighters.
Cody and Brayden's lesson: Don't judge anyone based on one facet of their lives. I'm incredibly proud of how Cody and Brayden performed at the tournament, but I'm even prouder of the boys they are outside the ring.
Oscar: Face Your Fears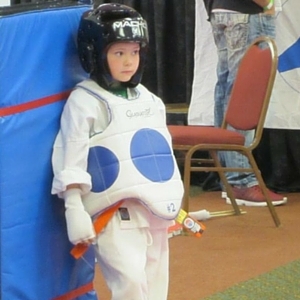 Oscar is an extremely talented young man. He's a great leader in class and is always willing to help out. However, he's still nervous sparring. He finished 4th in his division this year.
However, none of that matters as Oscar has more spirit than any other 7 year old I know. Here's what his mom said after the tournament:
Despite the challenges Oscar faced with sparring, he is genuinely proud of his finish. He has not cried or complained once, instead he has been laughing about how his hardest kicks didn't move Brayden one bit (that kid is solid) and how Carlos' fists started flying partway through their match.

When he woke up on Sunday he told me he wanted to earn his black belt and today, he insisted on bringing his trophy and medal to school. Above is my favorite pic - not a great one- but he's facing his greatest fear of the moment, about to enter his first sparring match.
Oscar's lesson: Have the courage to face your fears. It's not easy to do what scares you, but it's important. It doesn't matter that you fail, just that you tried.
Elijah: Never Forget to Have Fun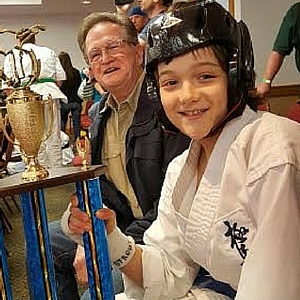 Elijah is a generation student. We were lucky enough to teach his wild (but incredibly talented) father when he was younger. And now we're fortunate enough to have Elijah in our kids class.
One of the best things about Elijah is he always has a smile on his face. That didn't change when he had the chance to compete in one of the toughest divisions in the tournament. 6th grade boys are tough! Not only did Elijah place first in his fighting division, he had fun doing it.
Elijah's lesson: Never forget to smile, even when you're facing a challenge. It doesn't matter if the work is difficult, you can still find a way to have fun doing it.
Victoria: It's Not Luck, It's Hard Work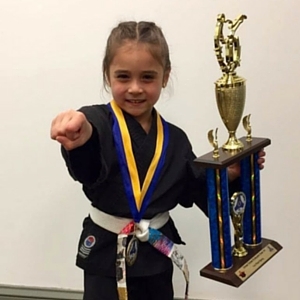 Victoria was lucky enough to go on a dream vacation to Disney right before the tournament, so she missed some of our practice sessions. I was a little nervous when she got back, as she didn't remember a lot of her kata. Since she's not even in kindergarten yet, I wasn't overly worried and thought she would do fine. Especially since she's super cute and could probably win the judges over with her dimples.
However, Victoria had different ideas. Her parents practiced with her and within a few short weeks she was doing extremely well. She was focused and determined to perform well (my kind of girl!).
She easily won first place in kata at the tournament.
Victoria's lesson: Practice matters. Sure, her parents helped, but Victoria did the work. As Arnold Palmer said "the more I practice the luckier I get".
Emi & Mackey: Winning Isn't Everything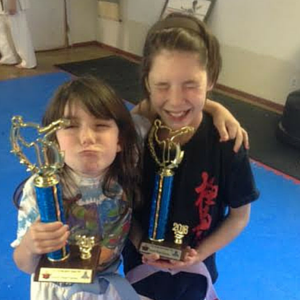 These two sisters are probably the craziest kids I know. They are never short on energy and always have a smile (and probably a hug) for everyone they meet. They are awesome.
Neither of them won their fighting division, although they both fought well. Yet, they didn't complain or have a bad attitude. They went in with a smile on their face and left the same way. At the end of the day, it just doesn't matter if they won or not. What matters most, and what everyone will remember about them, is their happy, outgoing spirit.
Emi & Mackey's lesson: I wish every single one of my students won first place. But winning isn't everything. These two girls are the essence of what karate is: perseverance, determination, and an indomitable spirit.
Kids Have a Lot to Teach Us -- If We Just Listen
I've been teaching a long time -- over 20 years. Yet it never gets old or boring, because these special kids always have something to teach me. Sometimes it's funny and sometimes it simply brings me to tears.
Because what they have to teach me is far more valuable than anything I could ever teach them.