Annie Agle tells it like it is:
Editor's note: This is Part 2 of Annie's Ski Mountaineering guide, check out Part 1 here.
Annie's Ski Mountaineering Gear List:
Everyone has their own ski mountaineering set-up -- I have included mine as well as some extras from Brody Leven. You can also get a detailed gear list courtesy of guide gurus Cosley-Houston (check them out!).
Packing for a ski mountaineering adventure
Essential Gear for Ski Touring:
Skis: G3 "Zests" (I love these decks so much, sometimes I cuddle with them. They hold a carve like champs and are engineered for guides who tour regularly. I am also partial to Armada skis.)
*For the dudes: Brody rocks Surface "Walk Frees." (If you ever want to catalyze a conversation with a pro-skier, just ask BL how much he dotes on these twigs.)
Bindings: Dynafit TLT Radical Bindings, ski crampons, and first aid kit (Dynafit has BY FAR the best binding set-up. Take my word; do not go with another competitor).
Boots: GEA RS Scarpa ski boots with intuition liner (invest in comfort)
*For the dudes: Pretty much all my male guide/pro-skier pals rock Dynafit boots.
Skins: Black Diamond skins (get them cut to fit your skis by someone who knows what they're doing)
Avalanche Safety Kit: Pieps DSP Receiver (the Mammut Barryvox is another good option), Black Diamond Deploy 3 Avalanche shovel, and G3 Speed Tech Avalanche Probe (For advanced students, I recommend getting the Backcountry Snow Study Kit)
Pack: Marmot Backcountry 30 Pack (crazy in love with this pack-it has all kinds of nifty features and always feels comfy)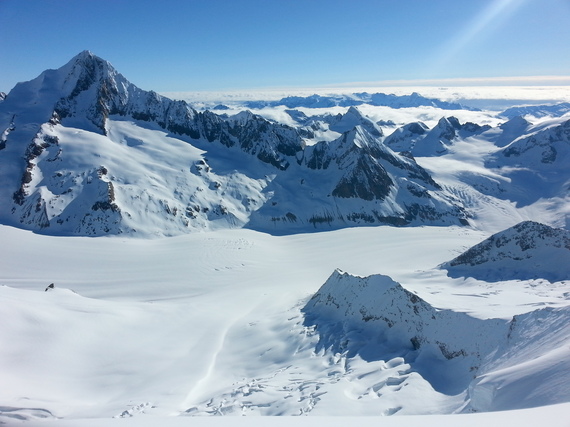 The Swiss Alps
Layers, etc:
Arcteryx shell pants (I prefer waterproof shell but Marmot makes some good softshell pants if that's your thing)
Stoic Softshell Jacket (one of the best outer layers I have EVER owned)
Stoic Bombshell Insulated Jacket (Waterproof puff with air vents? Nuff said.)
Discrete beanie (Seriously the cuddliest beanie I have ever owned-Thanks Julian Carr!)
Black Diamond Gloves (You definitely want gloves with liners for touring as you are constantly adjusting gear and dealing with temperature change)
Smith Sunglasses (make sure you get sunglasses that are polarized and offer maximum UV protection) and Smith Goggles (the changeable lenses on these goggs are really nice)
Additional Gear needed for Ski-Mountaineering:
CAMP Corsa aluminum ice axe
Brody also recommends trying Black Diamond Whippets
Grivel Air Tech Light aluminum boot crampons
Grivel Freney 40 pack (great for multi-day adventures--this pack takes skis and swallows up gear like a hungry disposal)
Black Diamond Viper Ice Tools (for technical objectives)
Mammut Rope (make sure to get the dry coating)
Petzl harness (adjustable leg loops are nice)
Belay Device, Rappel Device, Ice Screws (I recommend Black Diamond's set), cordelette, slings, biners etc...(ie. Other basic alpine climbing gear)
Recommended Extras:
Stanley Flask filled with my home town brew, High West Whiskey (Fireball is for light-weights and people who use the term YOLO in normal conversation)
Wonderbread sandwich container (There is no greater travesty than a mushed-up sandwich. Preserve the integrity of your PB+J!)
If you have any questions, I am always stoked to help folks get into the backcountry: annie.agle at gmail dot com.