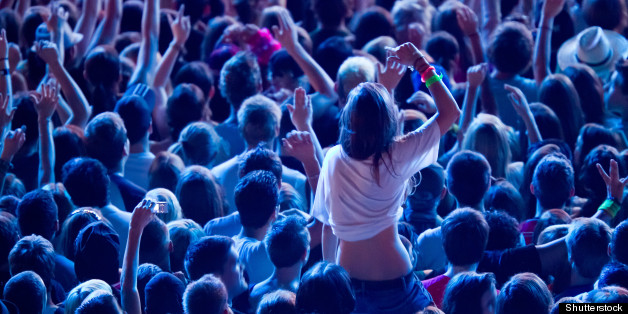 Rolling Stones secret shows are a thing that always happen to other people -- fans of some elusive higher stature with magical gift for anticipating the band's movements, plus a great deal of superhuman luck. I thought those people at secret Stones shows are all longtime fans who've loved the band for twice as long as I've been alive. But somehow, here I am at my first Stones show ever, a mere 10 feet from Mick Jagger. Close enough to discern the color of the band's guitar picks, close enough to hear what the microphones miss. I am in the kind of venue the band hasn't regularly played since 1964, but it is a half-century later -- April 27, 2013, Echo Park, California, and I am 17 years-old.
Raised in a staunchly pro-Beatle household (at least for the most part), it took me some time to find the Stones. The soundtrack of my formative years more closely resembled "All You Need Is Love" than "It's Only Rock and Roll," but after that Saturday night at the Echoplex, those characters of myth, theoretically close enough to gob at, are real to me in a way that the Fab Four will never be. Real as they are to very few others, let alone others of my generation. The scene was dreamlike as the band moved around the inexplicably foggy club stage, but evident also was flesh and blood.
Especially to us young vintage music fans, the Stones are included in the pantheon of unreachables. These men have, in some cases, deeply changed us, but they will never know us. We are just another part of that many-handed, many-throated beast that is the audience, the same wild creature that the Stones conquered at the Marquee Club, Hyde Park, and Madison Square Garden, and painfully lost at the Altamont Speedway in 1970. But as some older fans relish pointing out, we weren't there. We didn't know the Stones before the plane and the bodyguards -- all we have to judge by is, no wordplay intended, the aftermath. But perhaps that is what made the exclusive phone-less and camera-less Echoplex set all the more special to us.
We were all standing, tickets were an even $20 no matter how much lips and tongue-logo gear you owned or how many Stones records you've been alive to rush out and buy upon release. More casual listeners and megafans talked at ease as we all waited in line for the show, swapping facts and anecdotes, quietly calculating how many people stood ahead and behind us. The best kind of rock 'n' roll show is a great equalizer, not a class war, and while there is no question that in recent years, the Stones have become something of a rich man's band, this gig was anything but a rich man's show.
Throughout a set that included a wide swath of Stones material from the '60s to the '80s plus several blues and R&B covers, we were fortunate enough to see Mick, Keith, Ronnie, and Charlie with Mick Taylor, the extraordinary guitarist who worked in the band from 1969 to 1974, and longtime sax player Bobby Keys, plus Darryl Jones on bass, Chuck Leavell on keys, and Bernard Fowler and Lisa Fischer on background vocals. Musically in top form, the group moved freely around the tiny stage and seemed to be in good spirits, laughing and hugging between songs. "Love in Vain" and "Midnight Rambler" were bluesy highlights, and "Street Fighting Man" blew the crowd off their feet. A funky treatment of "Miss You" breathed new life into a song I have heard many times, but never responded to in its studio form.
When I spoke to the owner of the Echoplex after the set finished around 10:30, he told us that the venue had actually lost money by hosting the Stones on what Jagger called "the first show of the tour, probably the best one."
True, even in shows like this, the rock industry is a numbers game, so here is how that evening added up: my full expenditure for the Echoplex show was one 20-dollar bill, one utterly ruined page of notes in a brand-new notebook, one lost pen (fortunately, my spare), and, including both the set and time spent in line for both tickets and the show, approximately eight and a half hours of my life. But what I gained was worth a million lost pens:
I danced and screamed to an hour and 20 minutes of great music from international, and now technically intermillennial icons. I was baptized by Mick Jagger's water bottle when he splashed it out into the crowd. After I intently stared down Ronnie Wood when he wandered in front of me, we made eye contact twice. As Jagger announced the end of the set, before the encore of "Brown Sugar" and "Jumpin' Jack Flash," I heard him yell "that alright, Charlie?" back towards the drum kit. Finally, I managed to find my crumpled ticket stub on the ground outside my house the next bleary morning, after feeling utterly crushed when I thought I'd lost it.
And what's more, I feel I saw something very special -- not just as a fan who missed the Rolling Stones the first time around (and second, and third, and fourth, etc.), but even just as a teenager who values great music and a great time. When the group kicked into "Midnight Rambler," I don't know firsthand how much it looked and sounded like 1972, and I don't particularly care. But what I do know is that more than a half-century after they started out, in 2013, even in front of an audience of so few, the Rolling Stones are still brimming with energy, playing well, and bringing people together.
Perhaps the Stones' secret shows always happens to other people, but April 27 proved to me that if you try sometimes, despite all odds, you'll find you get what you need.