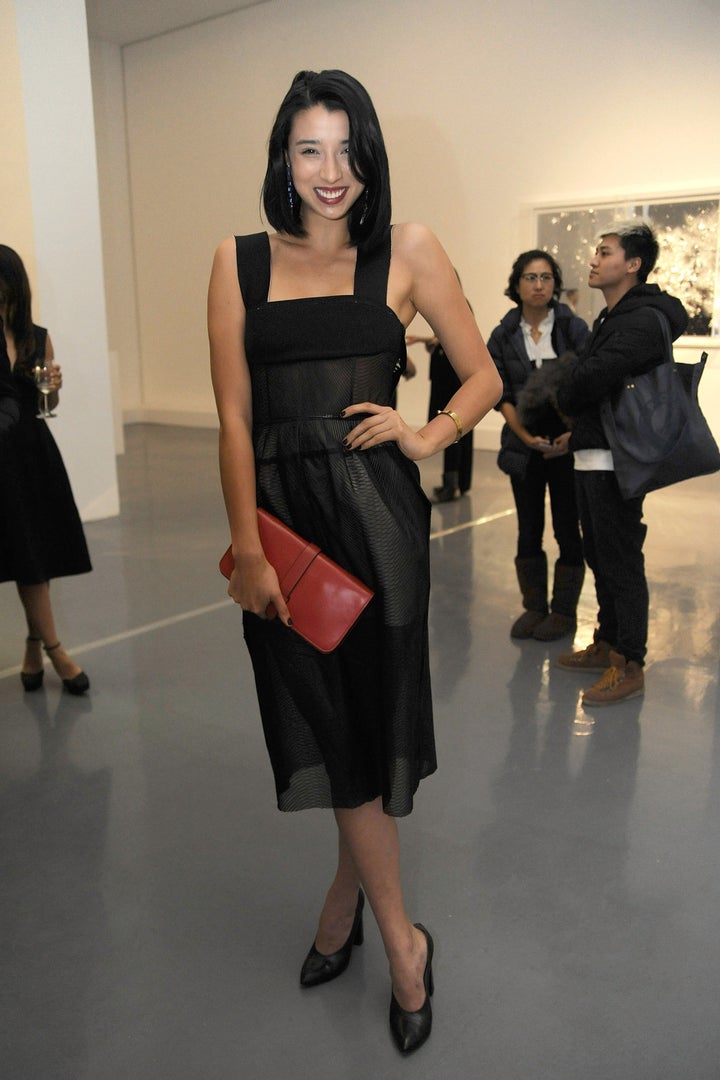 By the time our car fights its way through the congested Beijing traffic to Long March Space in the city's booming 798 district, many of the guests have already arrived. Our vehicle is carrying precious cargo: Hanneli Mustaparta, the model-cum-blogger who is capturing Calvin Klein's exclusive Far East dinner for the brand's Tumblr. We enter to photographers swarming around supermodels Qin Shu Pei and Du Juan, both resplendent in Calvin Klein Collection. I'm struck by how elegant all of the women appear in the spring/summer looks that I saw come down the runway in September. The intricate weaves and layered transparencies, coupled with the minimalist color palette of white, soft neutrals and blacks, suit both the guests and the gallery space. As China's emerging art stars, actors and models glide through sculptor Zhan Wang's latest exhibition it looks as though they're part of the installation.

Francisco Costa, the brand's women's creative director and honoree of the night, is clearly delighted by Wang's "Meteorite Project" as he snaps pictures for his newly minted Instagram feed of the exploding silver rocks that populate the main exhibition space. Soon after our arrival, we're ushered into a dining room where Daniel Boulud's four-course feast has already begun with a steaming chestnut soup. I'm sandwiched between some of Beijing's most fascinating women: surrealist video artist Yi Zhou and Ms. Su Mang, the executive publisher and editor of Harper's Bazaar China. Zhou's creative energy is palpable -- in between bites she tells me about projects she's developing everywhere from Shanghai to Paris to Los Angeles. I have arrived in Beijing only three days earlier, coinciding with the country's 18th Party Congress, and the city feels absolutely kinetic. Looking down the long glowing tables of young, emerging Chinese talents, I am overcome with the feeling that the future is right here. Mr. Costa and the rest of the Calvin Klein team appear to be right at home despite the fact that they are half a world a way from their New York City headquarters, a testament to the company's growing presence in Asia.

As chocolate fondants march out of the kitchen, the New Zealand-native Kimbra takes the stage for her debut performance in Asia. Perhaps best known for her feature on Gotye's megahit "Somebody That I Used to Know," the songstress is rocking the hell out of one of my favorite looks from the collection: a black satin conical bustier top, skirt and sky-high platform heels. "I'm doing something quite crafty here -- I forgot my guitar strap so I'm using a Calvin Klein tie!" Kimbra explains before busting out her single "Love Is a Two Way Street." She's a tiny girl, but her body quakes as she belts out dense harmonies flecked with jazz influences. Hanneli excitedly rushes back from the stage, camera in hand, exclaiming: "She's like Bjᅢᄊrk! She gave me goosebumps, really -- it makes such a difference when people go for it!" Costa nods in agreement and as I survey the glimmering room, curated to Calvin Klein perfection, I know that the renowned designer understands completely what Hanneli means.
To see more images from my Beijing adventure, check out my Instagram!
PHOTO GALLERY
Calvin Klein