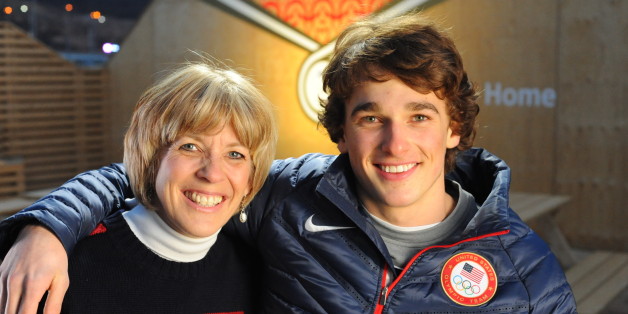 I headed to Sochi a few days ago and didn't know what to expect as I boarded the plane. The trip started off a little bit hectic. Snow in New York City caused the first leg of my flight to be canceled, but with some luck, I boarded a flight to Paris and was on my way. I couldn't wait for the moment to see Nick walk into the Olympic Stadium and kick-start what I hope will be two weeks of joy on Nick's quest for slopestyle gold. What I got, however, was completely unexpected and made me realize what the true spirit of the games are all about.

Upon arrival, my family and I got settled and off we went -- exploring all Sochi had to offer. The culture is different, yet magical, and it was exciting to be in a city alive with the Olympic spirit. The food was interesting, but I have to say my family was thrilled to have a slice of pizza when we got to the P&G Family Home for the grand opening. I don't know if my daughter was more excited in that moment for pizza or to see Nick for the first time in Sochi. I guess we really needed a little home-style comfort at that moment and it was nice to feel pampered and relaxed.

The next day it was all rest, because that night was the moment -- the Opening Ceremony. I have been waiting to see Nick realize his dream and walk with the team. I couldn't contain my excitement. I got ready at the Family Home with my daughters, Kasey and Bradee. They were prepared for the Opening Ceremony with their Pantene red, white and blue patriotic braids and COVERGIRL red, white and blue eyeliner. I got in the spirit and had my nails done with a cute USA flag too! Even my youngest, Jason, got his hair washed and blown-dry. It was a family affair and we were all raring to go! Just as we were about to head off to the event, we found out that we won two extra tickets for my husband and Nick's mentor to attend with us through a P&G Family Home raffle held earlier in the day. Could we be any luckier!? Well, I found out a few minutes later we could...

Emily and Mike Kloser, parents of mogul skier Heidi Kloser, walked into the home. We learned that on Thursday night during her training run, Heidi fell and injured herself. It was heartbreaking, because she would have to pull out of Olympic competition. The only event she would be able to participate in was the Opening Ceremonies. While people were happy for us to have just won free tickets, my husband and I realized that Emily and Mike would have to watch the ceremonies from the Family Home, because they didn't have tickets to watch Heidi in the stadium. My husband and Nick's mentor immediately offered the seats to Mike and Emily. I was so proud of them! Emily and Mike would get to experience the sheer joy watching their daughter represent her country, even if it wasn't on the slopes, as originally planned.

Walking up through Olympic Park with everyone heading to the Opening Ceremony was surreal. The music was pumping, the venues were glowing and the energy in the park was electric. While the entire event was wonderful, as a mom, it is indescribable to see your child walk out of the tunnel and represent his country. As Team USA walked into the stadium, we scanned the group for Heidi's wheelchair. When we spotted her wheelchair, we saw it was empty. Within seconds, tears were flowing because we realized that meant Heidi had gotten out of her wheelchair to walk with Team USA. In addition to being there for Nick, it was amazing to have helped the Kloser's have that moment to see her daughter walk in with the other athletes in the ceremony.

Nick teamed up with Tide and the Thank You, Mom program because he wanted to be able to thank me for my contribution in his success. He feels that my role often goes unrecognized. Through this experience, though, we all realized that it's not about one mom, it's about honoring us all. I could never have imagined that I would get such an overwhelming sense of pride sharing Emily's experience watching her child as I did watching mine. It was truly an awe-inspiring moment and one that is permanently etched in my memory. I cannot wait for what's next... Sochi, bring it on! We are so happy to be here.