Environmental sustainability, once relegated to the margins of most businesses (unless they engaged in greenwashing tactics that looked good for PR but made little impact on the environment), is now a heavy-hitter in many business strategies. Companies are taking action as they realize that a focus on sustainability doesn't just move the needle for the health of the environment, but for their bottom lines as well.
Sustainability often equates to efficiency, and manifests itself as time and money saved. This economic sense is often reason enough for companies to change their processes, but many of the most significant -- and profitable -- changes being made are driven by companies simply looking to do the right thing.
Here then for Earth Day are examples of companies leading the way toward more sustainable business practices and why more companies should join them.
1. Zero-waste manufacturing. While many manufacturers shunned sustainability for years due to fears of the cost of converting antiquated processes to more efficient ones, factories like the Subaru plant in Lafayette, Ind. pushed ahead, showing the extent to which the pursuit of zero waste improves manufacturing. Subaru's Indiana plant has been zero waste since 2002, recycling excess metals, reusing packaging over multiple shipments, and stamping out inefficiencies in its use of steel, copper, plastic, and other materials for everything from car parts to shipping packaging. In 2010, these waste reduction efforts resulted in a $5.3 million savings for the plant, not to mention all the materials kept out of landfills. Now Ford, G.M., and Honda are pursuing a similar waste reduction strategy.
2. Supply chain efficiency. Walmart, in a move that extends the company's environmental initiatives to its many suppliers, has instituted a supplier sustainability index to measure how its suppliers consume water and energy or use harmful chemicals. The result is a ranking of manufacturers based on their sustainability achievements, a move Walmart hopes will incentivize its many suppliers to dig into their supply chains and root out the waste. Results of the sustainability index so far include curbs of greenhouse gases, efforts to keep products out of landfills, and other waste reductions.
3. Values and economics finally starting to align. There are more and more consumers now who use sustainability as one of the primary drivers for their buying decisions. On the other side of the equation is the business world, where the economics of producing sustainable products is finally balancing out with consumer demand, creating a critical mass of truly sustainable products. Consumers are increasingly looking around their homes and starting to understand the effect of the manufacturing process behind the items they choose to own -- and they're making purchasing decisions based on these facts. Manufacturers' are responding, and there are examples and exhibits all over the country showing this change. That's one reason why SCHOTT got involved with Green Builder Media's VISION House at Epcot, along with other companies such as Nexia, KOHLER, and Panasonic. The goal of the exhibit, that opened one year ago on Earth Day 2012, is to highlight and help visitors learn about sustainable products.
While many companies are pursuing new business processes with a clear environmental benefit, they're driven by business goals as much as eco-consciousness. Optimizing energy use, recycling, and sourcing environmentally-benign materials have their own inherent benefits in reducing costs and increasing efficiencies. As the economics align further for both manufacturers and consumers, it's heartening to see so many examples of how business goes hand in hand with sustainability to continue innovating new and better manufacturing processes.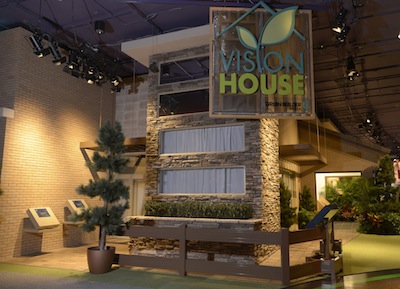 Copyright by Disney / Photo: Phelan Ebenhack