Last week I had the honor of attending the Women's Health Town Hall at the White House to discuss healthcare and the Affordable Care Act. The panel discussion featured Kathleen Sebelius, secretary of the US Department of Health and Human Services, and other senior White House leaders focused on women, girls, and health -- three subjects I'm passionate about.
As the voice of 21st Century moms, BabyCenter was asked to bring concerns from America's moms to the White House. Our moms answered the call with hundreds of intelligent, impassioned, and challenging questions. Reading their comments about issues like the high cost of healthcare, the desire for federally funded maternity leave, and the need for more coverage for prenatal and postpartum care, I was struck by how different the concerns of American moms are from moms in the developing world.
I've learned firsthand how varied moms' concerns are in different regions. BabyCenter operates parenting websites in 22 global markets and acts as a partner in many other countries to reach low-resource pregnant women and new parents. While all women share a fundamental desire to have the healthiest pregnancies and babies possible, specific needs for information and support vary significantly based on cultural beliefs and practices. No single approach is the silver bullet for improving global maternal health.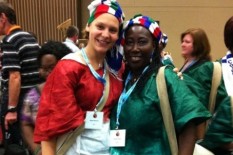 At the International Confederation of Midwives Congress (ICM) last summer, I met hundreds of the world's most dedicated and dynamic midwives -- from the Netherlands to New Zealand, and from Mali to Mongolia. Our goal at ICM was to talk to as many midwives as possible to find out which health messages they most want mothers in their region to hear. This research was critical to our work with the Mobile Alliance for Maternal Action (MAMA), a new mobile health program we're developing with Johnson & Johnson and USAID (BabyCenter is a proud member of the Johnson & Johnson family of companies).
The feedback was amazingly diverse. Midwives in Africa want us to help educate women about the dangers of traditional remedies like drinking baboon urine and eating pregnancy clay. Midwives from developing Asia want their moms-to-be to see a healthcare provider long before labor starts or they have a complication during delivery (the all-too-typical trigger for a first visit). And one midwife in India suggested women use birth control to plan their families and space their children. "Your husband doesn't have to know," she counseled.
Even the midwives from developed countries like the US, Canada, and the Netherlands had their own unique list of top priorities. "Trust your own body and let it do the work," said one. "Avoid the knife," said another. "Reduce your stress and get support from family and friends," said a third.
After reflecting on the thousands of messages we gathered, I saw two distinct groups emerge. Midwives in the developing world are urging their mothers to put more trust in organized healthcare and evidence-based medicine. While midwives from the developed world are preaching caution about overly medicalized births and more trust in natural processes.

From my point of view, the secret to improving maternal health around the globe is to find systems of care that operate somewhere in the middle between the pinnacle of modern medicine and the hands-off approach. But even if we can find that middle ground, we won't succeed without a deep understanding of and respect for the diversity of women's lives around the world, their deeply held beliefs and customs and the social pressures they encounter. Tailoring our approach and programs to the regions we work in is a necessary ingredient for our success.
What do you think will help us be more successful improving maternal health around the globe?