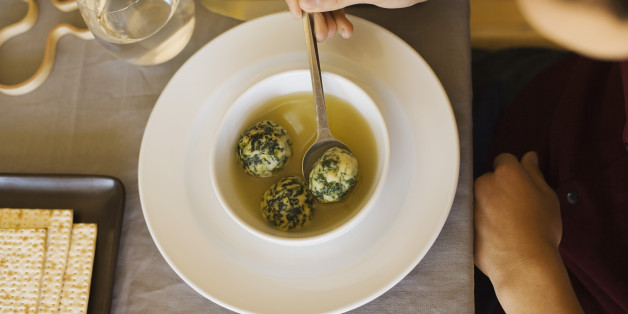 To my father, food was love.
He loved everything about eating, from dining in fine restaurants to scrambling eggs in our kitchen. His face lit up whenever a dish was pulled from the oven. He beamed at waiters who appeared with plates of food. He damn near cried the first time I made a chocolate cream pie.
He was the only dad I knew who liked to go grocery shopping, a chore my mother was wary of him performing, since there was no telling what impulse purchases he would make.
I remember him singing to himself in the morning as he put schmear on his bagel (to the tune of "Beautiful Dreamer"): "Beautiful, beautiful cream cheese; I'll never love butter again."
It should go almost without saying that my father battled his weight for much of his life; in his retirement, he became quite heavy. Periodically, concerned friends and extended family members would take me aside and tell me he should lose weight. Beyond being irritated -- I mean, did they think he didn't know he was fat? And if they were so concerned, why didn't they talk to him themselves? -- it seemed almost cruel to ask him to curb the most reliable source of pleasure in his life.
Dad and his family escaped Nazi Germany, but growing up as refugees in the U.S. was tough. His grief-stricken, frightened parents were perpetually on edge. Like many immigrants, they spent all their emotional energy mastering English and navigating their new lives in Chicago. Like many people suffering from Post-Traumatic Stress Disorder, they had short fuses and explosive tempers. And like many Holocaust survivors, I suspect they simply felt too guilty for having survived to allow themselves a happy ending with their little boy.
The family's one consistent source of joy was my grandmother's cooking. I remember her making impossibly rich chicken soup and matzah balls, ethereal cheese blintzes and German pancakes, silken chocolate pudding and jello molds with as many tiers as a layer cake. She chopped huge batches of gefilte fish and egg salad by hand, and made legendary apple- or cherry-cake from delicate, yeast-based dough.
When I was a child, as she put down a plate in front me, I remember Grandma resting her hand on my head. I expect she did the same when she served my Dad as a boy. She didn't always say it, but I could taste her love, and some of the happiest moments of my childhood took place in her kitchen. By this time, she reminisced more than she cooked, but her kitchen was the place where she opened up to me the most. One of my earliest memories is sitting on a stool as a small child and helping her shell peas as she told me stories about growing up in Germany, before Hitler came to power.
When we took our places around Grandma's table for a holiday dinner, the grown-ups argued about politics, the in-laws bickered about slights, both real and perceived and my brother and I were bored to death. I remember trying desperately not to fidget while Grandpa chanted the Kiddush, especially since the linens and carpet were pure white, and I was terrified of spilling my grape juice.
Then Grandma appeared with serving platters, and everyone smiled. The conversation turned to the food: How delicious her soup was and how light the matzah balls; how sumptuous her brisket tasted; how the glaze on her carrots made them so sweet that even her grandson ate his vegetables. Every time, my grandfather declared that this was the best meal she had ever made. I don't recall my father's exact words, but I do remember that as he sang her praises, my grandmother nodded benevolently at him, not as if to say "Oh, it was nothing," but in a gesture that was the closest I ever saw her come to telling Dad that she loved him.
So, no, I didn't tell my dad he should lose weight. Throughout the years, I made him his mom's chicken soup and my own butternut squash-apple bisque, cooked him everything from roasts to risotto. For the holidays, I learned to master tzimmes and charoset, latkes and lokshenkugel. Throughout our own, sometimes-tumultuous relationship as adults, I still baked him butter rum cakes and hazelnut sacher brownies.
Because I wanted him, always, to taste the love.
This post originally appeared on jufnews.org:
here.