Poor holiday eating habits happen to the best of us. Don't let it get you down; the beginning of the year is prime time to haul yourself back into the workout studio. These focused fitness classes promise to get your booty back into summer shape, even if it's snowing outside!
New York City -- BariFOCUS: Butt -- 30-min class @ $20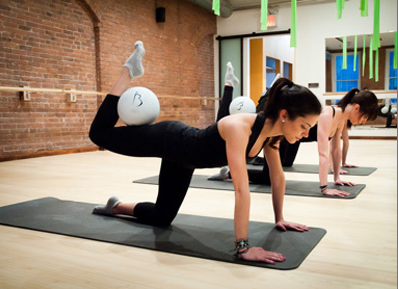 This newish NYC studio has developed a cult following and is now operating three locations in downtown Manhattan. The Bari philosophy combines anaerobic and aerobic movements to result in a smarter workout, not a harder one. But don't let that approach fool you -- classes are challenging, and you'll sweat out those toxins. The 30-minute Butt class has you using Thera-bands mounted to the ceiling, the ballet barre, floor skimmers and more for the ultimate butt-sculpting working.
Photo credit: Xavier Lujan. Used with permission.
Los Angeles -- Booty Barre Plus -- 60 min-class @ $35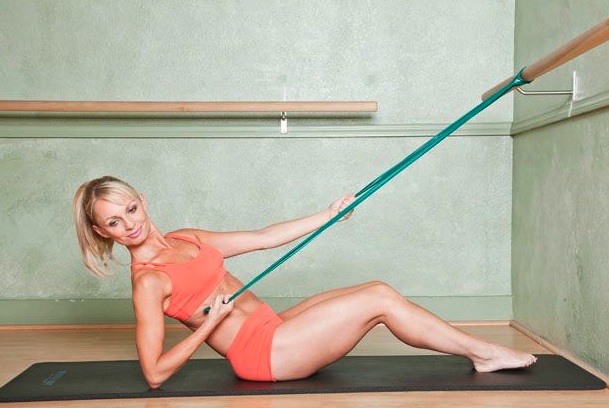 Conceived by a former professional dancer and master Pilates instructor, Booty Barre boats a celebrity following of young hot Hollywood, including Natalie Portman and Zooey Deschanel. Classes are energetic but low-impact and focus on lifting your butt, sculpting your abs and toning the entire body. Instructor Kristen Matthews, who teaches the Booty Barre classes at UpRise in Santa Monica, says, "The classes combine aspects of fitness, Pilates, yoga and dance, which helps to strengthen, stretch, increase flexibility and improve your cardiovascular endurance."
Photo credit: David Heisler Photography. Used with permission.
Chicago -- Ass+Abs -- 45-min class @ $25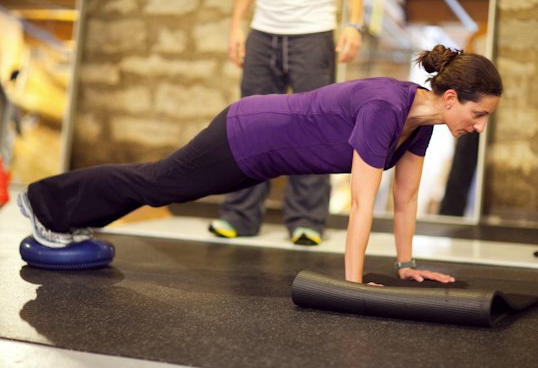 Emily Hutchins, the co-creator of On Your Mark, Chicago's multisport and personal training studio, has a wicked sense of humor, as evidenced by her spunky class names. This 45-minute class aims to work your rear and core muscles together by focusing on multiple reps of classic fitness poses with a twist. Pliés with props and twisting planks will engage your glutes, and in case you forget why you're there, instructors are happy to remind you with a swift poke in your backside.
Photo used with permission.
Washington, D.C. area -- Booty Boot Camp -- 50-min class @ $15
When conservative gals from the Hill need to let their hair down after work, they head to Pretty Lady Pole Fit studio to work their derrieres. This boot camp class promises to make you bootylicious by tightening and toning to get the backside you've always dreamed of having. With a warm up, resistance training, and a strength and flexibility portion, you'll feel like Beyoncé in no time.
Online -- Burner: Glutes & Inner Thighs -- 10 min-class @ $15/month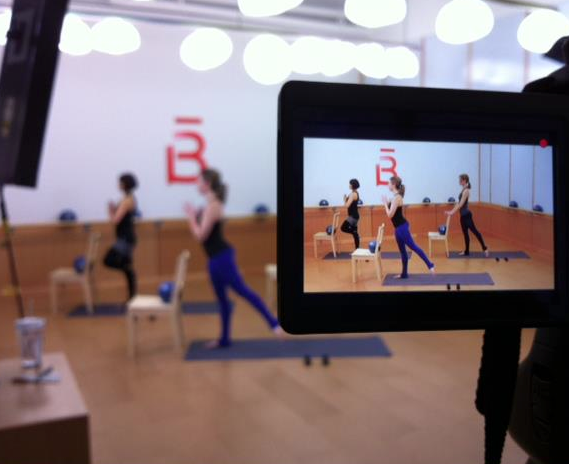 Live your life on the road or don't have time to get to the gym? Then this 10-minute booty workout is for you. Barre3 founder, Sadie Lincoln, will happily come to your living or hotel room via your smartphone or laptop. All you need to participate in this workout is a chair. Working your butt, hamstrings, inner thighs and core with controlled movements just 10 minutes a day will get you sculpted after a few sessions. Have more time or want to work more body parts? Your monthly subscription provides access to more than 80 Barre3 videos.
Photo credit: Brooke Budy. Used with permission.
For more by Linden Schaffer, click here.
For more on fitness, click here.