I love the Internet. You can get anything imaginable delivered to your doorstep without having to lift more than a few fingers. From groceries to household cleaning supplies to an education, it's no wonder wellness companies are jumping on the bandwagon and making it easier than ever for you to stay well. I recently tried three such services in order to give you the scoop on what to expect before you sign up.
Ellie.com
After a bit of a bumpy start (originally offered as PVBody.com) and a change in business model, this new fitness clothing start up has found their groove and wants you to join the club. The women's only workout gear rotates style offerings monthly with 24 new pieces to choose from. Concentrating on flattering fit and function, the leggings, capris, sports bras, tanks and more make sure you look good while feeling good too. By filing out a style profile, the Ellie team is able to make suggestions and steer you toward pieces that are best for your shape and workout style. You don't have to be a member to shop the line, but by committing to the monthly service you get first dibs on the new styles, can reserve your order in advance and get deep discounts. If you sign up and feel overwhelmed by the monthly arrivals, you can choose to skip a month (or three) or take advantage of the free shipping and return the goods for a refund.
Pros: Joining the monthly club gets you two pieces a month for the price of one. As a member, choosing your styles in advance means you won't be faced with a sold out sticker.
Cons: If club members forget to choose their pieces within the first week of the month, they will be shipped a surprise box. In need of a refund? You must return both pieces from your monthly shipment to qualify, which can leave you stuck with horrible pants if you can't part with a top that you love.
Wellness read: If you're short on time, love to shop and have a frequent workout routine, this is a match made in heaven. While you still have to log on every month to choose your styles, once you know which pieces fit you best, updating your wardrobe is a walk in the park!
Klutch Club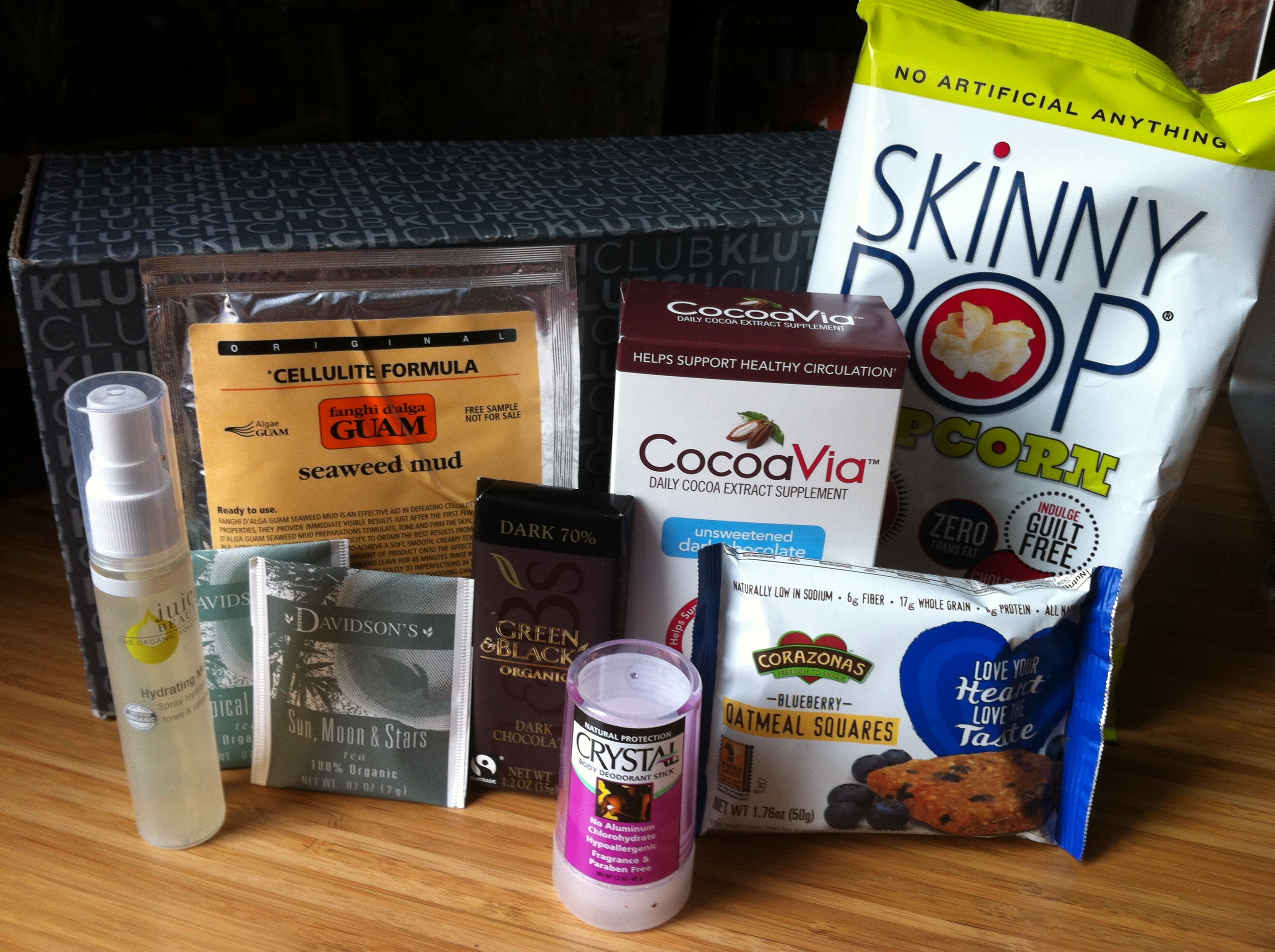 When counseling my clients on wellness, I always start with the five tenets of well-being: physical fitness, mental health, spiritual connection, nutrition and community. Chicago-based Julie Bashkin launched her home delivery service after finding it hard to balance these principles on the road. Each month Klutch Club curates themed gift boxes for women and men (some products are non-gender specific), such as April's "Spring Clean Your Home and Body." My most recent delivery included organic tea samples, a one-month membership to an online brain training program, a facial hydrating mist, travel size non-aluminum and paraben-free deodorant, some supplements and a few packaged snacks. Excited to try the new goods but unsure of the food items, I consulted nutritionist and Clean Plates founder Jared Koch for his advice. "No matter what, we want to limit our intake of processed foods. But if you're going to eat them, you want to eat the better quality choices." Pointing out that it is all about food education and tracing the ingredient origin, Jared liked that the packaged popcorn snack was lower in sodium and made from non-GMO corn.
Pros: Monthly packages are not only stocked with sample size products to enjoy, but coupons and discounted offers are included for additional purchases. New items every month expose you products you may not have otherwise found on your own.
Cons: It's not always easy to have a mail subscription service, which cuts down packing. Since orders are placed online, a full round up via email would cut down on the printed materials included. You'll skip some of the packaged food items in favor of the more natural products.
Wellness read: With busy lives and no extra time to shop or read reviews on new health conscious products, Klutch Club takes the work out of the equation for you. With various subscription plans, you can participate no matter your budget. Plus you'll feel good knowing that while you're receiving your own box of wellness at home, Klutch Club is partnering with various charities to spread the message of wellness and give back to the community.
Organic Avenue
This NYC-based cold-pressed juice and vegan food company was one of the originators of juice cleanse craze and clean living diet when they launched in 2000. With a celebrity following including Gwyneth Paltrow and Claire Danes, you've probably seen their bright orange reusable bags being toted around town or in paparazzi photos. The company's L.O.V.E. (live, organic, vegan, experience) philosophy infuses everything they offer from the cleansing programs accompanied by daily email support to community events and educational seminars held in their stores. If you are new to this kind of eating, you'll find recognizable items to ease you into the transition -- think traditional chickpea hummus and chilled summertime gazpacho but without any bad oils or calorie-laden ingredients. If you are loathed to give up your morning cup of java, the cold-pressed café latte made with cashew hemp milk is a delicious must try.
Pros: Organic, raw, nutrient-rich food and juices can be combined for a complete filling meal. The added bonus of not having to worry about cooking or grocery shopping is a time-saver and a surefire way to stay away from mindless junk food.
Cons: The cost of being this healthy will set you back a pretty penny both in food costs and in shipping. An order shipped from NYC to LA costs $65 in overnight Fed Ex fees. Another downer: Organic Avenue doesn't ship food, only liquids.
Wellness read: Most of us cannot afford to live off of Organic Avenue food and juices long term, but a for on-the-go healthy options or to kick start a clean food lifestyle, there is something for everyone. If you live or work in NYC and crave Organic Avenue during your day, then the best bet is to order online via Seamless. Prices are the same, but delivery is way cheaper.
For more by Linden Schaffer, click here.
For more on wellness, click here.