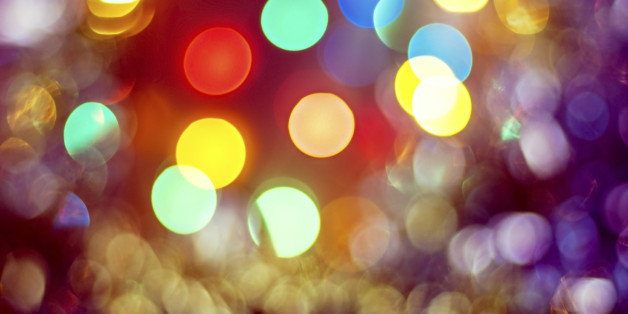 Today is the last day in the year 2014.
It is 10 a.m. and I am alone in a suburban house I share with a roommate. She's gone on a tropical vacation with her family. I am on my bed with a neon pink sweatshirt, old teal sweatpants, bed head and a day off of work. I look like a harassed flamingo.
As I stare at the ceiling, nuggets of nostalgia clunk around in my brain like pieces of gold. Memories. I think about this past year -- all of the unexpected changes and surprises -- that created my 2014. Big moments, sad moments, moments of change. Moments of uncertainty. I decide to scan my Facebook photos to recap the year.
"Let's jog the ole' memory and look back," I think.
As I scroll through my photos, I see lots of smiling teeth. Different backgrounds with groups of girlfriends entwined at their elbows. White wedding dresses and sunny blue skies and glassy lakes with Michigan sunsets.
It's a beautiful life that I am grateful for. But it's only part of my life. The shiny side of the coin.
This is a highlight reel, I think. This isn't the whole picture.
You don't see photos of me sitting in the hospital hallway this fall with my family, waiting, waiting, waiting for the inevitable news that my grandpa's heart has stopped beating. You don't hear the awkward conversations or feel the hurt feelings or wipe the dried tears between friends. There are no images of disappointment or tired eyes or missed text messages, though 2014 was full of them.
No one is going to pull out a camera during those moments.
These photos we share on social media are a string of moments we choose to capture because we are happy. We take photos of the good times. We want to capture so we can remember. It makes sense.

The problems come after the fact. The problems come when you get the accessibility to look at many others' lives. That's when the comparisons begin. It's in our human nature. We skim and we scan and we scroll through photos, measuring ourselves against ourselves. As the saying goes, "We compare our behind the scenes with everyone else's highlight reel."
The downfall of our highlight reel is that it creates this false sense of glam, of happy, of grinning white teeth and crinkled eyes and events that have fun backgrounds, bright lights at a concert or football fans in a stadium. These images create a giant collective snapshot of our lives. A holistic view of a life's round edges and sharp corners.
But it's not our whole life. The photos are a snapshot of the positive and leave the negatives undeveloped in the dust.
We forget that the images we see on social media can be smoke and mirrors. And then we can feel insecure or insignificant, guilty and envious of others' amazingly awesome lives.
But we need to remember that those photos are snapshots and don't always paint the whole picture.
Last year for New Year's Eve, my fiancé and I visited friends in Chicago. We were all excited to have a very glamorous New Year's Eve on Navy Pier, complete with a rented limo ride (a first for me) and black cocktail dresses and high heels and suits. Corks were popped. Ties were knotted. When we got to Navy Pier, I took in the high ceilings and the plates of appetizers and the gaggles of people gathered together to bid 2013 adieu. This is exciting.
Yet somehow, the night took a turn. After the initial glamour wore off, a strange tension bubbled up like champagne. Our friends were all separating and losing each other, idly standing and awkwardly people-watching. By the end of the night, arguments happened and we couldn't find two of our friends, nor the limo. We trudged through the Windy City streets in stilettos and simmering anger, snow crunching under our feet. We found the car and our friends. We sat in silence on the way home, except for a "Don't puke in the limo!" situation. When we got back to our friends' home, we all were rumpled and tired and silent. We went to bed without a word.
It wasn't anyone's fault. Nights like this happen and become a different type of memory. When it comes to life versus expectation, life always gets the last world.
But that's not what the pictures show: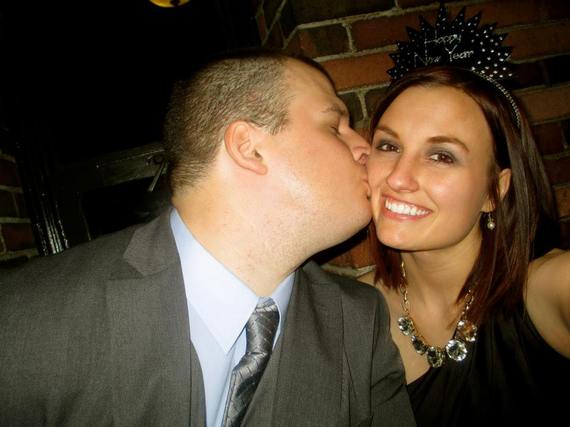 My fiance and I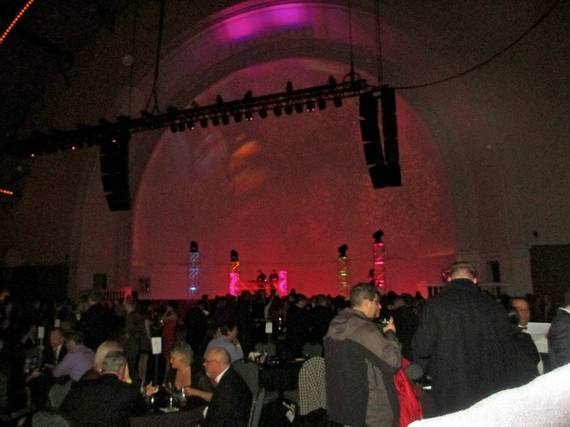 Inside Navy Pier
"Wow," a friend gushed to me when we got back to Michigan. "I saw the pictures on Facebook. You certainly had quite the New Year's Eve. I saw the pictures. It looked so fanc-ay. We were all jealous."
"Oh yeah," I nodded, remembering the arguments and the cold and getting lost. "It was definitely unique."
We can be our own worst enemies, making assumptions and comparisons between our life and someone else's life. We never know the full story through pictures. What looks like a glamorous party could be a night of puking and tension and itchy sequins.
When you sit down at your computer and look at pictures of, remind yourself it's not the whole picture. It never is. Those captured moments could have been more beautiful than we see or uglier that we imagine.
Life is more than what is seen, and we are more than what we show.
We are approaching a new year. A clean slate. A fresh start. We must see the bigger picture. We must remember that all of us are Going Through Things at one point or another throughout our year. It is a beautiful, sad, heartbreaking, fulfilling, wild and crazy ride.
Life is not a highlight reel. It is a roller coaster.
Happy New Year.