I just returned to my hotel room in Columbia, SC after a long day spent on the main highways and back roads of the Palmetto State.
What a bizarre and disorienting experience it was to see everyone wearing the same thing. It started at a McDonald's off I-20 East. I was in line for coffee and staring at a poster announcing the new Happy Meal toys when I noticed the three men ahead of me were all wearing red plaid flannel shirts, khakis, and boots. "Meh," I thought, "that's funny" and went back to studying the plastic Hot Wheels and Barbie display. (Warning, they are a choking hazard.)
Just as I decided that I would, in fact, get that Happy Meal (good thing there wasn't an ad there for buying into a franchise) a man tapped me on the shoulder--my scarf had fallen and was on the floor. Turning on my right foot to face him and consequently, the dining room, I stopped. There sat eight to ten men all wearing plaid flannel shirts, khakis or jeans, and brown boots. I think King Lear put it best when he screamed, "Howl, howl, howl, howl! O! You are men of stones!"
Getting my food to go (I'm never too scared to eat, or, for that matter, make a Shakespeare reference) I was back on the road heading north. An hour later, I took a bathroom break at a rest stop off I-95. Same thing happened--I was attacked by the same outfit. Was I being followed? Or, possibly, is this flannel clique a zombie clique? Or maybe...they're so out, they're in.
Suspicious and a bit irritated that they might be up on a trend I didn't know about, I got to Googling and sure enough, these men are onto something.
Classic clothes that are functional, understated, and inexpensive are hip this fall. Am I suggesting that these men I saw were simply trend-conscious, keeping up with Men's Vogue? Negatory. While their outfits most likely had a purpose, designers have found inspiration in these average workman's clothes.
Simple and anonymous, here's an example from Rag & Bone's spring collection: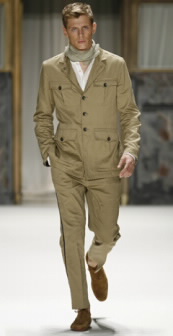 And two from Ralph Lauren, although a bit more stylized, the uncomplicated, blue-collar concept remains with puffy vests, plaid, and cargo pants: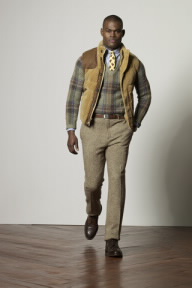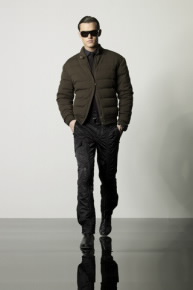 And from Rouges Gallery: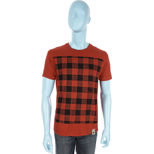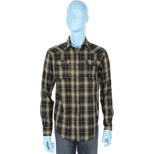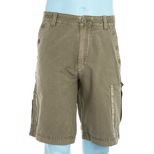 And how could we leave out LL Bean:



As our Jell-o economy continues to wobble, it feels natural to move away from razzle- dazzle, glitz and glamour Hollywood style and closer to subtlety and comfort.
The simpler styles have been around and stayed around for a century without ever completely falling off the trendy radar. Remember in the '90's when all we (ok, I) wore were overalls, waffle shirts, and flannels? Or in the '80's when Members Only had its day in the sun? And let us not forget the cargo shorts and pants craze a few years back.
I'm hitting the road again in a few minutes-- compass set to Raleigh, NC. I will undoubtedly stop along the way to smell the roses, eat some grease, and observe my fellow traveler with whom I will now fit in as I wear my dark-blue jeans, plaid polo, and brown moccasins. Genericness never looked so good.