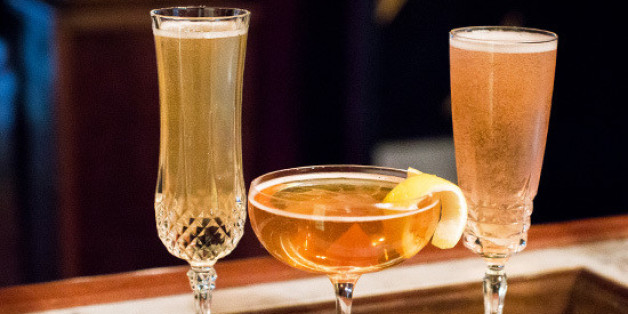 You're in good company if you're planning on pouring magnums of Champagne at your New Year's party. But that bottle of bubbles brings with it a few decisions: What kind of Champagne or sparkling wine is best? What's the ideal serving temperature? And how about the ultimate party toast?
You can rely on an expert Champagne guide to make a wise play, or simply make a beeline for the cocktail cart. There, you'll find essential fixins for elevating your bottle--with help from the doctor of bubbles, Meaghan Dorman. As head bartender of New York's esteemed cocktail lounge The Raines Law Room, Dorman develops adventurous variations on the Champagne cocktail. She's all about showcasing sparkling wine's wild side.
Because the holidays come standard with a side of frazzle, Dorman suggests three Champagne creations to serve this season, one each for beginner, intermediate and advanced level hosts. If you're short on time, try her three-ingredient Champagne cocktail that's built directly in the glass. Want a slip of sophistication? Hit up the pisco-powered rosé stunner. And if you're keen to show off your sharp Champagne sabering skills, tell your guests to stand back and serve them Dorman's shaken, spiced applejack cocktail, topped with Crémant de Jura.
No matter your time restrictions or barware collection, you'll find the bubbles that fit your party best. Saber coming through!
BEGINNER BUBBLES
In times of party-planning strife, turn to the classics for comfort. Dorman's foolproof Champagne Cocktail requires no special barware and can be assembled before your guests can bat an eye. The sugar cube ignites a lively spurt of fizz and you can add a personal touch by choosing your favorite brandy for the base.
Champagne Cocktail
Contributed by Meaghan Dorman
INGREDIENTS:
.5 oz Cognac (or apple or pear brandy)
5 oz Dry Champagne (approximately)
1 Angostura Bitters-soaked sugar cube
Glass:
Champagne coupe
Garnish:
Lemon twist

PREPARATION:
Add the ingredients to a Champagne coupe and garnish with a lemon twist.
INTERMEDIATE ELEGANCE
Want to elicit "oohs" and "aahs" without much effort? Grab the nearest muddler and a cluster of grapes for Dorman's sophisticated South American cocktail. Those red grapes complement Dorman's use of pisco, a grape-based brandy, in this rosy flute. A great way to introduce guests to the floral finesse of pisco, the Andean Dusk embodies easy elegance.
Andean Dusk
Contributed by Meaghan Dorman
INGREDIENTS:
2 Seedless red grapes
.5 oz Fresh lemon juice
.5 oz Simple syrup (one part sugar, one part water)
1 oz La Diablada Pisco
Brut rosé Champagne
Garnish:
NA
Glass:
Champagne flute

PREPARATION:
In a cocktail shaker, muddle the seedless red grapes. Add the rest of the ingredients except the Champagne and fill shaker with ice. Shake, and strain into a Champagne flute. Top with brut rosé Champagne.
ADVANCED EVEREST OF EFFERVESCENCE
Strut your sparkling wine stuff with Dorman's over-the-top Taylor Precedent. Crémant de Jura, the term for sparkling wines from the Jura region of eastern France, infuses this flute with a playful tingling and bright acidity that contrasts the warmth of applejack and spiced tiki bitters. Homemade cinnamon syrup makes those holiday flavors hit the rafters, but be sure to prepare it the night before so the spicy essence reaches full strength.
TAYLOR PRECEDENT
Contributed by Meaghan Dorman
INGREDIENTS:
.5 oz Carpano Antica Formula Sweet Vermouth
.5 oz Cinnamon syrup*
1 oz Laird's Bonded Applejack
1 dash Bittermens Tiki Bitters
Crémant de Jura (or brut Champagne)
Glass:
Champagne flute
Garnish:
Brandied cherry

PREPARATION:
Add all ingredients except Crémant de Jura to a shaker and fill with ice. Shake, and strain into a Champagne flute. Top with Crémant de Jura and garnish with a brandied cherry.
*Cinnamon Syrup
INGREDIENTS:
  3 Cinnamon sticks
1 cup Sugar
4 oz Warm water
PREPARATION:
Combine all ingredients and stir until sugar is dissolved. Let sit overnight, then strain out cinnamon sticks. Refrigerate for up to two weeks.

More from Liquor.com:
7 of America's Most Haunted Bars