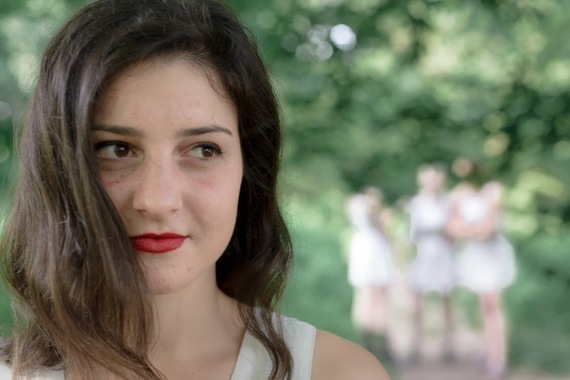 O' Save Us, St. Sophia "is both a celebration of friendship and an argument against it," explains director Sophia Lana Cohen Smith. "It's for anyone who has ever asked themselves if they should hang onto a sinking ship, or if they should cut ties."
At this year's New York International Fringe Festival, which celebrated its 19th anniversary, members of The New School for Drama's milestone BFA program presented O' Save Us, St. Sophia. Written by Mikey Craighead, the production premiered in January at Access Theater.
I interviewed Craighead about his work.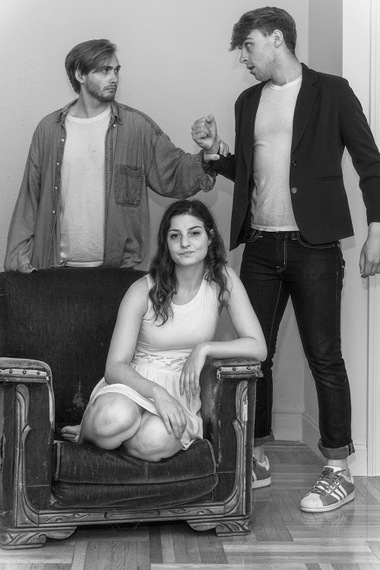 What compelled you to write O' Save Us, St. Sophia?
I was really drawn to the idea of using the vessel of realism as a storytelling tool without having to wholly adhere to every convention of "realism". I knew I wanted to take highly realistic characters and place them within a hyper-abstract world. The best way I can describe my style is "Abstract Lyrical Realism", but I'm hoping to one day find something a little less pretentious.
I also knew I wanted to write a platonic love story. Friendship is always so casually thrown in the backseat, but it deserves primary focus. I wanted to expose the brutal effects friendship can sometimes have on our mental and physical health.
Is the story based on your personal experiences or someone you know?
At its heart, yes, but there are major deviations. I would call it more "inspired by" than "biographical." It is mainly based on two specific friendships I've had in my life, as well as the relationship that I believe we all have with the little voice (or voices!) inside our respective heads. Parts of the scripts are drawn, verbatim, from conversations I have had, but the majority of it was created.
How did you research for the play?
By making a lot of stupid mistakes as a teenager, I guess! Mostly, I just read old journal entries I had written from when I was 18, or so. It's a pretty subjective piece, so technical accuracy often gave way to memory. It's about how Gregg remembers what happened, less so than what actually happened.
Were you surprised by any of your research?
In between the pages of melodramatic, depression-romanticised blubbery, I would sometimes find single sentences of things that still ring true to me some years later. It was really crazy, sifting through all of these relatively recent emotions I felt as a teen, and retrospectively noting which ones were and were not genuinely honest to me.
How has the play been received?
Well, nobody's thrown a tomato at us yet -- and our front of house staff tell us that people are leaving the theatre saying positive things every night, so that's pretty exciting.
Do the themes resonate with your classmates / audience?
I suppose you'd have to ask them! But from what I can gather people seem to really be finding parts of the story they connect with. I guess, at first, I was worried it would only be cathartic for millennials, but I've had a lot of people from different generations tell me how strongly they have related to it as well, and that's been super rewarding.
How is the play an argument against friendship?
It's a cautionary tale. I think that platonic friendships are the hardest relationships to traverse. I say it all the time: it's the only type of relationship where nobody is getting anything from it other than genuinely liking each other. It's why we're constantly labeling them as secondary to romantic or familial relationships. I would propose that "OSUSS" is more of an argument against sitting on a sinking ship. We've all had toxic, self-destructive friendships in our lives, and I think staying in those relationships can often be the more comfortable, if violent option. I think it's important to recognize that while someone may be a good person, they may not be good for us.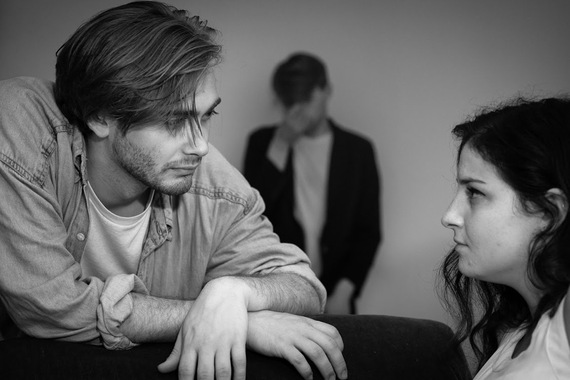 How does your work add to the conversations about mental illness?
I wanted to talk about mental illness and addiction as a part of someone's life as opposed to their whole life. In O' Save Us, St. Sophia the characters are much more concerned with the fact that it is really, really hard to talk to other people sometimes. It's even harder to talk to ourselves at other times. Mental illnesses and the drug addictions are things either getting in the way of that, or helping us cope with that, or both. A person is so much bigger than a disease, and I wanted to show a realistic portrayal of mental illness -- one which merely provided the scope for a much larger, more fully encompassing story about human communication.
What were you looking for during the casting process?
When we held auditions for O' Save Us, St. Sophia in November of 2014, back before the first iteration at ACCESS theatre, I hadn't even actually finished the script yet. I think one character only had, like, six lines written at that point. Still, my director Sophia Lana Cohen Smith and I knew what stories we wanted each character to tell. I wrote down personality descriptions for each character, and -- and I hate how corny this sounds, but it's what happened -- we searched for the soul of each one.
And honestly, I think it's actually one of the things I'm most proud of on this show. It's hard to imagine anyone else playing some of these roles. Like, for example, Katy Roth (she plays Hope) -- there is so much of her spirit inside of our interpretation of that character, and it's phenomenal. She -- and all of the actors -- have helped shape the script so much, and that's one of the coolest parts about the whole experience for me. Every single member of Dirty Dishes' enthusiasm is boundless and it's infectious and I live for it.
Do you think loneliness is more pervasive in big cities?
I mean, definitely. But I think people can be lonely anywhere. For most of my life I went to a school that was very seriously in the middle of a cornfield. I was pretty lonely there, too. I think, maybe, the reason big cities can sometimes seem so sad is because people from all over, who feel that same sense of loneliness that I felt back in Indiana, move to the big cities. Loneliness travels. That being said, one of the reasons I think New York City is so cool is that it's a city of "others". I'd like to think that's the reason why New Yorkers -- at least in my personal experience -- are so accepting and gracious of everyone's differences. So, really, the loneliness is a good thing, I guess?
Did you consider alternate endings?
Never. The epilogue was one of the first things that I wrote for the play, and I have one of the final stage directions tattoo'd on my arm. I'm committed to this ending.
Photo Credit: Bill Craighead
Author's Note: R U OK? Day "is an annual day in September (the second Thursday) dedicated to remind people to ask family, friends and colleagues the question, "R U OK?", in a meaningful way, because connecting regularly and meaningfully is one thing everyone can do to make a difference to anyone who might be struggling."