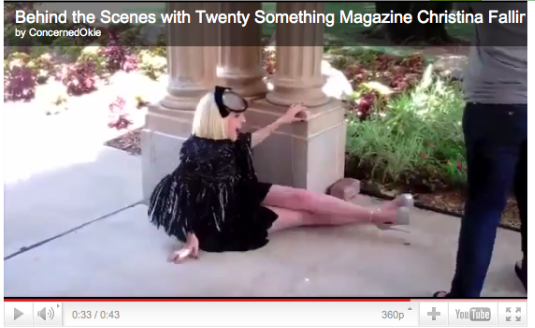 The Family Leader's marriage values pledge isn't the only undignified and inappropriate item to come out of conservative politics. Oklahoma governor Mary Fallin's daughter Christina Fallin-Bacon's fashion photo spread from Twenty-Something magazine -- which named the First Daughter their August Girl of the Month -- may not be what right-wing politicians have in mind for the youth of today.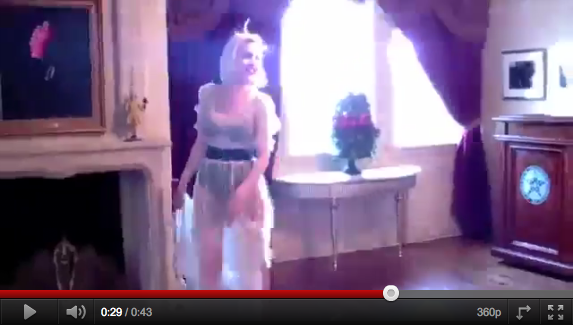 The above photos are screen shot from the video removed from Twenty-Something's website which has since reappeared on the web.
The video features the First Daughter dancing in one of the Governor's Mansion's main rooms in a sheer white sheet dress revealing her black underpinnings, rolling on the ground outside the mansion and mincing in pseudo-Courtney Love/Lady GaGa-esque garb. The whole video is set to really dreadful techno-dance music.
Perusing Twenty-Something's current and past issues gives an insight into how fashion is playing out in Oklahoma's youth culture, as seen and shaped by twenty-somethings. It's kinda mall-y, with an emphasis on flash and cash. I wonder if newlywed Christina Falin-Bacon will use this spread as a launch for a reality TV series. She's got all the earmarks for turgid drama: Just married daughter of a conservative governor, with an apparent desire to become a noticed socialite and force in the youth culture of her state.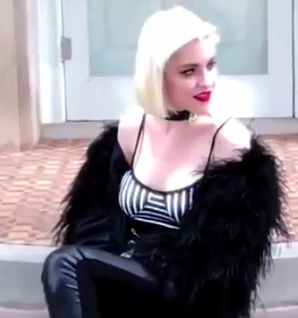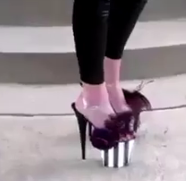 Governor Fallin (rhymes with Palin) is Oklahoma's first woman governor. She ran on the values of "Faith, Family, and Freedom." Her husband Wade Christensen has received $1.9 million in federal farm subsidies. Gov. Fallin divorced her first husband in 1998, during her second term as Oklahoma's lieutenant governor (she was the first woman to hold that office in Oklahoma's history and later only the second woman Oklahomans ever elected to US Congress) amid rumors of an affair with her bodyguard, who resigned over "improper conduct."
Lisa Derrick is La Figa on Firedoglake.com