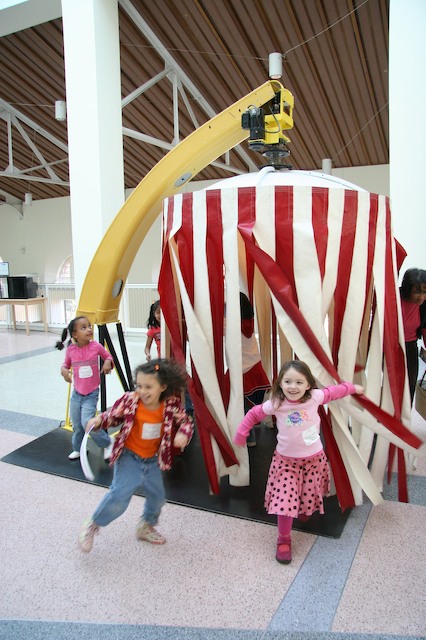 As any parent can tell you, school funding, especially for public schools, is at a disastrous low. For example $800 million has been cut from the 2009 public schools budget in California.

Recently Los Angeles City Council president Eric Garcetti commented:
While the education funding that was restored to the final stimulus bill will help our schools, the fact remains that local education budgets are currently stretched incredibly thin and our students and teachers are paying the price.
And that's true not only in Los Angeles and California, but all across the country.
Parents and teachers are scrambling to raise money for the most basic supplies, with the parent body burned out from staging benefit after benefit for maintenance and improvements.
That's what single mom Modi Frank experienced first hand, and so she stepped in to meet the needs of local schools. Already a successful entrepreneur, Modi shifted her eBay business to accommodate the needs of non-profits, starting GivingEngine.com, an online management service that works with non-profits, especially schools. In the past year she has broadened her platform to enable schools everywhere in America to access the benefits of online auctions as fundraising tools.
Modi's specialty is celebrity auctions: Over the past four years, she's raised hundreds of thousands of dollars for schools auctioning off everything from Pearl Jam memorabilia (which brought in over $25,000 for a Montessori school) to "experience packages" like on-set visits and "walk on roles" in hit television shows (Grey's Anatomy, Medium, Two and A Half Men, The Suite Life of Zack & Cody, Dancing With The Stars) and rare memorabilia from Smallville, Heroes, The Suite Life of Zack & Cody,The Simpsons, Entourage) to VIP concert tickets with band meet-and-greets.
Says Modi, who last week completed an auction of Fleetwood Mac tickets and meet-a-greets for one school raising over $10,000 and this week is auctioning off Lady GaGa tickets and a meet-and-greet to benefit another.
I am determined to introduce all of our schools to this revenue stream. As a fellow parent I've designed a turnkey system where this global on-line platform raises a lot more than selling wrapping paper or candy.

Recently Modi was joined in her business by another parent Eric Scopetta who explains
Last year I moved to LA, and I was fundraising chair at my step-daughters pre-school in Silver Lake. I was responsible for putting together the annual silent auction, as well as several other events. It was like taking on another fulltime job! After the governor's budget cut $15,000 from our school, a parent referred me to Modi and Giving Engine. In one charity auction on eBay, she raised over $13,000 for the school!
Modi's success convinced Eric to combine his energy and enthusiasm with hers.
I am determined to help Modi introduce this resource to every school in LA, and maybe beyond. Non-profits have been raising millions of dollars through eBay's charitable arm, Giving Works, and there's no reason our deserving schools can't to the same.
Modi has found the work, while at times challenging, ultimately rewarding.
In the past four years, I have managed eBay auctions for schools all around California, and now outside of the state. I am proud to have helped school fundraising committees raise much-needed funds for their children's education. And I love what I do-helping our schools one bid at a time.