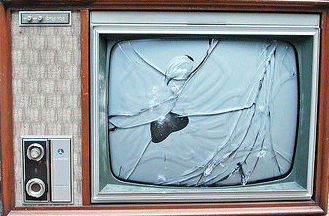 So much for inclusion. Millions of viewers will be left unable to to watch the Opening Celebration for the 56th Presidential Inaugural,
a celebration of America which will be held on the steps of the Lincoln Memorial on Sunday, January 18.
Pay-TV powerhouse HBO will:
televise the event that evening on an open signal, working with all of its distributors to allow Americans across the country with access to cable or satellite television to join in the Opening Celebration for free.
But millions get the teevee the ye olde fashioned way, by airwaves, whether using soon-to-be phased-out analog signal antennas, digital converter boxes or newer digital sets.
Nationwide about 14 million households depend on analog TV signals, according to Nielsen Co. Centris puts that number closer to 20 million households. But those folks--even with analog-to-digital converter boxes, along with the millions more who have switched to digital television sets but rely strictly on broadcast channels--won't be able to watch Opening Celebration which both President-elect Obama and Vice President-elect Biden will attend. The event features
some of the biggest acts in the world of entertainment to celebrate our common heritage and our new direction.
A common heritage if you have cable or satellite, which seems to be the new direction HBO and the Presidential Inaugural Committee is pushing people.
Says PIC Executive Director Emmett S. Beliveau:
We are very excited that HBO will be televising the kick-off event for our Inaugural. Their proven track record as a leader in television will help ensure an event that reflects President-elect Obama's commitment to holding an inauguration that is open, accessible and reflects America's spirit of unity. The Presidential Inaugural Committee is committed to staging an Opening Celebration that reflects the best of our nation, and we are pleased that millions of people across the country will be able to share in this historic experience.
If they have cable or satellite.
And the comment from HBO's Chairman & CEO Bill Nelson is repulsive:
We are honored to be broadcasting an event of this national significance featuring some of the leading talent from the music and entertainment industry. HBO is proud to work with all of our distributors to make this event accessible to as many citizens as possible.
If they have satellite or cable.
Lisa Derrick is La Figa at Firedoglake.com