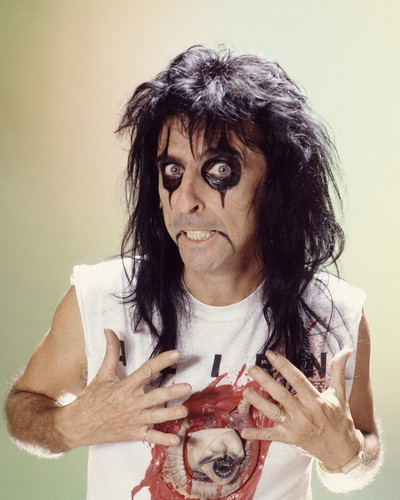 Snake dancing, stage blood-covered shock rocker turned Republican golfer Alice Cooper will open for President Barack Obama at Arizona State University's graduation ceremony May 13.
Cooper who's shared the stage with the Rolling Stones, Led Zeppelin, John Lennon, Jimi Hendrix, Groucho Marx and Johnny Carson, says:
Of all the people I've ever shared a stage with, Obama is the biggest rock star. And I'd like to thank him, in advance, for changing the national anthem to 'Schools Out.'

In 1983 Arizona's own John McCain voted against establishing a national holiday to honor Dr. Martin Luther King, Jr. and in 1987 supported Arizona Republican Governor Evan Mecham's rescinding of the state holiday in honor of King created by the Democratic predecessor. In the face of overwhelming public disgust for this position, McCain eventually backed down and encouraged state recognition of the holiday.
Mecham's infamy continued to grow: He got a triple kick as the first United States governor
to simultaneously face removal from office through impeachment, a scheduled recall election, and a felony indictment
and became the first Arizona governor to be impeached. So it's kinda really extra huge to have Obama there. Except:
most important financial aid program and renaming it the President Barack Obama Scholars Program).
The program will now serve triple the number of students, providing funding for direct costs to all academically qualified Arizona freshmen from families that earn less than $60,000, up form $25,000. Which is great, but it's still a diss to not give an honorary degree.
Lisa Derrick is La Figa at Firedoglake.com