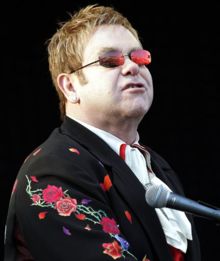 OMG! Elton John, you're breaking my heart. And getting used by Yes-on-8 fund raisers in the aftermath of the passage of ballot initiative that eliminated same-sex marriage in California.
Sir Elton's comments, made November 12 before the start of his annual Elton John AIDS Foundation dinner in New York--Anderson Cooper hosted and Gladys Knight performed-- are now being used by the Yes-on-8 campaign and are featured the Protect Marriage website.
Elton may be happy with his civil union, but that's because the UK version is very different form California's. While in the United Kingdom, civil unions grant all the rights of marriage and are available for same and opposite sex couples, in California, only same-sex couples may have a civil union. More importantly, in California, civil unions are granted the same 400 state rights as marriages but--and this is a huge but-- are ineligible for the 1069 federal marriage rights, should the Defense of Marriage Act be overturned. President-elect Barack Obama's political platform calls for a full repeal of DOMA.
Jeff Flint, manager of the Yes-on-8 campaign, sent out an e-mail solicitation Thursday citing Sir Elton's remarks. Prominent on the e-mail is a large red button that says: Donate. The email also decries the protests and alleged vandalism.
Money raised through the Yes on 8 email solicitation featuring Elton John will be used in the coming court battle over Proposition 8.
Damn...Elton's Red Piano at Caesar's Palace is now off my list.