Chicago's lakefront stretches from the city's northern to southern boundary lines, but it's the area between Lincoln Park and Grant Park that offers the most to see and do.
You will find many of the things Chicago is known for along its lakefront, such as world-class museums, notable architecture and delicious food. You can also enjoy numerous recreational activities, first-rate shopping and untamed nature within the city limits.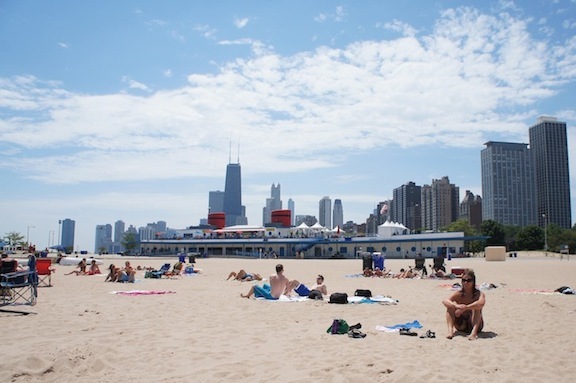 Lincoln Park
At over 1200 acres, Lincoln Park is Chicago's biggest park. The park is home to the Lincoln Park Zoo, one of only 3 free zoos in the US. Other places of interest within the park are the Peggy Notebaert Nature Museum, Lincoln Park Conservatory, Chicago History Museum, Theater on the Lake, and Lincoln Park Cultural Center.
The park also provides many recreational opportunities for Chicagoans and visitors alike. In addition to a section of the paved 18 mile Lakefront Trail, there are a rowing canal, playing fields, fieldhouses, an archery range, playgrounds, and fishing and birding areas.
Lincoln Park isn't only a park; it's one of Chicago's 77 distinct neighborhoods. The neighborhood's boundaries don't match the park's, but they overlap between Diversey Parkway and North Avenue along the lakefront. This neighborhood is a nice mix of residential units, restaurants and other entertainment, and is a favorite among young (20s - 30s), single adults.
Many of Chicago's most acclaimed restaurants like Alinea and Charlie Trotter's are in Lincoln Park. In my opinion, these world-renowned restaurants pale in comparison to the best burger joint of all time: Weiner Circle. Weiner Circle is a true dive: cash only and open from 10:30 AM to 4:00 AM (5:30 AM on Friday and Saturday). This is THE PLACE to get a greasy, mouthwatering, heart attack inducing charcheddar burger and cheese fries. Keep in mind, most of the time Weiner Circle would get a "G" rating, but after midnight the staff can get profane. Don't go then if you are easily offended.
If you're a beach lover, North Avenue Beach is the most popular beach in the area. It's also the one with the most amenities. You will find washrooms; showers; a restaurant; a bar; carry out food counters; a boathouse shaped like an actual boat; yoga classes; and bike, kayak, SUP, and Jet Ski rentals there.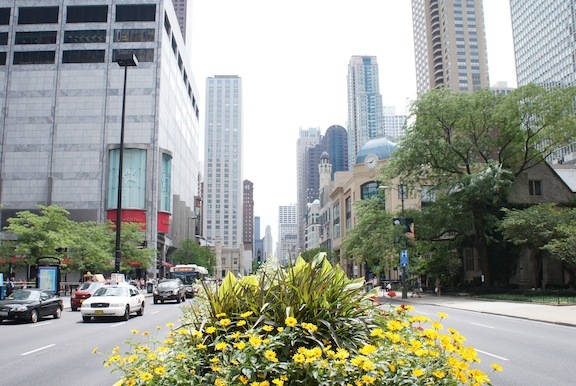 The Magnificent Mile
The Magnificent Mile refers to North Michigan Avenue from Oak Street to the Chicago River. This is where you will find the greatest concentration of upscale shopping and hotels in Chicago. While Michigan Avenue isn't directly on the lake - it's anywhere from 1 block west at Oak Street to 4 blocks west at the Chicago River - you are always within walking distance.
Although technically part of Lincoln Park, Oak Street Beach anchors the Magnificent Mile on the north. As Chicago's "see and be seen" beach, its character is far more posh Magnificent Mile than mellow, sporty Lincoln Park.
Examples of significant architecture abound along the Magnificent Mile. This is where you will find Chicago's Water Tower and Pumping Station, two of the few structures left from before the Great Chicago Fire of 1871. Nearby is the John Hancock Center (1970) -- at one time the tallest building in the world --, which has a viewing deck as well as a restaurant and bar to enjoy the stunning vista. On a clear day you can see across 4 states: Illinois, Indiana, Michigan, and Wisconsin. Other buildings of note include the Fourth Presbyterian Church (1914), Drake Hotel (1920), Wrigley Building (1921), Tribune Tower (1925), and Palmolive Building (1929).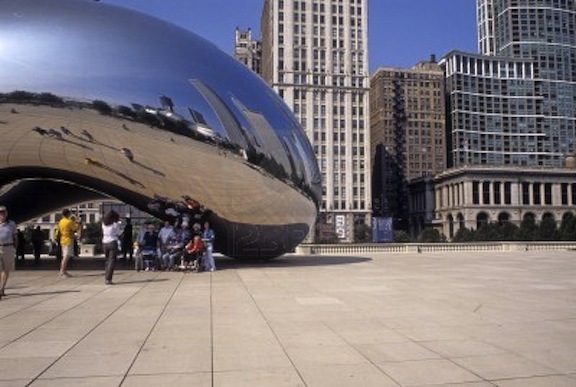 Grant Park
Grant Park is where you will find some of Chicago's best, and most well-known, museums. These include the Field Museum of Natural History, John G. Shedd Aquarium, Adler Planetarium, and Art Institute of Chicago. The Field Museum, Shedd Aquarium, and Adler Planetarium are all part of Chicago's Museum Campus while the Art Institute is a few blocks west on Michigan Avenue. Another notable feature of Grant Park is Clarence Buckingham Memorial Fountain. Built in 1927, it's a magnificent work of art where you can see a free water and light show from April to October beginning at 9:00 PM each night.
Grant Park figures prominently in Chicago's history. It's one of the places where Chicago Police clashed with demonstrators during the 1968 Democratic Convention. It's where Chicago celebrated the Bulls' championships in the 1990s, and it is where President Barack Obama made his victory speech on November 4, 2008. Grant Park is also where you can attend various concerts and festivals such as Lollapalooza and The Taste of Chicago.
Millennium Park is part of Grant Park, making it a park within a park, so to speak. Whereas Grant Park's origins date back to the 1800s, Millennium Park is the brainchild of former Chicago mayor Richard M. Daley. It was formally opened in 2004, and is where you will find Cloud Gate (better known as The Bean), the Frank Gehry designed Jay Pritzker Pavilion, the Crown Fountain, and the Lurie Garden among other interesting buildings, structures, and artwork.
Whatever you like to do, Chicago's Lakefront probably has it.