Christmas cards are both the highlight of my year and the bane of my existence. I absolutely love receiving them and honestly look forward to the 11 months leading up to the arrival of certain cards, because I know that they will make me smile. I clear off doors' worth of "art" work by my children so that we can display our cards, and I always feel sad when the second week of January hits, because we must finally take them down. There is something so heartwarming about seeing all the cards with photos of smiling children and knowing, from experience, all the creativity and hard work that people (often mothers) put into making sure the cards best represent their families.
Because once the advent of photo cards happened, simply getting the right Christmas card photo(s) is a chore, or has been in years past for me. The outtakes could probably be a card in and of themselves, but honestly, who wants that displayed, every year, on their mantle? I always imagine during the home photo session that if I were on a hidden camera reality show, the following clip would be the scene they would use right before they brought some sort of expert to coach me through how to really be a loving parent.
Nothing says holiday joy like:
"Stand over here kids."
"Now, hug your sister. No, I said HUG your sister... don't crush your sister!"
"Do you children even want presents this year?"
"I have Santa's phone number, and I am not afraid to call him and cancel Christmas right now if you don't do what I say!"
"Stop crying RIGHT. THIS. MINUTE. And smile, This is all Mommy asks of you once a year, and you can't even help me here?"
"Mommy is sorry girls, mommy is really sorry... I am not calling Santa... can you both just smile and then you can have popsicles?"
And on and on we go until in the end I consider doing what I did last year, which was using a card of crying Santa pictures.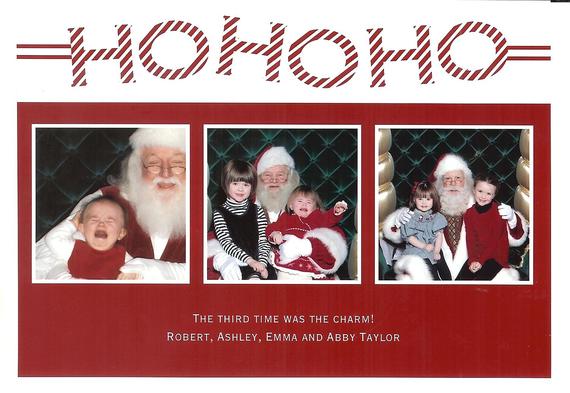 But this year, I got really smart and turned the whole thing over to my amazing photographer friend. She perfectly captured exactly who my girls are at just this moment -- and all I had to do was buy the dresses and show up. That, my friends, is the ticket to Christmas magic!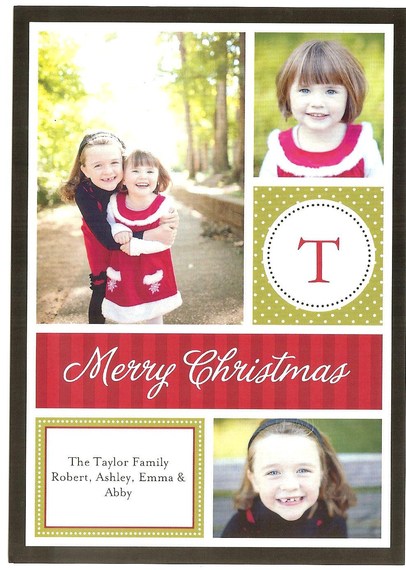 But the accompanying stress of Christmas card season was not over, as I was then on to the next phase of the Christmas card process, which is always fraught with challenge for me... the annual cutting of the list.
Because I love Christmas cards, I never want to remove anyone from my list. Ever. If I had my way, I would exchange cards with every person we have ever known. However, time and money prevent this from being possible. Also, as life would have it, my list seems to grow each year as the girls get older, and we fortunately add some new friends to our lives, which makes the cutting even more necessary. So, I pulled out the list and began to make my way through it, finding that some names were easy to add to the delete columns, while others were a little harder, but still necessary.
But then the unexpected happened. Even though I should have been prepared. I came to my mother's name. Ouch. You see, in the final couple of years before she died, my mother was in a nursing home, which meant that I had to send her card there. That alone had been a bit of a transition for me to make, but now I came to the point where I had to permanently remove her name from the list. It seemed pathetic to leave it on there because obviously, this reminder would probably be no less painful next year, but it also felt so strange to just backspace over it, as though it had not existed at all.
The same backspace action that I gave to the neighbor who moved or the classmate of Abby's from last year who went to a different school. Except in this case, it was my mother. It was my mother who would not be receiving a Christmas card and my mother, in fact, who would not be seeing the professional photos of my children for the very first time. She would have LOVED these photos, would have wanted to talk about them for hours, definitely would have wanted to purchase every single one, despite not having a place to put them. In fact, honestly, it probably would have annoyed me, but she would have loved them. And it makes me so sad that she won't see the card with the photos, and just as sad that she is off the list, just like that. There is no button for "regrettably delete." It was all the same to my computer, but not all the same to me.
So, here we are, right? It is the season of hope, of love, of joy, of peace and of longing, I suppose. But I can't help but think about how many people in creating their own cards, the ones that I have hanging on my door and the ones I will never see, went through the same process of cutting and culling their list; and might have had the sadness and pain that I did when I culled mine.
These cards, for me anyway, serve as a reminder that we are all in this together, that once a year we all remember each other and take the time to say so, even to those who can't get a card anymore.