December... either you love it or you loathe it. It means poor weather for almost all of us, (except you lucky Floridians!) but on the flip side, it is filled with the joy of celebrating the holiday season with friends and family. Here in the wine country the vines carve simple black lines that make a wonderful architectural statement in the fields. Wineries, resorts and homes all have their outdoor fireplaces blazing, and there are lots of gatherings with great food, wine and merriment.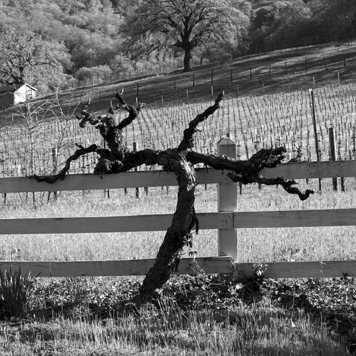 Sally Seymour/Winter Taplin Road/Seymour&McIntosh
The weekend after Thanksgiving is that pause where you can take stock of what you have planned for December, and of course, get organized! If you're not planning to travel for the season, and expect to do some entertaining, now is the time to prepare your home.

Just this week I held a live Q&A on Facebook regarding how to prepare for the holiday season. There were so many great questions, that I thought I might touch on a few of them again, as they seem to be universal concerns for us all...
"What are the color trends for this year for the holidays?"
Color for interiors and décor always follow fashion, and this has been the year of the metallics and skins, on everything from handbags and shoes to clothing items, so the metallic theme is going to come through for interiors. Shimmery silvers and golds, pewters, bronze, coppers and even brass tones will be big, and actually always add a little glamour to a space. HERE'S THE CARDINAL RULE... use these in MODERATION! Too much and you're bordering on bad disco, which is not likely to be the feel you're trying to achieve...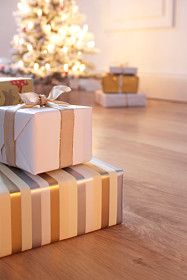 Junos/Getty Images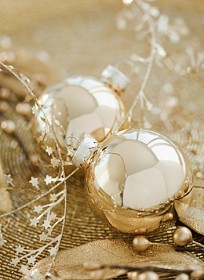 Jamie Grill//Getty Images
"Any suggestions for office party décor and gifts?"
As holiday office parties are multi-denominational, keeping it simple is always best. I like TONS of small white lights, clustered or strung generously around a space. They are simple, and give any space a festive feeling. If you've got the classic "Secret Santa" event, choose something neutral, which can be enjoyed by anyone. NapaStyle has some great ideas.
"What are some less traditional holiday colors that I can use for my holiday décor besides red and green?"
Not being a big fan of these two together, I usually eschew the traditional green and red theme at this time of year. White is my go-to color for any entertaining, and white and deep red are great as a simple combination, but NOT on the tree! If you want a stunning look, do the tree in all white... it's a very chic statement. I also like the mix of antique gold and pewter together; it has a festive and elegant feel. If you're feeling extra adventurous, borrow Yves Saint Laurents' classic combo of hot orange and hot pink together. Very fresh!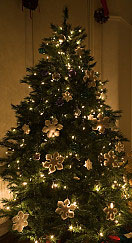 Image Source/Getty Images
"What can I do if I only have space for a Christmas tree in a corner of my living room, should I rearrange all the furniture?"
Absolutely not, that is way too much hassle! Just make sure you get a well-scaled tree for the ceiling height, and then simply DROWN it in white lights! It will positively glow in that corner, and be a delight to see. If the tree is well shaped, I would ONLY do lights to create a wonderful architectural statement. Also, if you do purchase real trees, make sure you're getting live ones that can be replanted, or if you must buy a cut one, be sure to recycle...
"Do you have any suggestions for that last-minute hostess gift?"
I always buy a few extra small items that I would love to get myself. I really like these little Italian candles. They are the perfect "grab and go" gift that everyone can enjoy.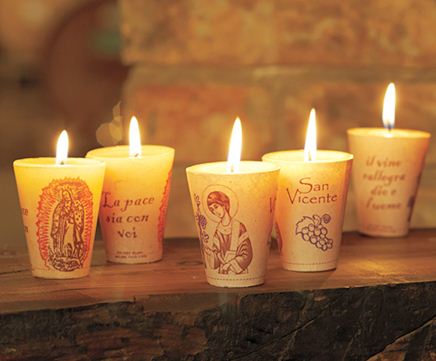 Courtesy of NapaStyle
"What is the best way to handle the "children's table" so they don't feel like outcasts?"
If you can't fit the tables together, create a smaller version of the same tabletop décor so they feel as if they are at the same party!
"Any suggestions for creative gift-wrapping ideas?"
I always keep any wrapping simple. Personally I love the recycled brown shipping paper you can get at office supply stores, and then use florist twine or raffia for an understated, tasteful look. If you are wrapping multiple items that will be displayed, make sure you keep an eye on colors, and keep it to two at the max, and, of course, ones that will work with your décor.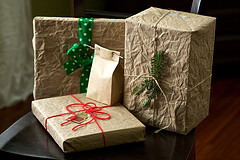 Susy Morris/Flickr
Be sure to check my October and November NapaStyle posts for additional tips on getting your home ready for a "stress-free" and fantastic holiday season!
Wishing you a season of chic....