In a study reported by ScienceDaily, researchers from MIT, Carnegie Mellon University and Union College examined levels of collective intelligence in groups and found that those containing more women demonstrated greater "social sensitivity "-- the ability to perceive other members' emotions -- and thus performed better in complex undertakings.
Sounds like the feminist principle of co-creation to me. As Gloria Steinem wrote in "Revolution From Within": "progress means interdependence." Joining a women's group and participating in goddess retreats can help connect creative collaborators and foster radical personal transformation. Ten years ago, I joined a women's circle and attended my first goddess retreat. When I made space for my own personal and spiritual growth in these environments, I was showered with support and grew in ways I never could have imagined.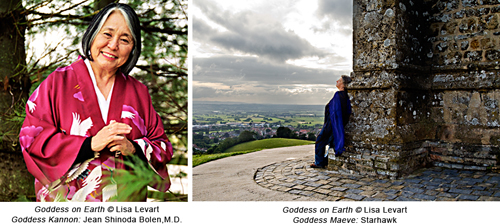 While attending these gatherings, I connected with over 80 women who worked with me to create "Goddess on Earth," a visual celebration of the Divine Feminine. Among these women was the well-known activist, organizer and author Starhawk. Starhawk's experience in circles over the past four decades has provided her with real knowledge of what makes effective collaboration and has shared this in her new book: "The Empowerment Manual: A Guide for Collaborative Groups."
At the Glastonbury Goddess Conference, I photographed Starhawk embodying Maeve, the Celtic goddess of sovereignty and protection. Describing Maeve as a formidable figure who represents a call to action Starhawk wrote; "For me, she's the inspiration to fight for the wild things, and to dare to transgress the boundaries of what people consider sensible and sane." In a group or circle, that inspiration can have the support to become concrete activism.
In her book "The Millionth Circle: How to Change Ourselves and the World," Jean Shinoda Bolen, M.D. advocates for women's groups, believing that if we form consensus-based, peace-loving circles of support, one day 'the millionth circle' will be the tipping point to transform the psyche of the human race. In "Goddess on Earth," she chose to portray the goddess Kannon, the Japanese Bodhisattva of compassion. "I am motivated by compassion and by the optimism that anything we love can be saved," she wrote, "even knowing that this is not always so." In a circle, we can foster global compassion effectively.
The women I meet at retreats and conferences around the world have proved to me the power of co-creation. We can inspire and sustain one another -- not struggle or compete in conflicting factions. And we can create powerful change in a group or circle packed with women.