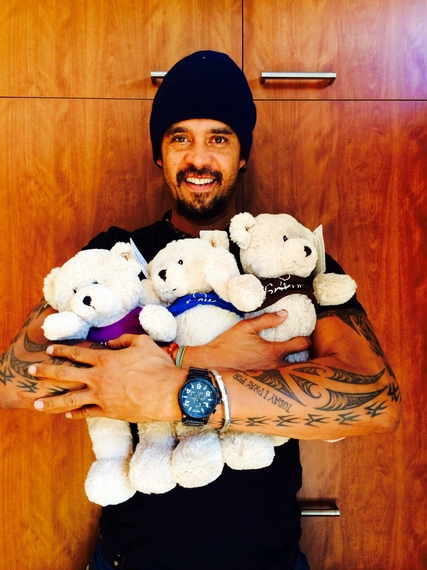 September 9th is National Teddy Bear Day
Musician Michael Franti with the Three Little Bears, which benefit Operation Smile, and are named after my three boys Zachary, Luke and Griffin Lori
Some people just give good vibes. Musician and philanthropist Michael Franti and his partner Sara Agah, are two such people, and they give it in spades. If you follow Michael Franti and the Spearheads music, their particular blend of reggae, funk and hip hop, is all about feeling good. His concerts are dance in the isle celebrations, and feel more like a movement than a show.
In 2013, Michael and Sara launched the Do It For The Love Foundation, after an especially meaningful encounter with one of Michael's fans. Hope Dezember contacted Michael prior to a concert in Florida via Twitter about her husband Steve's wish to meet him and the band after a show. Steve, who has ALS, and his wife thought this might be his last concert. That evening, Michael invited them on stage and, although Steve was in a wheelchair, Hope and Steve danced on stage in front of 20,000 emotional fans. For many celebrities, that feel good moment would have been enough, but not for Michael Franti and Sara Agah, an ER nurse, who recognized the uniqueness of that night and opportunity to harness that powerful energy.
Not long after meeting Hope and Steve, Mr. Franti had his own health crisis when his appendix ruptured while on tour. Motivated by his near death experience, and inspired by the love of Hope and Steve, Michael knew that music had the ability to bring happiness, even in the face of overwhelming challenges, Together, Michael and Sara, created the Do It For the Love a global nonprofit wish granting foundation that brings people living with life-threatening illnesses, children with severe challenges, and wounded veterans to live concerts.
Through the healing power of music, their goal is to inspire joy, hope, and lasting celebratory memories in the face of severe illness or trauma. Long before the incredible ALS Ice Bucket Challenge, Michael and Sara challenged each other to do good.
On October 11th, 2014, Operation Smile, an international children's charity dedicated to giving the healing power of a smile to children around the world, will honor Michael Franti, with the Universal Smile Award, at the San Francisco Smile Gala. I am proud to be the honorary chair for the evening and join the event's co-chairs -- Shab Farzaneh and Shirin Gonili, for this special event.
I was especially happy when Michael agreed to accept this honor, because as a mother of three children who have had numerous medical challenges, I believe fervently in the healing power of music. Music has been a vital part of my child rearing approach, and my own therapy, in dealing with the numerous curve balls life has thrown my family. I have a strong conviction that music can uniquely trigger happiness in our everyday lives. No matter what struggles we have gone through, turning on our favorite music, dancing in the living room or going to concert to hear live music, is one of the greatest joys a parent can give to a child.
On October 11th, when the guests are enjoying a special, short acoustic performance by Michael, I will be thinking about everything that has led up to that moment. I am not only a fan of Michael Franti's music, but a fan of Michael Franti, the human being, and what he and Sara are giving to so many, I believe that, each of us, has the ability to inspire happiness in others. It will be especially meaningful for me, as I am a native of the Bay Area, and will be attending the event with my 12 year old son Luke. All of this is part of my life's ambition to #triggerhappiness not only for my family, my friends, but myself. For more information about the San Francisco Smile Gala, please visit www.operationsmile.org/sfgala.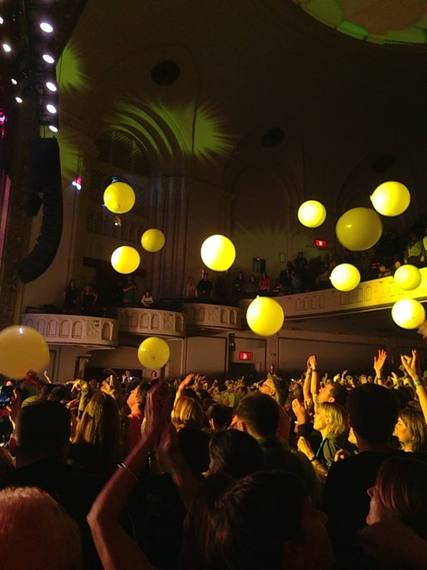 Giant yellow beach balls in the crowd during The Sounds of Sunshine being performed by a Michael Franti & The Spearheads at a concert last year