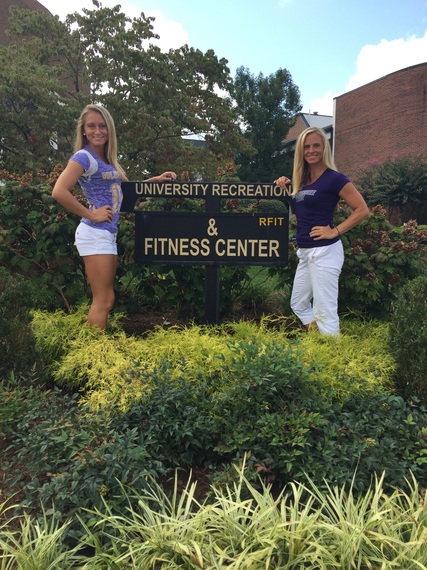 It's back to college, and I'm here with the five best tips (and easiest!) for keeping your body in shape all semester long!
As a college teacher and the mom of two college students, I know how time crunched students are, and making time to stay healthy is hard, but these five easy tips will have you there in no time!
Don't be afraid of the freshman 15 because with these five tips, not only will you avoid the freshman 15, you might even lose it!
1. Let's talk food and snacks.
It's afternoon, I've been in math class all day,walked a mile back to my (foodless) car and I'm hungry, and I mean like the guy in the 'snickers' commercial. I need food fast, now, like whatever gets in my hand first.
Wait... stop!
This is the part where chips or fries will end up in your hand and then you'll notice your pants won't button anymore. So, you need a plan!
We all know most college students don't have much money, but that doesn't mean you have to eat unhealthy!
First, don't skip breakfast!! This is huge because a good breakfast helps steady your metabolism for the entire day. I love oatmeal or a high fiber cereal (fiber will keep you full longer).
Next, we suggest keeping turkey and grilled chicken in your fridge at all times for quick fixes(sandwiches,wraps) for lunch and dinner.
If you have to eat out, think sandwich, soup, or a salad for your meals( try to avoid burger, fries,and pizza).
What about snacks? I love baked chips, pretzels, and low fat popcorn. Nothing like apples,strawberries and blueberries for a snack also if you're a fruity person !
Take time each week to prepare a few plastic snack bags filled with nuts, grapes, low fat cheese cubes, crackers and peanut butter and throw one in your bag pack ,so when the hunger monster attacks you'll be able to fight off the temptation of the candy bar or french fries calling your name.
2. Check out the fitness center!!
Most college fit centers have awesome cardio decks including treadmills, ellipticals and rowing machines but so much more!
You usually have access to a pool that can be used for a relaxing swim or a killer workout and you can also stop at the sauna afterwards (spa day anyone?)
School can be stressful( that's an understatement) but a good run on the track or a racquetball game with your friends can be exactly what you need to blow off steam. The fit center can be used just as much for mental health as it can for physical health, so don't underestimate the yoga classes.
So, be sure and check out the college fit class schedule!
You can usually find zumba, aqua ,strength, bootcamp , spin and kickboxing classes right at your fingertips! This is a great way to go because you'll have an instructor telling you what to do , possibly make new friends and who knows? You might just like it!
How about biking? Our university Fit center also offers free bike rentals. No excuse for you not to take a spin around campus and burn some calories. So be sure and check out what other services your college fit center offers ,too.
You can also sign up for intramural sports at most college Fitness centers too including: basketball, soccer, softball, and even dodge ball!
If hiking is your thing ,most fitness centers have you covered there as well. They offer a list of local parks and trails that you and your buddies can hit for an outdoor calorie burn.
3. Take a PE class for a credit.
Some majors require PE credits ,but almost every major has electives as requirements ,so why not take a PE?
You can find every activity usually offered as a PE course including: tennis,volleyball, golf, swimming ,walking, weight training and even cross fit to name a few! This will get you a sweat twice a week, hold you accountable and get you a credit hour! This can also help you make exercise a habit even after the class is over so it's a win win for you.
4. Don't drink your calories!!
Put down the soft drinks and alcohol!
A 20 oz soda has 250 calories which would take 50 minutes of running to burn off! So think twice before you grab that sugar filled drink next time.
Although most college students are not old enough to drink anyway, if you are, consider this-one 10 oz long island iced tea has the same amount of calories as a Big Mac! There's truth to why it's called a beer gut . All the more reasons to stay away from the alcoholic drinks.
5. Just move for 5 minutes a day!!!!!
Invite a friend to walk or run with you during the day or after classes... or just jam your playlist and move for five minutes because usually when you get started, it lasts way longer!!
Plus, here's an easy workout (five moves!) that you can do anytime, anywhere(perfect for dorm) that works all muscles,will get you sweaty and get your workout in for the day! All you need is a textbook(hey,at least you'll use it for something) and your tennis shoes!
15 high knees ( hold textbook and aim knees to touch book)
15 push ups (make chest touch book)
15 mountain climbers (book gets a break,you don't)
15 squats ( hold book in front of you)
15 plank taps( extend hand to tap book in front of you)
Repeat all 5 moves for 3 rounds!!
You'll end up sweaty , have done 45 push ups and squats for the day , and burned calories while toning your abs!!!
You can do this workout alone or add it to your cardio routine. We love hopping off the treadmill or bike and adding this in!!
College life can be stressful and busy but follow these 5 essential tips and you'll be on your way to earning an A+ in your skinny jeans in no time.