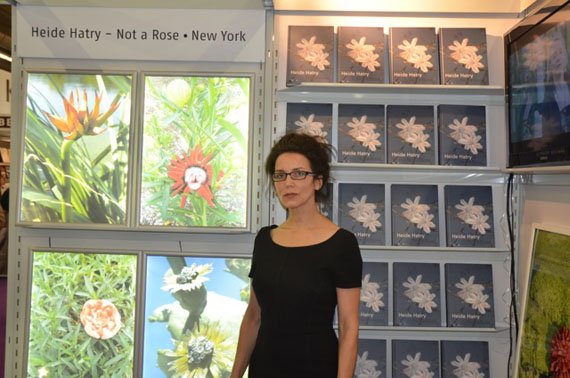 The German artist Heide Hatry with her groundbreaking multimedia "Not a Rose: A Neo-Conceptual Art Project" on the opening day of the Frankfurt Book Fair 2012.
Heide Hatry's Not a Rose: A Neo-Conceptual Art Project stunned visitors at the Frankfurt Book Fair with its marriage of sculpture, print, performance, film and the latest interactive video technology provided by a new firm, Logopeak, based in Heidelberg.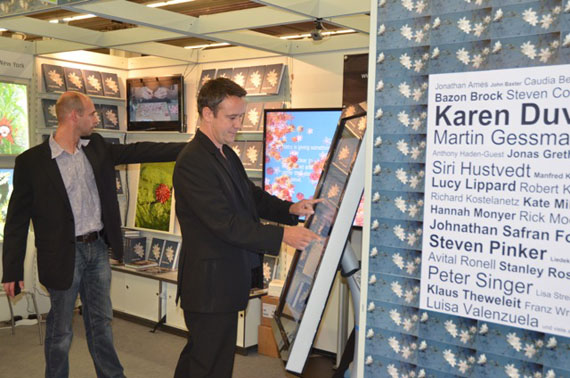 Logopeak partners Andreas Hummel (left) demonstrating the interactive screen, and Ulf Berghaus, right, demonstrating the touch screen featuring the contents of Not a Rose. Their product utilizes "living surface" software taking "motion tracking" to a higher interactive standard: co-creating a live art experience through gesture.
The system is based on an infrared camera, an infrared field and a small computer used with a beamer or flatsceen. The infrared camera realizes movement in a certain area and sends the impression to the computer, which creates the motion on the flatscreen.
This new technology brought something completely new to the book fair, with awesome interactive implications for the art fair, gallery experience, and live performance...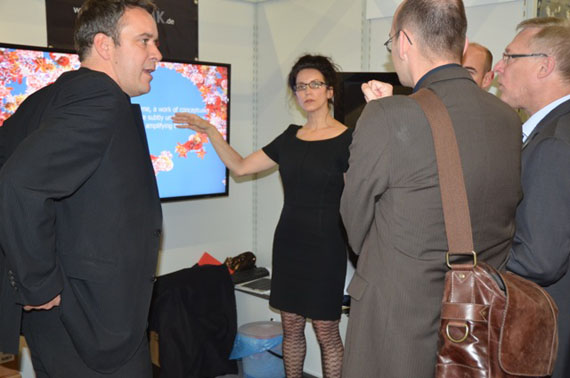 ...mesmerizing adults...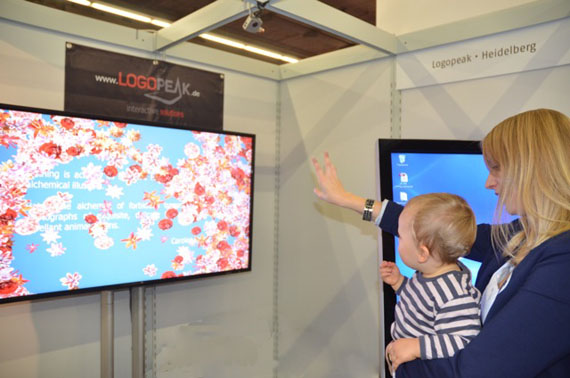 ... and children alike.
"I wanted to do a live performance at the book fair with live chicken heads, Crowned: Conversion of the Chicken," the artist declared. "But everyone I invited to see it was grossed-out by the thought."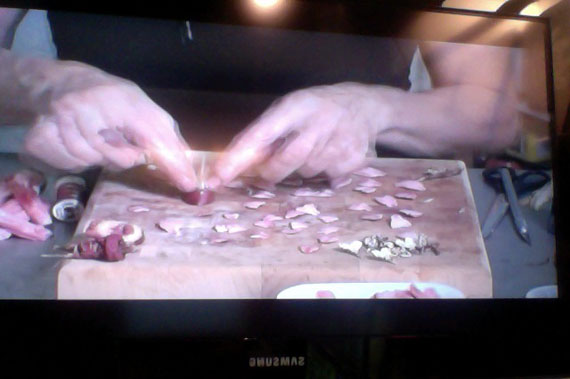 A trailer of the London Consortium TV forthcoming Not a Rose provides a view into Hatry's process of making flowers from animal parts -- frequently the genitals -- that don't make it into a human dinner.
"Then, I realized something," the artist continued. "This new media is a live performance. It becomes a totally new experience. You see the flowers in this new context. You can actually touch the material via the screen. This is actually the conversion of the chicken."
The New York City-based German artist, who had a previous career as a rare-book seller, is familiar with the terrain of the book fair. "I was always innovating," she says. In fact, Hatry was a catalyst for the Antiquarian Book Fair inside the Frankfurt Book Fair that she is now (r)revolutionizing by breaking down the boundaries between the digital and art book arenas.
A passion for rare books led to Hatry establishing a forceful presence in the international arts scene with her unique mass-produced word/image collaborations. By gathering prominent intellectuals, writers and artists to reflect on her powerful organic imagery, Hatry is igniting a charged dialectic sourced in a holistic definition of beauty within the context of female embodiment.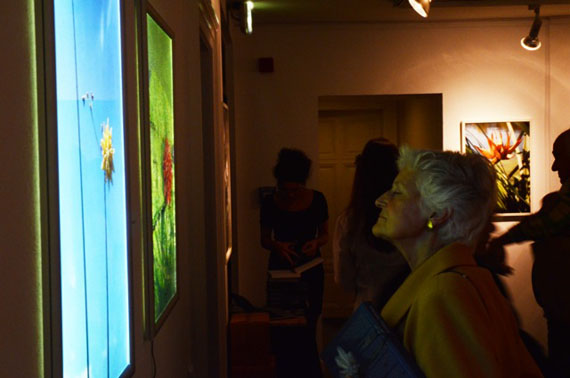 Contemplating beauty transformed from ugly organic waste. Not a Rose: A Neo-Conceptual Art Project opened on October 7 at DAI, the German-American Institute in Heidelberg.
Premiering in Frankfurt, Hatry's innovation extends the organic vision of the artist's previous multimedia book projects; Skin and Heads and Tales, igniting a 21st century (r)evolution by newly defining the avant-garde practice integrating word and image.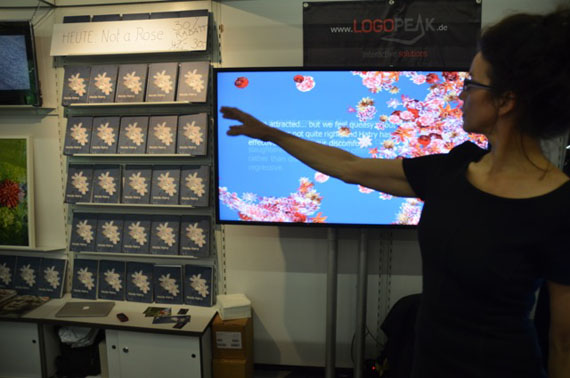 "Isn't this amazing," the artist says as she interacts with the Heideggerian closing and disclosing between her embodied product and heady reactions. "You get a pattern and touch it to create another. Then, you see these quotes!"
And what quotes, referring to Hatry as an outstanding conceptual artist of our era, a pinnacle in which she has made a leap into the "neo-conceptual" realm of embodiment.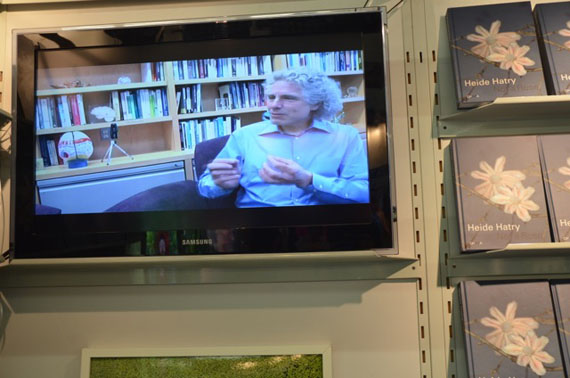 America's ethical voice, Steven Pinker, here in the Consortium TV trailer, was among the...
... 101 contributors, including: warrior/philosopher Avital Ronell ("Yes, why not, let words pop up as do flowers."); prominent critics Peter Frank, Lucy Lippard and Anthony Haden-Guest; red-hot novelists Rick Moody and Jonathan Safran Foer; Pulitzer Prize-winning poet Franz Wright; and such contrasting icons as Kate Millet and avant-gardist Richard Kostelanetz, who wrote: "Whenever a woman enters your sight with flowers in her hand, expect abuse."
The interactive technology reinforces the profound multi-layered meaning of Hatry's new botanical genus. While highlighting the massive human destruction of planetary life, the project also delivers a new paradigm of life/death/rebirth cycle into the avant-garde, evolving a universal organic/ephemeral embodiment process (that once limited the archival potential of feminist art) into 21st century digital technology and its potential for mass dissemination.
"Astonished," an American visitor uttered while staring with her mouth open.
It is hard to pinpoint just when it registers what Hatry is doing in her avant-garde performance art -- transforming the wretched discard from human consumption into a new aesthetic containing the opposites, an androgynous form incorporating both sexes as it reproduces itself into future generations -- an apt reflection of the artistic force capturing a zeitgeist that is Heide Hatry.
All photos of Heide Hatry by LPS, with the rest by the artist, used with permission.
Lisa Paul Streitfeld is a philosopher and cultural critic based in Berlin.