Clooneymania at The Monuments Men red carpet of the European premiere in Berlin where much of the movie was filmed. (AP Photo)
The 64th Internationale Filmfestspiele Berlin director Dieter Kosslick posing with the Berlinale mascot at the January 28 press conference where his response (above) to the first question about whether George Clooney would be present was accompanied by a quip about...(photo by LPS)
...cordially from the coveted third row at The Monuments Men press conference where observers were transformed into participants. (Photo courtesy of LPS)
Along with a full circle (r)evolution beyond the Uncertainty Principle, the underlying signature of this Berlinale is that European specialty: no holds barred sex exploding mainstream.
Audiences were treated to full frontal erotically charged nudity in a variety of films, complete with an invigorating educational primer Vulva 3.0...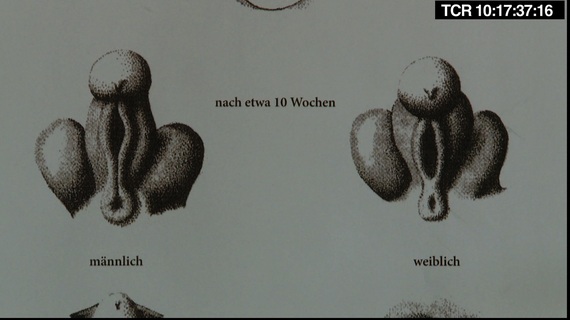 ...an enthralling documentary by the German team Claudia Richarz and Ulrike Zimmerman revealing the internal erectile structure of the clitoris parallel in development (above) to the male penis.
Maintaining the Berlinale celebration of filmmaking's cutting edge, the ongoing theme at this year's festival was bringing gender into balance by way of pushing collaboration to new extremes. Richard Linklater won the Silver Bear for Best Director for his Boyhood ensemble and French director Alain Renais who won a Silver Bear der neue Perspektiven eröffnet with Aimer, boire et chanter (Life of Riley), in which characters preparing for a play transform the temporal medium into a layered theatrical set piece.
Opening the festival, Wes Anderson's The Grand Budapest Hotel propelled filmmaking into a fantastical new terrain, winning the Silver Bear Grand Jury Prize. Culminating a deeply immersive collaborative vision into a superbly honed creation, Anderson utilized the variations of film frame to contain a story within a story while transforming the medium itself into a bold expressionist syncopation...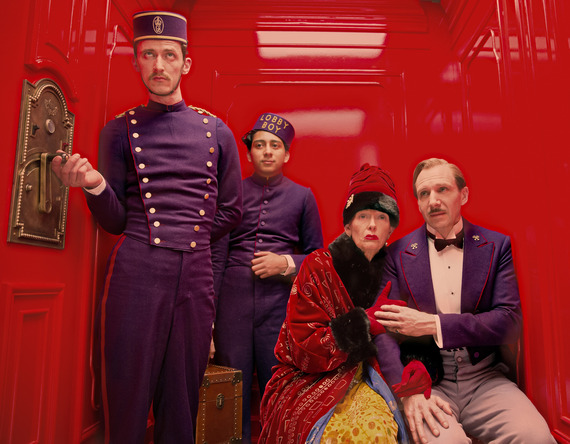 The magnificent Tilda Swindon as Madame D, a female dowager, here with paramour, M. Gustave, a relic of European grandeur superbly inhabited by Ralph Fiennes. In the press conference, she quipped: "Madame D. is what I look like in the morning without make-up."

Another barrier was smashed in Karim Aïnouz's allegorical Praia do Futuro stunner...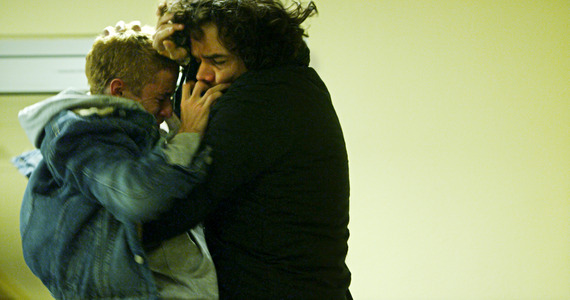 ...with the charismatic Brazilian world class star Wagner Moura embodying a new archetype in a breakout role as Donato (on right, with Jesuita Barbosa playing his younger brother Ayrton), an unintentional hero (mirrored by Muora's eloquent statements in the press conference) lured from his homeland to an unknown future in Berlin by an erotic bond transcending gender.
Likewise propelled into this erotically charged arena of the love that dare not speak its name was the sumptuously elegant Yves Saint Laurent which opened the Panorama special section.
The press conference for Yves Saint Laurent: director Jalil Lespert (beside Nikolai Kinski) reveals how he transformed a biopic "about looking" into a tour de force. Getting the best from his lead actors (Pierre Niney and Guillaume Gallienne to his right) from The Comédie-Française meant evolving into fated sexual attraction into a romance catalyzing a life long collaboration by way of a third entity (the hieros gamos). (photo by LPS)
Capturing the zeitgeist by way of pushing the marriage of art and life to the limit was the double whammy from a new star: the American filmmaker Josephine Decker.
"I've always been an overachiever," said Decker in the Berlin Film Haus, triumphant from the buzz generated by her two contrasting films in the festival: a clear statement of breakthrough via a balance of opposites. (Photo by LPS)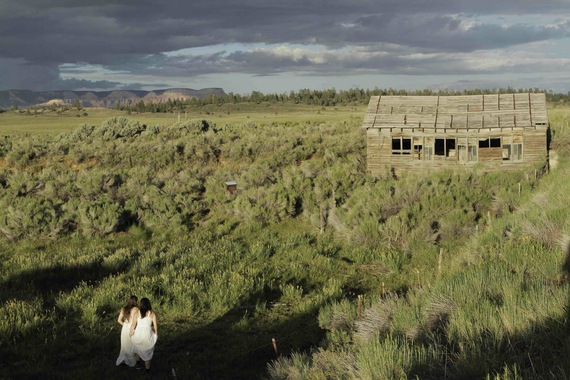 Butter on the Latch (above) is a daring free-form feminine journey with Sarah and Isolde (performing as themselves) penetrating into the taboo "heart of darkness" by way of an adventure in a Balkans music camp. This unscripted narrative was followed by Thou Wast Mild and Lovely, an unsettling genre-shifting fictional tale of the cataclysmic effects of a young woman's erotic awakening.
"It helps to be two of a kind..."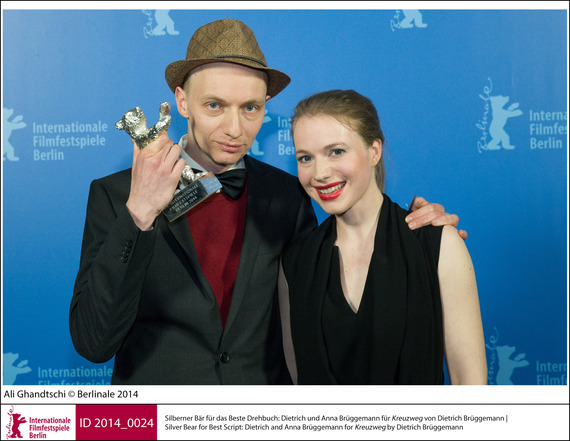 ...said Anna Brüggemann who shared, with her brother, Dietrich Brüggemann (director) the Best Screenplay award for Kreuzweg (Stations of the Cross). The German rendering of a biblical parable is sourced in a girl's conflict between her strict Catholic upbringing and the universal quest for Self. (photo courtesy of Internationale Filmfestspiele Berlin)
2009 Golden Bear winner Claudia Llosa returned with a new triumph, Aloft, which delivered on its transcendent theme: the healing power of story telling.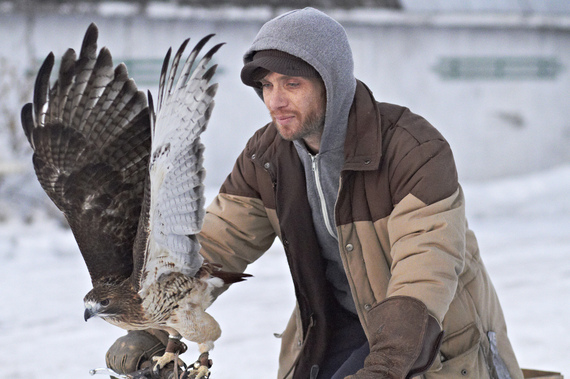 Heaven and and earth merge by means of a falconer (Cillian Murphy) on an erotic journey with a mysterious woman (Melanie Laurent) across a frozen lake to reconnect with his mother Nana (Jennifer Connelly) who abandoned him after her shamanic awakening.

This brings us to the new pathway, which emerged in the festival in unexpected places: first with Lars Von Trier's erotically charged Nymphomaniac Vol. 1 (long version) where sexual adventure transforms into love via the magical...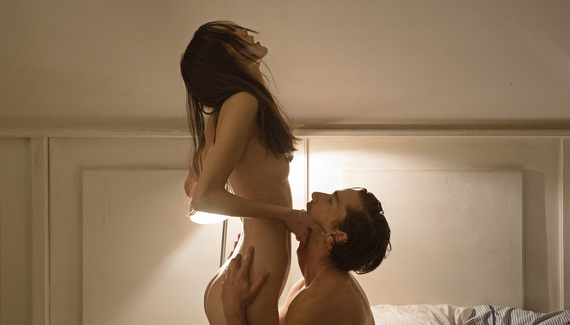 ...integration of occult. In a fascinating marriage of opposites, the "fallen" nymphomaniac (Charlotte Gainsbourg) relates her life story (beautifully rendered by newcomer Stacy Martin pictured here with Shia LaBeouf) to the sheltering Jewish intellectual Seligman (Stellan Skarsgård) who provides a mystical elucidation for the audience.

The sheer genius of Lars Von Trier, posing here with his cast at the Berlinale photo call in his Cannes outcast relic. (AP photo)

The Danish filmmaker's "Trilogy of Depression" (Antichrist, Melancholia and Nymphomaniac) chronicles the emergence of a new holistic archetype (the hieros games) from the underworld (i.e., the collective unconscious). The latest triumph is the internal marriage of opposites embedded in time (i.e. moving structure) and space (image projection) by means of chapters coded with qualitative meaning and the overt full screen presentation of number: from a mundane sexual score card on a train ride progressing to the Fibonacci sequence. Vol. I wraps up by circling back to Nietzsche's self-proclaimed identity as Tertium Quid in a three part passion play in which the sexual polarity alchemically merges into a third entity.
The press conference for Nymphomaniac, marked by the absence of the gun-shy director/screenwriter and LaBeouf's walkout after being asked about his sex scenes. (photo by LPS)
The middle passage is prescribed in Celina Murga's La Tercera Orilla (The Third Side of the River) signaling a new era, not only in Argentine filmmaking.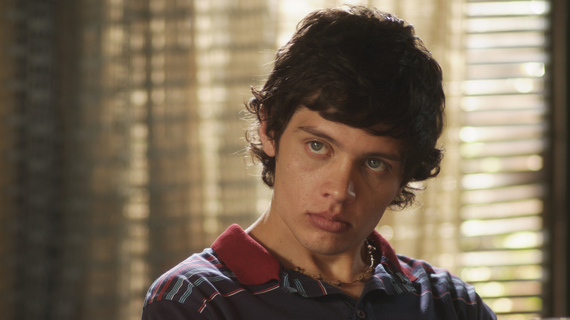 Here the Tertium Quid was applied to newcomer Alian Devetac, representative of a new generation in which masculine and feminine are internally balanced and seeking a new path of freedom from prescribed gender roles.
This has long been the artistic challenge, and while The Monuments Men catapulted across the barrier between mediums through old fashioned story telling...
...culminating in a historic Berlinale press conference transporting actor/director/writer/producer from proactive proponent of creative value into a global defender of art. While allowing how difficult it is to get the studios to make a film on the subject, Clooney did the unthinkable by opening a new dialogue, elevating even e-gossip which covers his every move, by responding to a closing question from a Greek reporter asking about the return of the Elgin/Parthenon Marbles. (Photo by LPS)

Two Berlinale world premieres broke new ground through the challenge of utilizing the film medium to illuminate the symbiosis of art and architecture. Led by the German director Wim Wenders, the six directors contributing to Cathedrals of Culture braved innovation in capturing the genius loci of culturally significant buildings.
The six-part 3D documentary series is the first international co-production of the Los Angeles- based rising star dealmaker Kayo Washio (second from left with the Cathedrals of Culture crew) of Japan's WOWOW Films, which also had its world premiere of IEJI (Homeland) at the festival. (photo credit: Jakob Berg)

And from Vienna...

...Johannes Holzhausen accepts the Caligari Film Prize for Das Grosse Museum (The Great Museum) beside a projection of the newly restored The Cabinet of Dr. Caligari. (photo by LPS).
Moreover, the European premiere of a film marrying art and science had the most powerful impact on the public body. The award winning Watermark presented sustainability in an ingenious new way: excavating an archeology of water -- from the macro (circulation system of the planet) to the micro (human cell) -- with Edward Burtynsky's stark and stunning vision capturing in time and space the ongoing devastation of natural flow.
"Water is Life" says Jennifer Baichwal, photographed at the Canadian Embassy in Berlin with her collaborator, the world class artist Burtynsky whose poster image "Colorado River Delta #2" was shot in Baja, Mexico. The Watermark trilogy includes a book and art exhibition along with the film. (Photo by LPS).

--
Lisa Paul Streitfeld is a philosopher/critic based in Berlin while writing her Ph.D. dissertation on the third path of Arthur Schopenhauer.
All film stills courtesy of the Internationale Filmfestspiele Berlin and used with permission. Photo by Jakob Berg used with permission. All other photos with photo credits in caption used with permissions.