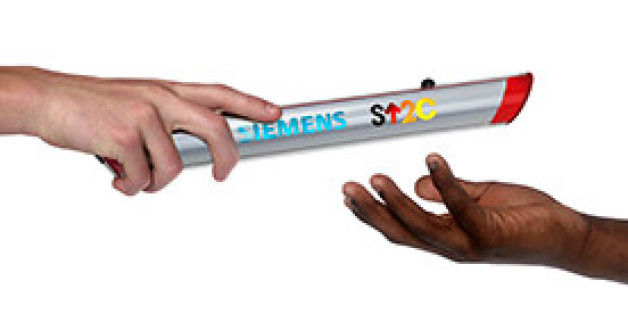 Seven years ago, I Iost my mother after she waged a long battle with ovarian cancer. The memory of her struggle fills me with both pride and sadness. Most of all, it makes me want to strike back against the disease that killed her. I want to help bring an end to cancer.
On Friday, I stood with an amazing group of people: cancer patients who received bone marrow transplants and the generous people who donated their own bone marrow so that others -- in many cases people they didn't even know -- could have a new chance at life.
This was at the "Celebration of Life" Bone Marrow Transplant Reunion at City of Hope medical center near Los Angeles. City of Hope is a leader in bone marrow transplantation, which can be life-saving procedures for people with certain type of blood cancers and other hematologic malignancies.
Many of the patients and donors alike are eager to meet each other, and the Reunion gives them that opportunity. It was deeply moving to see patients meet their "genetic twins," the people who were able to match their specific needs and provide the very marrow of their bones that saved another person's life.
Most of us will never get the chance to play such a dramatic and intimate role in helping another person deal with a life-threatening disease. But all of us can play a role in the gigantic cause of ending cancer's reign as a leading cause of death. Every single one of us.
My personal commitment to the defeat of cancer led me in 2008 to be one of the nine co-founders of Stand Up To Cancer, a program of the Entertainment Industry Foundation, the non-profit organization of which I am the president. SU2C's objective is to raise the money needed to turn hope into progress by enabling doctors, scientists, research institutions and hospitals to unite under a single mission: to accelerate innovative cancer research and get new therapies to patients quickly in order to save lives NOW.
In just six years, we've seen what's possible when cutting-edge research, leadership and experts in many arenas (science, medicine, entertainment, business, sports, music and technology) align for a common goal.
We've brought the resources of the entertainment industry together and used them as a powerful tool against cancer. We've produced three telecasts aired simultaneously across major networks and cable channels to bring our story home to the American people, asking them to support the scientific search for answers in this fight.
Three of these telecasts later, hundreds of celebrities have volunteered their time, and contributors of all types have rallied around this cause. With the monies raised, we've been able to fund the work of 12 Dream Teams with leading scientists from all over the country as well as 26 young researchers early in their careers -- all who are making real progress, benefitting real people. Already, more than 5000 patients have participated in clinical trials facilitated by SU2C.

One major supporter of SU2C is the technology company Siemens, whose staff came up with a cool way that people in Terre Haute (where I grew up) or Tucson -- or Toronto or Tokyo or Timbuktu, for that matter -- can join with Stand Up To Cancer, helping fund important research. Siemens developed a campaign called "The Baton Pass."
A high-tech baton is literally passed from person to person, sort of like the Olympic torch, and the baton records every pass. Siemens makes a donation for every one -- $1 per pass, up to $1 million.
Every pass from one person to another symbolizes the hope that all those diagnosed with cancer will be survivors. At the City of Hope event, watching the baton travel a human chain of survivors and the bone marrow donors who gave them the precious gift of life was a sight to behold.
The Baton can also be passed virtually, on Facebook.com/TheBatonPass. Simply "liking" the Baton Pass page triggers a donation. Every person on earth with access to a computer can help raise money to fight cancer.
You may think, "Oh, another Facebook request for a charity raising money." But that's when I call on my mother, and her resilient spirit. Our life is defined by what we give, and at the other end of that Facebook request may be a mother on her third round of chemo desperately hoping science will prevail.
My mother was my first true friend. Any woman who can say that is a lucky girl, indeed.
We need to foster every initiative, every brilliant mind and raise every voice for that first friend in your life and the scores of others struggling just like her. My mother didn't survive her battle with cancer, but it is my hope that other mothers will.
When I meet with the dedicated scientists on SU2C's Dream Teams, or get to observe something like the profound connection between a bone marrow recipient and his or her donor, I am filled with a sense of resolve and optimism. And so today, in honor of my mother, Norma, and every minute we shared together, I am passing the baton. I hope you will too.