Here are four truths about international safe drinking water, sanitation and toilets and hygiene programs (collectively known as WASH):
Right now, one-third of the world's population lives without a decent toilet. One in ten people doesn't have access to safe drinking water. Without these, even basic handwashing can be beyond reach.
But a bipartisan Congressional coalition, led by Congressmen Poe (R-TX) and Blumenauer (D-OR), and Senators Corker (R-TN) and Durbin (D-IL), is seeking to change those statistics with a bill called the Senator Paul Simon Water for the World Act (H.R. 2901 in the House and S.2946 in the Senate). And they're seeking to do it this year.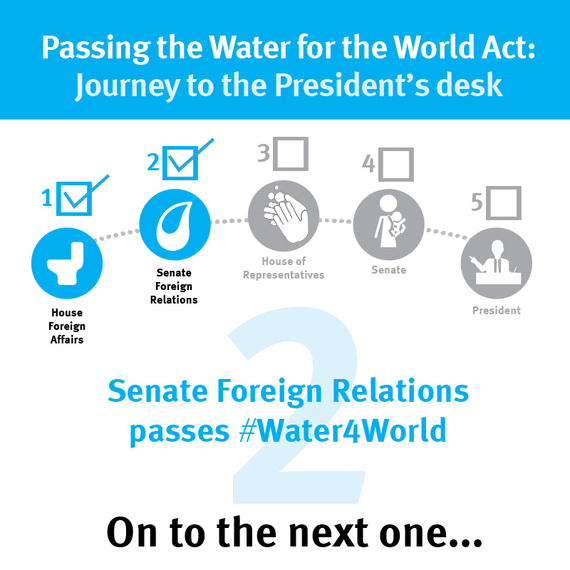 Unless you're really interested in water and sanitation, or a supporter of WaterAid's or our partners, like World Vision, CARE, or Habitat for Humanity, you've probably never heard of Water for the World. Your Members of Congress haven't campaigned on WASH, and they probably haven't told you if they support Water for the World.
Yet, the bill has quietly gained more than 110 cosponsors from both sides of the aisle and been passed by the House Foreign Affairs Committee and the Senate Foreign Relations Committee.
In this final week of the 113th Session of Congress, the last chance for Congress to pass any bills this year, it's time to make noise for Water for the World.
While many of USAID's WASH programs are quite good, Water for the World aims to improve their focus and success. It takes a simple approach: USAID must spend money meant for the poorest to help the poorest, and defend its choices; if they don't, the American public and Congress should know about it. WaterAid and Congress agree: USAID can and must do better.
Water for the World won't cost any more taxpayer dollars and it won't grow the government or create new programs or bureaucracy. It will require improved coordination across the US Government and new criteria for use in selecting where to invest, so each Federal Agency's strengths are maximized and WASH programs can be more strategic, better planned and highly impactful.
It also provides this Congress, so rife with disagreements and stalemate, with something they can unanimously and enthusiastically support. As Congressmen Poe and Blumenauer so eloquently put it, politics stops at water.
We have just one week left during which Water for the World can become law. We have the evidence, the political consensus and the support of civil society needed to make this happen. What we need now is you.
Please help us make WASH and Water for the World Congress's priority before the end of the year. Tweet your support, using #Water4World. Tell your friends. And most importantly, tell your Members of Congress that you want them to vote yes when the bill comes to them for a vote on both the House and Senate floors in coming days.
It's time to raise our voices and bring WASH front and center, make it impossible to ignore. One final truth: the lives of billions of people -- and the overall accomplishments of this Congress -- depend on it.