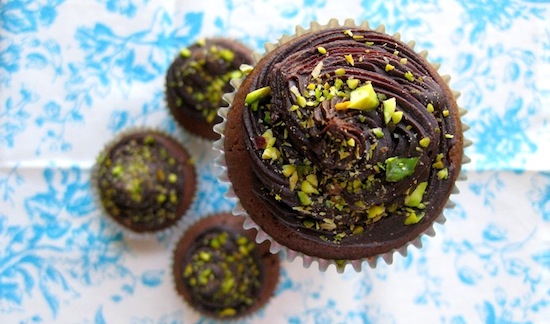 Five days a week, I work as a fashion model. My kind and I traffic in myths of glamour to sell the shoes on your feet and the clothes on your back. Of course, where beauty and body are currency, our relationships with food become complicated. We participate in a world where the act of eating is suspect, where models sate themselves on cotton balls, where we're subject to snide remarks about zombies and ham sandwiches. Often, these stories are narrated with equal parts pity and pleasure--because even in the era of Karlie Kloss, we still don't know how to navigate the troubled space between food and fashion.
Despite this, I spend my weekends baking scones and filling éclairs in a sweltering kitchen beneath the Bosie Tea Parlor in New York City's West Village. Trading cutoffs for chef's whites, I intern under Pastry Chef Damien Hergott, who cut his teeth at Pierre Herme's famed institution in Paris. I think I imagined that such an internship would resemble a culinary Devil Wears Prada: I play Anne Hathaway's plucky character, passionate but utterly helpless when it comes to using a kitchen scale. Then, after an inspiring montage of whisking and knife juggling, I amaze the chef with a perfect, towering soufflé.
Pastry is not that movie. While I've always been happiest in the kitchen, there is nothing quite like standing for hours on end and sweating in the radiant heat of multiple, roaring ovens between shelves of couverture and vanilla beans. The home kitchen is worlds apart from the professional one, and if you -- like me -- have no formal culinary training, the learning curve is less a gentle slope and more like a vertical line.
But take heart, fellow fledglings. With a keen eye and a healthy dose of humility, you'll make the most of your internship, regardless of pedigree. As you format those resumes and starch those aprons, here are some lessons learned from the kitchen -- a helpful guide for the untrained pastry aspirant and a refresher course for the culinary student.
1. Know that you know nothing. My friends and family know me as the girl who never stops baking. I've tried my hand at just about everything sweet, from mille crêpes to lamingtons, brioche to croissants -- but none of this matters when you walk into someone else's kitchen. You may have whipped up a French meringue for your macarons, for example, while the bakery uses Italian. And woe unto the intern who fills an éclair with mousseline rather than pastry cream. Every kitchen has its own techniques and philosophy, so honor this above all else. Even after you've learned all there is to know about 10 bakeries, you'll have to start from scratch at the 11th one.
2. Learn how to move. At home, baking is often a luxury. We have fond memories of making sweets with our grandmothers and leisurely sifting flour for someone's birthday cake. But when you have a party of thirty coming in and five people working in a kitchen the size of a closet, time is precious. The Bosie Tea Parlor's Chef Fatiha Id Boubrik stresses the importance of working efficiently and with confidence. Know where all ingredients are located in the kitchen, work around your peers, and remember it's hesitation that causes misshapen macarons and melting pastry cream.
3. Keep a clean work station. Dirty kitchens are not appetizing. Keep your space clean as you work, wiping and drying countertops throughout the day. Be sure to wash knives, spatulas, and other essential tools -- even if they aren't yours -- as soon as possible.
4. Know that you will make mistakes. And that it isn't the end of the world. Perfectionism is key in pastry, but even the best chefs will accidentally overheat the simple syrup or forget to rotate baking sheets in the oven. No one will die if your mille crêpes has too much pastry cream between the layers. Learn from your mistakes and move on.
5. Learn the tools of your trade. Before you ever walk in the door, know how to use the basics: a piping bag, stand mixer, and kitchen scale. Or, if you're like me, you can embarrass yourself by asking where the measuring cups are.
6. Keep a notebook. Because you'll never remember the difference between sirop à trente and sirop à soixante. Jot down baking times, temperatures, and techniques -- should you use a whisk attachment or a paddle? -- so that you have a quick reference whenever you need it. Pastry is a labyrinth of jargon and precise technique, so think of your notebook as your ball of string.
7. But don't lose yourself in it. Pastry Chef Laura Sawicki of Austin, Texas remembers diligently taking notes while baking apple strudel with her grandmother: "I thought that's what I needed to do to not lose a moment of what [my grandmother] was teaching me," she says. "But she took my notebook and said, 'Listen. Taste the dough with me.' That's a philosophy I've carried with me my entire life." While a notebook is necessary to navigating the world of pastry, be sure to spend most of your time outside its pages. Don't feel obligated to scribble down everything at the expense of true experience.
8. Be ready for the climb. It's a difficult one. You will start from the bottom, sifting almond flour and picking through raspberries. Remember that no one in the kitchen is above these things. "A big part of my culture as a chef is that you just gotta keep your head down and keep on pushing," said Top Chef winner Paul Qui during our interview last year. "And honestly, no matter how menial the tasks seem, it doesn't matter in the big picture of things. As long as you keep your head down and keep on pushing, you'll end up fine."