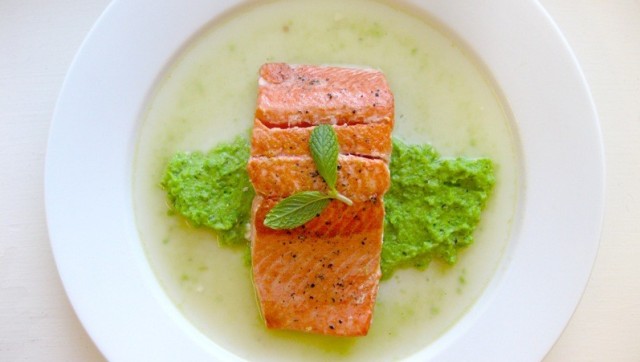 Daily Diets is a series chronicling what professionals in a variety of fields eat during a 24-hour period. We will focus on those whose eating regimes stray from the norm due to time constraints or dietary restrictions, in an attempt to reveal just how multi-faceted modern food culture is.
When it comes to food, I am both Dr. Jekyll and Mr. Hyde: deep down, I am always a foodie. I dream about Valrhona chocolate and prosciutto and pains au chocolat. For nearly three years, I have been the proud owner of a dessert-centric food blog called A Pocketful of Chocolate, in which I chronicle my adventures in the kitchen as a university student and beyond. But there are other moments when I find myself in a New York City apartment with five other abnormally tall and thin girls, and there's nothing in the fridge but celery sticks and margarine.
I live the double life of a food blogger and a model, an aspiring baker and one of thousands of waif-like, disposable girls traipsing across the fashion capitals of the world. I bake brioche, caramelize white chocolate, and braise short ribs, but I must do it all while maintaining a 24-inch waist and a 0 dress size. The secret? Good genes, of course. But also, cooking at home, so I know exactly what's going into my body, and portion control--which is easier when you satisfy yourself with bold flavors rather than large quantities. It's about learning to love a little of a good thing.
In this strange and dizzying world of fashion, this rarefied realm that employs underage girls without proper labor laws and doesn't always place health ahead of glamour, it's easy to lose one's head. But great food reminds me to keep both feet planted on the ground, preferably next to a patch of turnips. When it is full of heart and flavor, a well-crafted plate can be extraordinary, rich with the memories of the loved ones you share it with.
Read my 24-hour food diary:
For breakfast, I often have a bowl of homemade chocolate and pistachio granola with a dollop of Liberté Méditeranée yogurt--it's a healthy indulgence, and the chocolate is a lovely morning pick-me-up. Granola is also easy to pack in a Ziploc or Mason jar for snacking on the go or between castings. On the side, I'll have a glass of skim milk. Most models working in high fashion are at least 5'10" and under 120 pounds, putting us at a high risk of osteoporosis (among a spate of other health-related issues) with a BMI of between 16-17, so it's especially important to pay attention to calcium intake.
Lunch is usually a light protein and vegetables, sometimes a Niçoise salad with anchovies, arugula and cherry tomatoes or--one of my favorites--grilled salmon in a lemon broth with pea puree. The bright citrus and creamy puree make this dish vibrant and perfect for the spring.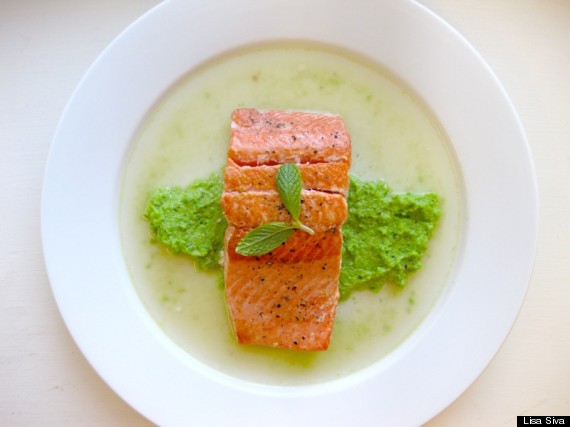 In the evenings, I love coming back to a hot bowl of pho. Early in the week, I'll make a big pot according to my mom's recipe--the best one, without a doubt--which takes about three hours to prepare. The broth is deliciously aromatic with the flavors of roasted onion, shallots, ginger, and star anise, so you won't miss the fat and cream ubiquitous in many other soups. Afterward, the pho is ready to pile high with fresh cilantro, green onions, Thai basil, and thinly sliced beef. It's hearty and heaty and a cure for whatever ails you.
When it comes to dessert, I trust David Lebovitz completely. I once watched this man beat egg whites into a meringue in about two minutes by hand. If his recipes suggested that turning cartwheels in front of the oven makes cookies bake faster, I would do just that. His chocolate chip cookies are classically decadent and simply perfect for a sweet tooth like mine. I pair them with the requisite cold glass of milk.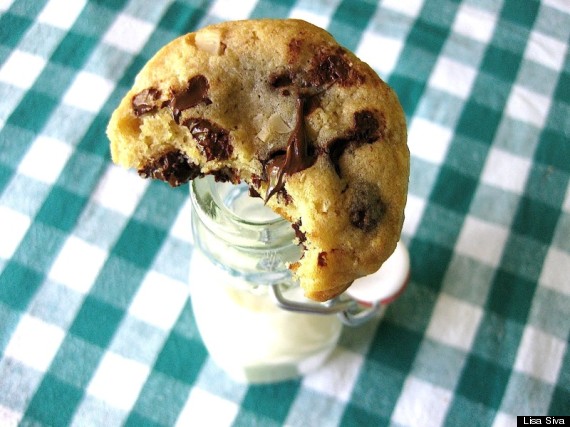 If you or someone you know has an interesting or abnormal eating regimen, drop us a line!