Every fantasy baseball player knows that injuries are part of the game. These days, so are suspensions for taking performance-enhancing drugs. Recently, two Bay Area players were each suspended for 50 games for taking synthetic testosterone, and both of their punishments have big fantasy baseball implications.
First, Melky Cabrera, who put up MVP-caliber numbers for all the season, was caught with elevated levels of testosterone. The San Francisco Giants outfielder was having his best season ever, with the 28-year-old leading the National League in hits, at 159, and batting .346 with 11 homers and 46 RBI. Cabrera was one of the most talked-about players this year, and even was the Most Valuable Player at this year's All-Star Game, winning a new car for the honor.
Cabrera, who was on his fourth team, had had a mediocre career and wasn't a fantasy favorite until the tremendous season he had this year. Now, with many season-long fantasy baseball teams heading into their playoff seasons, they are without Cabrera's services. He will not be eligible to play until sometime in October, if the Giants make the postseason. Yet he could still win the NL batting title, because he has already achieved enough plate appearances to do so.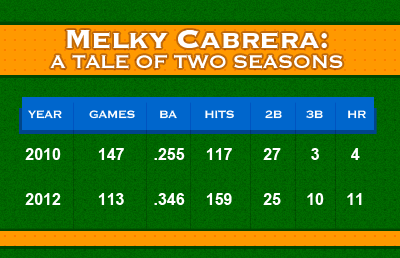 Then there's Bartolo Colon. The former Cy Young Award winner was 10-9, with a 3.43 ERA for the Oakland Athletics this year, playing a part in the A's surprisingly good season. While there had been suspicion in the past about Colon and steroids -- he was considered washed-up just a few years ago -- this was the first time the 39-year-old pitcher failed a PED test.
With five MLB players failing such tests in 2012, this year has shown more MLB players failing such tests than any other season. The other players suspended include pitcher Guillermo Mota -- he was suspended 100 games for his second offense -- outfielder Marlon Byrd, and infielder Freddy Galvis. Those three getting caught did not have the fantasy implications that Cabrera's and Colon's suspensions did, though, as they weren't on many people's fantasy teams, and Byrd had just been released from the Boston Red Sox.
At any rate, those fantasy baseball players who had Cabrera and/or Colon are now dealing with the consequences. So is there anything a fantasy baseball fan can do to protect themselves in such cases? The old adage of that if something seems too good to be true, it probably is may hold some water. It turns out that Melky Cabrera's miracle season didn't really have to do with him growing up and cutting out the nightlife. And in Colon's case, it turns out that it wasn't that miracle stem cell surgery that revitalized his career.
So if you see that an MLB player in fantasy baseball is showing numbers that are significantly better than they have done in their career, or seem too good for their age, you should brace yourself for the possibility that the numbers could be chemically enhanced. Sure, you can and should give players the benefit of the doubt -- they are innocent until proven guilty -- but these days, we can never be surprised if a player violates MLB's PED policy.
Lisa Swan writes on fantasy sports topics for a variety of sites, including DraftStreet.com.