This is just one small version of a memory belonging to one woman. When really he is a man who belonged to the world. And it's more a love song than a memory, more a prayer than an anthem of how it was. If this post had a soundtrack, this would be it.
There's a song that's haunted my childhood.
Born under a Southern Cross sky, I was the white toddler with dusky blonde wisps learning to ululate before she lisped her first clicks and guttural pronouns deep in the mango groves of Zululand, back before it was Kwa-Zulu Natal.
Fresh out of medical school and into their marriage vows, my parents raised me those first three years on the red dirt of a mission hospital far from the conventional borders of what South African society dictated in the '70s. They preached the kind of gospel that looks like refusing to live behind the barbed wire lines that preferred neat pockets of color all in one safe spot, like so, and so, and so.
They walked into the heart of community, my dad preaching in the chapel on Sundays and treating the malaria and the TB and all the tooth aches that the Sangoma couldn't make disappear during the week. When we moved to Philadelphia before my fourth birthday so he could pursue his M.Div., I would ask my dad one day at CHOP if I'd be getting an "umjovo" and my dad would have to translate for his colleague that no, injections were not part of the agenda.
I've never wanted to meet a celebrity.
Never been interested in having dinner with the famous or the massively photographed.
And have never considered myself overly involved with the lives of the people we observe through the lens of the television or Internet microscope.
Then why is this white girl a long way from South Africa tonight crying over an old, Black president she never met?
Homeless, homeless
Moonlight sleeping on a midnight lake
And we are homeless, homeless
The moonlight sleeping on a midnight lake
Zio yami, zio yami, nhliziyo yami
Nhliziyo yami amakhaza asengi bulele
There is a song that echoes my homesick love story stranded between these two countries, the cherry blossom northern hemisphere of my now-home just outside Washington, DC, and the purple, Jacaranda-rain-drenched capital city of Pretoria that for years, was the dark heart of Apartheid -- and my home.
It's been a tale of two trees, trying to find shelter and welcome beneath their bowed backs.
Mandela was home to so many of us who have lived in the in-between.
Brave orator, brilliant lawyer, complicated father. Flawed and wildly followable.
The thing is, if you'd told me there was a chance to sit at the very back of a crowded room on a hot and sweltering southern hemisphere night to catch just 10 minutes of Madiba live, I would have cashed in whatever currency was in my pockets to race you there.
I would have stood pressed up against a wall-to-wall body of humanity just so I could whisper from the back of the room my thanks.
I watched him walk out of that prison of our own making.
I stood at the TV and watched as he and Winnie walked long, slow hours, waving their way through the dancing women and Amandla-yodling men to freedom. My high school was still segregated, but change, when it came, sounded like a song.
My stepmom tells it -- how she waited in a long, snaking line for 12 hours to cast her ballot in the first free elections of my country and my own life. This isn't a history lesson. It was 1994.
Books about his life line my shelves a country away from where the story started. Did you know it was his first school teacher who gave him the name "Nelson," doling out acceptable and more accessible English substitutions for all her students? Or that he ended up in Johannesburg because he'd run away from an arranged marriage?
His given name, Rolihlahla, literally means "pulling the branch of the tree," or more colloquially, "troublemaker." And the rest is our history.
And our future. My son and my little brother living dreams he taught us to pray for.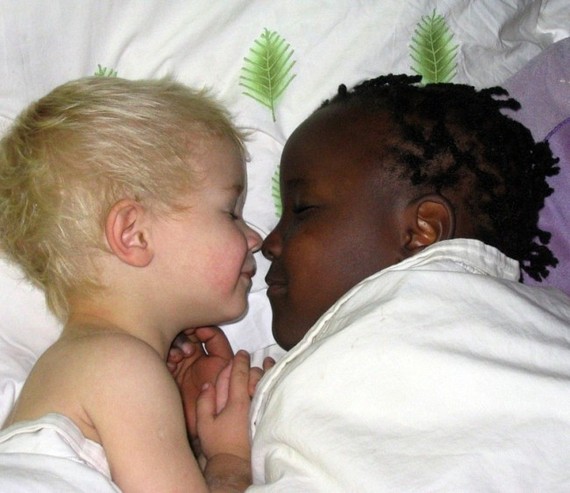 He was 71 when he walked out of prison.
The mind can't wrap itself around a 27-year prison sentence. I've spent five minutes in his small cell on Robben Island. But it was enough to fall in love, in awe, in profound gratitude for the courage it takes to lead a nation without bitterness.
His birthday is a national holiday and every year for decades he's celebrated it with orphans -- always the least of these.
These are the news headlines my youngest brother grew up with. I watch him with his friends Mandla and Tumi and Meren all going to the movies together like there was never a time when they couldn't.
I'm raising two boys and a daughter two and a half years and nearly 8,000 miles away from the country that runs in their veins. I need South Africa to be their present as well as their past and their future.
The blood red dust of the Karoo, the ostrich, the meerkat, the hadida. Thick accents and thicker maize meal cooked in three-legged black pots over open fires.
And the smell of it all. The smells linger in my memory the longest.
Late winter veld fires burning up the horizon. Smoke and traffic and dust. They grit up the nostrils. But then there's the jasmine. Sweet promise of spring. When I catch it on the breeze here in the States, miles from home, it buckles the knees and takes me back to my mother's garden, to my childhood.
And I watch my kids growing up without these sights and sounds and smells and I ache for what they don't know they're missing. So we recreate. We build up a library of music and food and photographs. And we dance.
Oh, how we dance.
We gumboot dance and stomp and ululate wild to these Northern skies. And we hear a distant echo rise from below the equator bringing greetings from the Southern Cross. We dance and clap wild, lost souls singing their way home across the night sky, feeling our way back into a place that Skype can't properly capture and that email can't possibly contain.
As if everybody knows
What I'm talking about
As if everybody would know
Exactly what I was talking about
Talking about diamond dust on the soles of tired shoes. Talking about Ladysmith Black Mambazo and how we are all homeless, moonlight sleeping on the midnight lake. Homeless and dreaming of peace, jacaranda trees and a rainbow slung across southern skies bridging a nation that one man laid his life down for plank by plank, year by year.
Talking about three blonde kids and their mama in a parking lot all hunched over the glow of a cell phone as she reads them the scrolling updates about Mandela. And my firstborn, my South African born-son that I came home to birth after a decade away, he gasps, eyes wide behind his glasses.
His is long and low and echoes the moan in my own chest.
So we chase it. The song our President, our peacemaker, our legacy has left for all to tell and retell around camp fires and vetkoek, around kitchen stoves and potjie kos pots, around soccer matches and cricket innings, around the braaivleis and the beach and the township shebeen bars -- this lilting, beautiful truth that we are a people who need one another because of our differences, not in spite of them.
And me and my three -- we run and dance and dream ourselves there. Because next week we will walk that steep, steep South African driveway again. And I'm determined it will feel familiar under their feet.
This post was written for the Deeper Story community by Lisa-Jo Baker, a homesick South African.