A shopping center in Orange County, California, fired Santa and elf after refusing to let an autistic girl and her service dog pitbull visit them.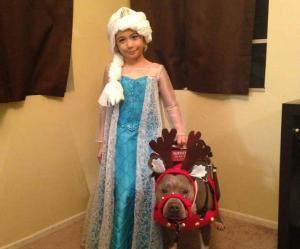 Abcde Santos is a 7-year-old and her service dog, whom is a pit-bull named Pup-Cake, were both turned away from getting their picture taken with Santa. Why was Abcde and Pup-Cake turned away? Because Santa and the elf were afraid of her service dog.
Julie Miller, a friend of the girl's family, wrote on her Facebook page:
"A family should be celebrating tonight the accomplishment of a child who waited over thirty minutes today at The Shops in Mission Viejo to meet Santa. ... After the Santos family offered to remove the dog from the area, the building, Santa still refused to see the child; sending her away heartbroken leaving a family to comfort a child instead of celebrating her accomplishments."
Representatives of the shopping center quickly responded, letting the family know that Santa and the elf were both fired. "We do not condone the behavior displayed by Santa and have worked with our partners at Noerr, the company that hires our Santas, to replace this Santa with one that is more compassionate to our guests' needs."
What horrendous people to judge a wonderful, loving, service dog.
Download Rescue Idiot
Chris Stallone