Sometimes there's an interesting shared focus in art, a wave of collective conscious-groping that leaves the cultural landscape forever changed. Such is the case with the movement of Surrealism: that way of thought in Art that is preoccupied with dreams and unconscious forces, synchronicity, and an overall concern with meaning found in the very deep and uncontrolled places of the psyche and in life itself.
Drawing Surrealism, on view at The Morgan Library, is an extensive collection of works with a vision that is alluring, fantastical and with deep twisting roots in search for something only found below. With this said, the semantics may perplex. Surrealism, literally meaning above reality, is a pretty high starting point -- as opposed to a more recent term: Pararealism or next to reality -- makes one wonder where the spirit of the movement is headed next.
In terms of high places -- perhaps it's about gaining momentum to retrieve something from the deep waters below -- a dive from the sky seems appropriate. All sorts of things come up with this approach.
Leonora Carrington is represented well during the exhibition, including Nursery at Midnight, a piece rich with personal symbolism. The diving here led to the past. The image of the rocking horse, a childhood favorite is said to be recurring. The symbol of a horse in general is an important one -- considered by many to be the image of desire for a healthy integrated psyche. The rocking horse in Leonora's drawing is connected to a woman protected in a drawn oval within an oval shape -- an eye or an egg perhaps. This tiny image of a woman, interestingly enough, looks like the exact prototype for the series of William De Kooning's Women made 10 years later. Look at the eyes or the way she cuts up the space of the body.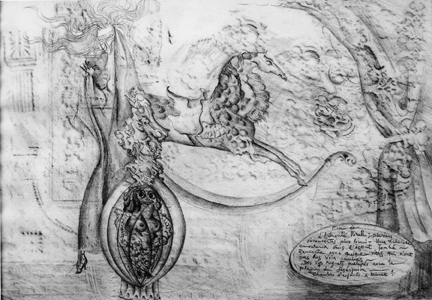 Leonora Carrington (1917-2011)
Chambre d'Enfants a minuit (Nursery at midnight), 1941
Graphite
8 ½ x 12 in.
© 2013 Leonora Carrington / Artists Rights Society (ARS), New York
Private Collection
Ideas on Women come up a good amount. This is one of the first times in history that we come face to face with a collective of the female with self reflective art next to images of her by the other (Male). Though the exhibit is unfortunately way under weight in terms of the female/male ratio -- we must count on the Anima (female inside every man) for representation, (though she may not always like what comes up in her through him). The Surrealist Table by Albert Giacometti is one example of the many examinations of her. Here a Woman's head rests on a table, half masked in shadow and mysteriously veiled on her right side -- her body is no where to be found.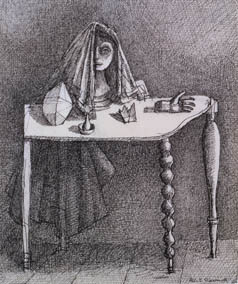 Alberto Giacometti (1901-1966)
La table surrealiste (The Surrealist Table), 1933
Ink
© 2012 Artists Rights Society (ARS), New York / ADAGP, Paris
© Alberto Giacometti Estate/Licensed by Vaga and ARS, New York
Collection Michael and Judy Steinhardt, New York
Who is she? Some anonymous goddess or cloaked Beatrice we pray for in the seventh ring? Perhaps even a sphinx (though we don't know her body to prove it!) guarding the gateway where conscious meets its subterranean counterpart.
The 100-headed Woman Opens her August Sleeve, a work of collage by Max Ernst, takes elements from past illustrations and rearranges them seamlessly, creating another meaning. This image and its title are constructed with a rich beauty, one that we're almost able to climb into. Title alone gets under the skin floating close to the surface along side her: the image of a woman with the covered upper half of the other woman attached to her. The notion of putting seemingly random elements together feels like a used up concept now, but on closer look, the spirit of that concept may be about the elements we choose (even randomly) which may not be so random after all (even with eyes closed).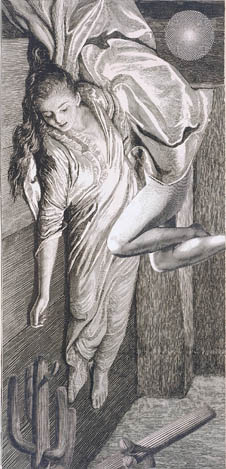 Max Ernst (1891-1976)
La femme 100 têtes ouvre sa manche auguste (The 100-headed
Woman Opens Her August Sleeve), 1925
Collage: cut and pasted wood engravings mounted on paper
© 2012 Artists Rights Society (ARS), New York / ADAGP, Paris
The Menil Collection, Houston
Photography by Paul Hester
Women at the Seashore by Pablo Picasso is another example -- the females run with forms which may derive from ideas of the kinds of nymphs they're born out of. Running with their strangely shaped bodies -- insect-like or reminiscent of plant forms -- they feel a bit more in hysterics than one would think would be the case -- at least on the beach. Andre Masson contributes Female Allegories. This very vague and abstract drawing -- with such a literal title is interesting. Some things appear to be melting with an attempt at being mapped out.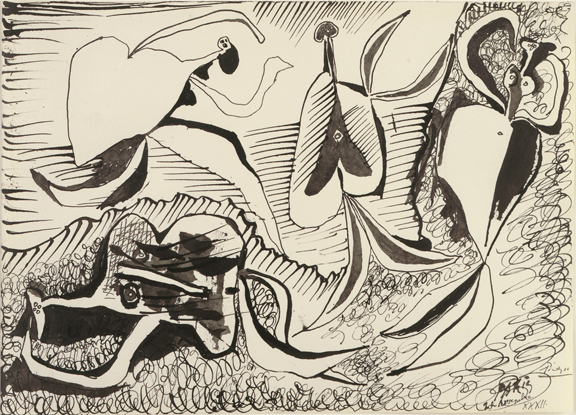 Pablo Picasso (1881-1973)
Women at the Seashore, November 25, 1932
India ink
Collection of Gail and Tony Ganz
© 2012 Estate of Pablo Picasso / Artists Rights Society (ARS), New York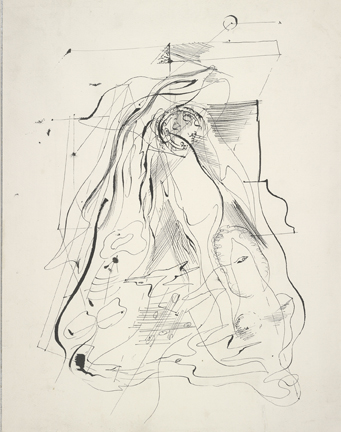 André Masson (1896-1987)
Allegories Feminines, (Feminine Allegories), ca. 1925
Private collection, courtesy Jean-François Cazeau Gallery, Paris, France
© 2013 Artists Rights Society (ARS), New York / ADAGP, Paris
Photography by Graham S. Haber, 2013
In the meantime, Louise Bourgeois explores a more androgynous approach -- this being the case with her Untitled ink drawing from 1946, included in the exhibition. (We won't forget about her female house drawings that wonder about the value of the female from the same time period.) This one seems to loosely examine space and other passive elements -- both matter and non-matter alike. There's a healthy approach to the multifaceted side of Woman -- a changing and upgraded version that begins to express she in full three dimensionality.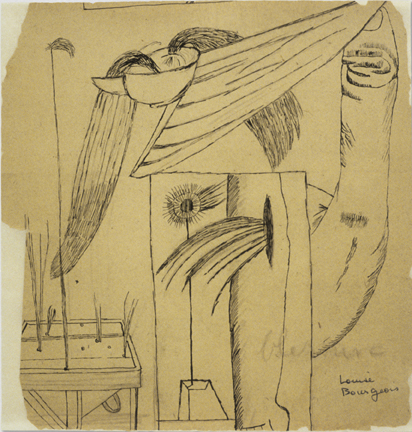 Louise Bouregois
Untitled, 1946
Ink on paper
8 1/2 x 8 3/8 in.
Private Collection
Photo: Christopher Burke

© Louise Bourgeois Trust/Licensed by VAGA, NY
There are all sorts of games to play (both serious and fun) with the symbols we choose to see in life. Here we can find it through the images in inkblots, decalcomania, or an old round of exquisite corpse with friends (or strangers). Reading meaning into what's created is part of the game, perhaps even the main event. Meaning can be negotiated with, and as the Surrealists found, so can working with the subconscious.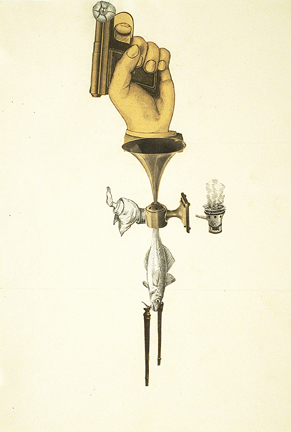 André Breton (1896-1966), Jacqueline Lamba (1910-1993),
Yves Tanguy (1900-1955)
Exquisite Corpse, 1938
Collage
Gale and Ira Drukier
© 2012 Atists Rights Society (ARS), New York / ADAGP, Paris
© 2012 Estate of Yves Tanguy / Artists Rights Society (ARS), New
York
Liz Insogna is a painter in New York. http://www.lizinsogna.com