Welcome to my new art diary. As an artist living and exhibiting in New York, I run around a lot, see a lot of shows, work in my studio, talk to other artists, that kind of thing. I sometimes don't even realize how much my life revolves around art. So I thought I'd write it down -- maybe shed a little light on the life of a New York artist.
Tuesday, Jan. 10
My new sewing machine arrived today. I'm very excited because I've been experimenting with painting on un-stretched, un-primed canvas, and though I've been trying to leave space on the sides to allow for stretching, I inevitably love the stuff going on by the edges. So when my brilliant artist friend Andrew Guenther suggested I trying sewing extra canvas onto the edges, I jumped on it. Now I just have to do it.
Wed, Jan. 11
Today I went to the Gagosian Gallery on 21st Street for a press preview of one of the Damien Hirst spot paintings shows. In case you don't know, Hirst is taking over all 11 Gagosian locations with spot painting shows.
I milled about snapping some pics of the paintings until Damien arrived daringly dressed in a kind of Miami Vice look. The director of London Gagosian said a few words and then Hirst winningly posed for photos. At one point he looked at me, smiled, and pushed up the end of his nose to make a goofy face. Sadly, my iPhone camera was not ready. A lot of people dismiss him but I've always liked his work. I love his obsession with death and think he really captured its magnificence, horror and decaying sensuality in the vitrines. If you've never seen the shark, "The Physical Impossibility of Death in the Mind of Someone Living," then you should try to. It's hopefully rare that you can stand that close to a 14-foot great white and it's a powerful experience.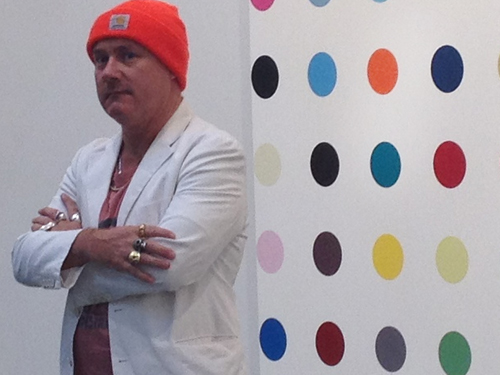 Damien Hirst at The Complete Spot Paintings, Gagosian Gallery, New York. Author's own.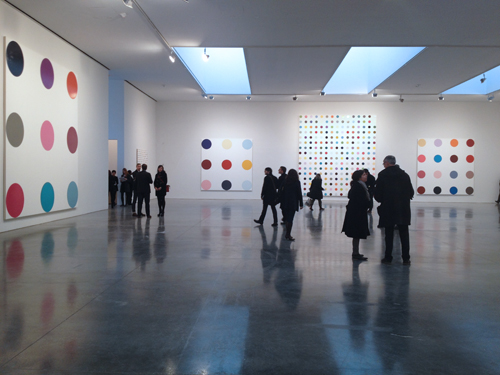 Installation view, Damien Hirst, The Complete Spot Paintings, Gagosian Gallery, New York. Author's own.
One of the reasons I like Hirst's spot paintings is because he uses them to do a 180 from the vitrines, presenting a de-humanized, antiseptic portrayal of death. Follow me: on one level the paintings refer to pharmacology. They are all named after various medications and the colors are reminiscent of prescription drugs. Even the neat and orderly arrangement of the spots against a stark white background recalls fluorescent lighting and the somewhat old notion of hospitals as all white and germ free (as opposed to beige and inhabited by super viruses.) Vitrines = death in nature. Spots = unnaturally prolonged life through pharmaceuticals and death in a hospital. That's one way of reading them.
Thursday, Jan. 12
Today I hit a few openings. I started in Chelsea at Friedrch Petzel Gallery for the Joyce Pensato opening. I love Joyce's work and have known it since the late '80s. This show, Batman Returns, has both new paintings of the caped crusader and ephemera from her old studio in Williamsburg that she occupied for 32 years. At the packed opening I had the pleasure of running into two of my favorite painters, Stanley Whitney, who shows at Team Gallery (where I was headed later), and Chris Martin, who's at Mitchell Innes and Nash.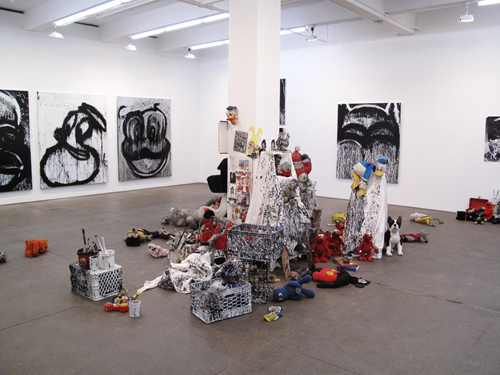 Installation, Batman Returns, Friedrich Petzel Gallery, 2012. Courtesy the artist and Friedrich Petzel Gallery, New York.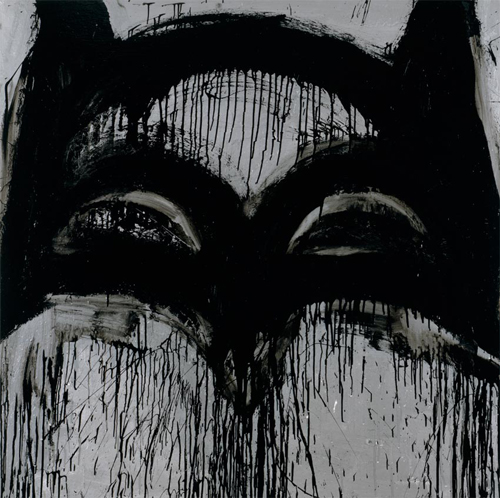 Joyce Pensato, Batman I, 2011, Enamel and metallic paint on linen, 48 x 40 inches. Courtesy: The artist and Friedrich Petzel Gallery, New York.
After leaving Petzel, I hurried over to Nyehaus for Hoodwinked?, a two-person show with Richard Prince and Mike Kelley. Thank god someone is paying attention to these two under-exhibited artists. Actually, I'm always happy to see Prince's work in person and Nyehaus, which is located in Tim Nye's brownstone, is a great backdrop for both artists' work. It was nice to see a Prince car piece next to the fireplace and Kelley's afghans in a domestic setting.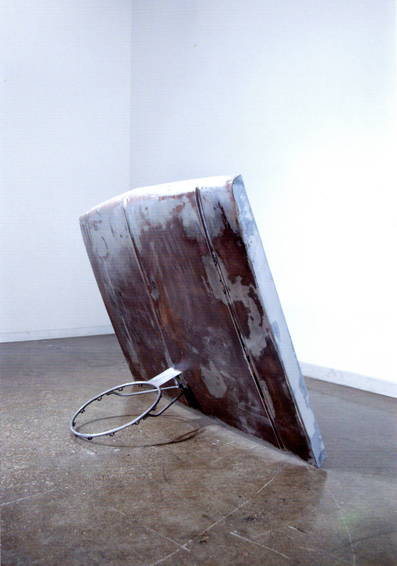 Richard Prince, Abstract Threat, 2008, Steel, bondo, plywood and basketball hoop, 52 x 68.125 x 31.5 inches. Courtesy: The artist and Nyehaus, New York.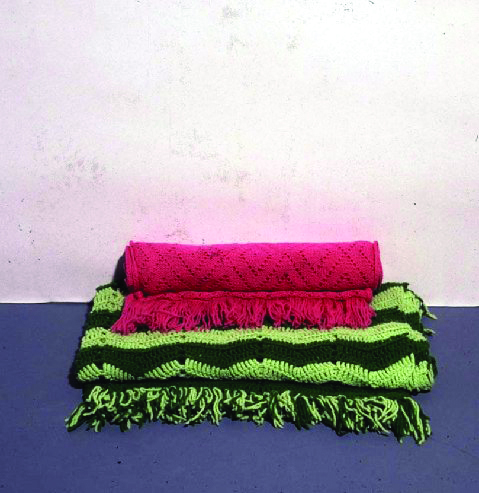 Mike Kelley, Untitled (Pink and Green), 1990, Afghans, 34 x 91 x 3 inches. Courtesy: The artist and Nyehaus, New York.
The fun part of openings is running into people you love and at Nyehaus I saw Jay Batlle, who shows there, and who obligingly pointed out who Tim Nye was, as I was going on and on about how I love Nye's new gallery in LA that he runs with Lexi Brown, Nye & Brown.
Running late, I hopped in a cab to head down to Team Gallery in SoHo for double openings of Slater Bradley's Don't Let Me Disappear at the Grand location and Ross Knight's Situations at Team's Wooster space. Bradley's video of a brooding young man wandering the streets of New York is beautiful. My first impression of Knight's sculptures was Richard Tuttle drawings come to life, they have a similar delicacy and coloring.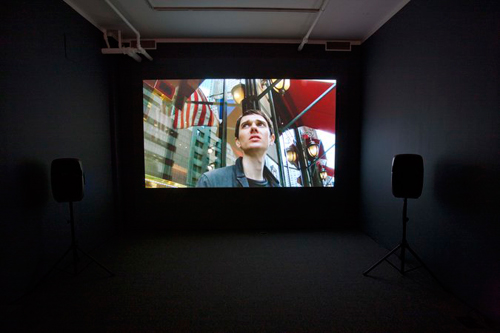 Slater Bradley, Don't Let Me Disappear, 2009-11, HD video projection with four-channel sound, color, sound, loop, 10 minutes 25 seconds. Courtesy: The artist and Team Gallery, New York.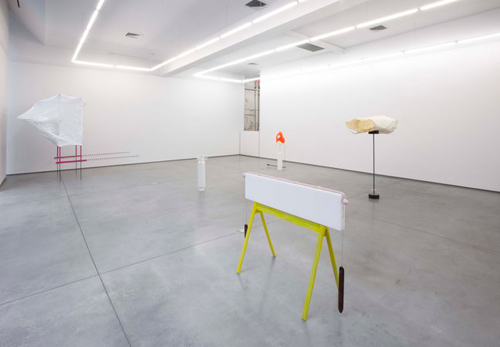 Installation view, Ross Knight, Situations, Team Gallery, New York. Courtesy: The artist and Team Gallery, New York.
Friday, Jan. 13
On Friday I headed to The Journal Gallery in Williamsburg for the opening of Special Blend, a group show curated by Chris Martin. Special blend indeed, of work Chris likes, because isn't that enough reason to show several artists' work together? I've always thought so.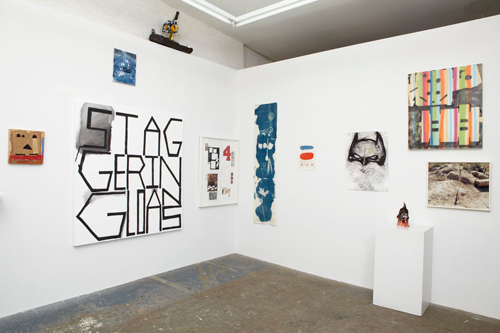 Installation view, Special Blend, The Journal Gallery. Courtesy of The Journal Gallery.
Sunday, Jan. 15
I finally had time to try out the sewing machine idea. It appears to have worked great. At least the sewing looks stellar. We'll see what happens when I have it stretched. Cross your fingers.

Liz Markus is an artist living and working in New York. Her next solo exhibition opens on Feb. 16 at ZieherSmith Gallery, New York.