Sunday, day of rest; or day of food adventures? Off o to the markets, extensively defined in Wikipedia: "It is an arrangement that allows buyers and sellers to exchange items. Competition is essential in markets, and separates market from trade. Two persons may trade, but it takes at least three persons to have a market, so that there is competition on at least one of its two sides.[1] Markets vary in size, range, geographic scale, location, types and variety of human communities, as well as the types of goods and services traded."
And where better to begin than the weekly New Amsterdam Market at the site of the historic Fulton Fish Market. The mission of the market resonates as it continues to grow in stature each week: "Reinvented for our present time and needs, New Amsterdam Market will incubate a new and growing business sector: purveyors who source food directly from farmers and producers whom they trust to be good stewards of our land and waters... New Amsterdam Market will foster a renewed appreciation for our natural environment and its ongoing potential to nourish."

I was exhausted, mentally and physically, from a challenging week, but the vitality and beauty of the market restored my spirits. First stop is always Kombucha Brooklyn and a cup of the weekly special from the tap to start the day.



Then it is on to the farmers, the cheesemongers, the bakers and butchers - and this week - a section dedicated to Hudson Valley growers and producers in collaboration with Glynwood, whose mission is to "help communities in the Northeast save farming. We work at the intersection of the needs of communities and the opportunities available to farmers and landowners. Our unique niche is to empower communities to support farming and conserve farmland, while also working our own land to demonstrate the economic viability of environmentally sustainable agriculture."



Nestled in this group was Katchkie Farm, featuring vegetable tamales lovingly made with our own butternut squash and served with KF Salsa Verde. In spite of the few nights of frost, and the presence of magnificent squash and gourds and apples, there was an abundance of vegetables - enough to make you almost believe that winter was not just around the corner. What a great surprise to be stationed next to Stone Barns, where Evan Chender - who had his and our first farm internship at Katchkie Farm 4 years ago, is currently employed!


Off to catch the vibe at the talk of the town, the newest 55,000 sq ft 'market' Eataly, which must have been on everyone's mind as the aisles were teeming with voyeurs like me as well as eaters. It was a little too crowded and the doormen had new arrivals queue up and wait for admittance. Funny, the cashiers were not busy, nor were the butchers or fishmongers. Dozens of people filled the tables eating, and hundreds watched them eat. It was a celebration of ingredients of great beauty, but unlike New Amsterdam Market, it lacked the spontaneity of an open market. Beautiful, baffling, but substantial. I will come back mid-week when the food-tourists like me are stuck at work.




As I stepped away from Eataly, amazed by the line waiting to get in, I turned and saw a vision from New York of long ago - Chock Full O' Nuts (and no line to get in). Omigod. I had to have a nutted cheese sandwich; it was the mainstay of my youth, the one item you knew would always be the same. Well, I bought one - it was not the sandwich I remember, but I hope they will get it right.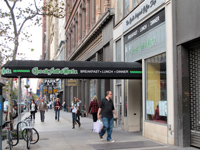 One last stop - FoodParc. I had been hearing all sorts of comments about the food, the architecture, the high tech ordering and could not imagine what it would be like. No crowds, in fact, few people. (Will this be crowded workdays?) But very cool and borderline intimidating. Could I only order via the touch screen? Yikes. Happily, a human could take an order (screens are for credit cards only - and I will come back another day to overcome my phobia) and I waited for them to call my number (or I could watch the dot near my order # on the big screen go from brown to orange). Anyhow, they said 7 minutes and it was - good because Sam was home waiting for me to return with something delicious.



The haul: From New Amsterdam - Caramels, both Sea Salt and Apple Cider (Liddabits) and a FoodParc 3B's Burger and Root Beer.
Seeds planted: 2 new projects - one with the Hudson Valley Seed Library for 2012 and one with Wendy Wheeler of Schoolhouse Kitchen for 2011. Stay tuned. Magic happens in markets where ideas flourish amidst the verdant veggies and artisanal genies. And though each market I visited appealed to different audiences, how grand that on a Sunday in October, there were so many places to go to experience how "life happens around food."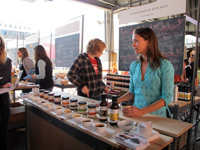 I swore no new endeavors - try to keep things simple for a change and avoid the stress new projects bring with them. Sam swore that this was the best burger he'd ever eaten.
It was a good day. A food day.