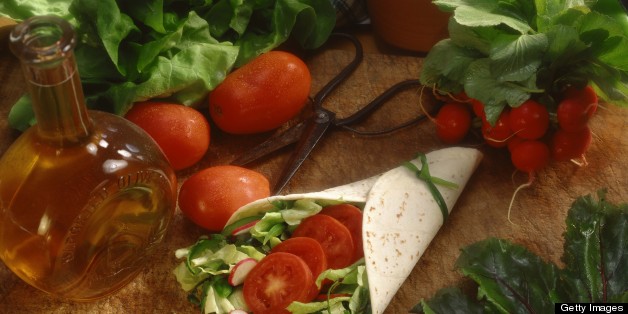 It started innocently enough. I had finally reached my limit. One more bite of fish and I would surely sprout gills and fins. My four-year stint of being a fish-eating vegetarian (pescatarian) had taken its toll. Not only too many fish dinners, but sustainability concerns surrounding fish have begun to parallel issues associated with eating meat. And besides, I had been flirting with the notion of exploring a vegan diet ever since my son the carnivore went cold turkey vegan for a month last year. The timing seemed right.
The run-up period included stockpiling books on vegan diets complete with tempting recipes and culminated with a weekend in Portland, Maine, featuring an extended feast of oysters -- akin to the "The Walrus and the Carpenter." Over the course of a week I began to gradually reduce my intake of cheese, then eggs and finally, fish. My goal was a month of vegan -- and that was two months ago.
I didn't think this would be hard; after all, my favorite meals are vegetables and I have learned so much about delicious grain dishes through working on my cookbook (Sylvia's Table) and in new seasonal menu planning at Great Performances. I was not going into this food adventure alone; Emilia Petrucci (Marketing & PR Coordinator, GP), Jamie Whitney (Trainer, Equinox) and Anastassia Batsoula (Party Chef, GP) were up for the challenge as well.
For the first two to three weeks, I kept a list of all the meals I ate. It was fascinating to go to restaurants (not selected for vegetarian/vegan qualities) and see what was available. It is quite staggering to realize how many chefs create vegetarian options but incorporate copious amounts of cheese to compensate. Flavor is their goal and it is not simple to bring it all together with so many ingredient restrictions. A meal at A Voce stands out with its spectacular kale side dish, which rocked even without the cheese. Two meals at Marea were frustrating -- I adore the restaurant but had never considered that virtually every dish had fish, egg or cheese, but we made it work. A formal tasting dinner at Del Posto was a masterpiece; I was dining with a selective omnivore, a restrictive pescatarian and a bon vivant-ivore. How the chef and staff delivered seven-plus courses, individually tailored, with creativity and good humor is amazing. And there was one wonderful traditional Jewish celebration I attended -- a Sunday brunch classic with bagels and lox where all I could eat was the garnish on the fish platters. Thankfully wine and spirits were not on my restricted list.
There was the day when I just hit a wall and wondered what the heck I was thinking -- the range of permissible edibles seemed microscopic and I was so hungry and getting cranky. How many nuts can a girl munch? And after four years of not being tempted by meat, guess what? Roasted chicken, filet of beef, veal, even a bologna and cheese sandwich started to look really good. So I learned that being a happy vegan takes more than a little planning. When I took road trips to the farm, I packed a meal. If I was going to an office meeting at lunchtime, I packed snacks. And on a long city bike ride, vegan victuals were in the saddlebag.
I realized that I was not yet fully skilled at preparing mouthwatering vegan meals myself. Fresh Direct saved me more than once with great ready-to-eat vegan meals as well as deliveries from a few local restaurants. I discovered a previously hidden world for specialty vendors at flea markets or tucked away on side streets that featured delicious homemade vegan dishes of often ethnic cuisine. And I discovered the ultimate treat - blowing a paycheck on a sumptuous meal at pure food and wine, an establishment that has redefined the high end of vegan cuisine. I continued to cook brisket for Farmer Bob and my clients, chicken for my family, steaks for my son - but let others cook for me. On Mother's Day, Ronnie Davis dropped off a container of marinated tofu -- OMG -- it was delicious. I had finally gone over to the dark side!
And soon enough, I found myself at the dinner table at several of our events at The Plaza where the staff prepared a special appetizer or entrée just for me. "I want what she's having," was echoed and reechoed by my dinner partners. I realized, we are on to something bigger in shifting from meat or fish to more plant-based food. But that is a story for another day.
How does it feel to be a vegan? Really good, though becoming a vegetarian was a distinctly improved feeling. At the one-month mark, I was not ready to stop. I had tapped into something totally unexpected. I was learning about food in a very different way -- more about nutrients, becoming aware of what was in my food, the sources of vitamins, minerals and protein. And, I was developing a greater awareness of other ingredients -- things that perhaps you would not want to be eating once you start to think about it. If we all are familiar with the concept of mindless activity -- then consider making eating a mindful action.
That has been the takeaway from this experiment. It has changed, at least for the moment, my relationship to food. I do not judge the food choices others make nor would I ever want to. I am as enamored as ever when I go to markets and stores and feast my eyes on the stunning array of food choices. But clearly I enjoy connecting my personal eating habits and observations with social and political beliefs around sustainability, hunger, access, diet-related disease or humane treatment of animals.
My plan -- I will try to be a five-day a week vegan. On the sixth day I will enjoy Katchkie Farm eggs in my Shakshuka (the recipe is in my book) or on a farm fresh salad with tomatoes. On the seventh day I will enjoy fish -- in particular, small fish like herring, anchovies or sardines because I love them and terribly miss eating them.
Finally, I need your help. Let's think about rebranding vegan so it feels less ugly and uninviting, and doesn't conjure up images of tofu and bean sprouts eaten by a bunch of hippies on the fringe of the culinary spectrum. Any ideas?