I had been blogging since 2009. The weekly process of writing has been both easy and hard -- it's a discipline involving identifying a compelling topic and finding enough time on the weekend to write. Somewhere in the late spring of '13, after five years, I lost my rhythm and stopped writing.
I thought it was writer's block. I considered the arrogance of blogging. Who is listening? Who was I writing for? Who cared!
But here's the real truth -- I gave it up to pickle. All my non-working moments were spent over pots of simmering brine and in pursuit of perfect pickling produce! Over 500 jars later, I became a pickling maven or madwoman. Blogging, movies, the gym, social engagements -- all casualties. It either was a therapeutic tonic to my pressured lifestyle or a sign that I needed therapy.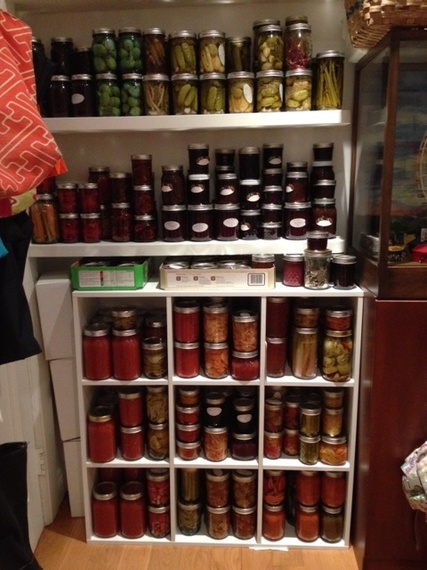 It all began with a May pickling class I took at Stone Barns led by Chef Adam Kaye. Pickling 1.0/Pickling for Dummies or the fearful or the ignorant. I learned the basic rules -- how to sterilize the jars (which is a huge roadblock to many people), what constitutes a tasty brine and some inspirational guidance in the way of recipes. I was empowered and emboldened.
As a locavore, the first veggies that captivated me were those of the short spring season -- asparagus, scapes, baby spring radishes, fiddleheads -- and I was so excited to have mastered the method of preserving the season. As the growing season got underway, everything that grew seemed to cry out "pickle me." Beets, fennel, cucumbers, Jamaican gherkins (I planted them in the greenhouse and they are fabulously bizarre), carrots, zucchini, onions, ginger, nasturtium "capers," horseradish root, cauliflower, green tomatoes, beans, peppers, leeks, cherries, daikons, watermelon radishes -- if it grew at Katchkie Farm, I pickled it. And what we didn't grow, I found in the Greenmarket.
Not only pickling, I had learned how to make shelf-stable jam and jelly which yielded countless strawberry, rhubarb, blackberry, raspberry, plum combinations. Fall was time for Concord grape jelly and I made crab apple jelly (we have a tree at the farm that had a magnificent crop this year), quince/ginger combinations, cranberry applesauce, crab applesauce and plain applesauce.
On weekend trips to the farm, I learned which Agway had the best selection of jars, becoming a jar aficionado with a preference for the wide mouth Ball jars. My hallway was stacked with cases to service my addiction. I amassed all the right tools -- pots for boiling jars, the magnetic wand to fish out sealing lids, pourers, funnels, and the essential jar lifter. A vast array of spices and seeds from standard pickling mixes to curry, cumin, turmeric, mustard/fennel/dill seeds, assorted mild to hot peppers, peppercorns, cloves, berries and salts populated cabinets and countertops.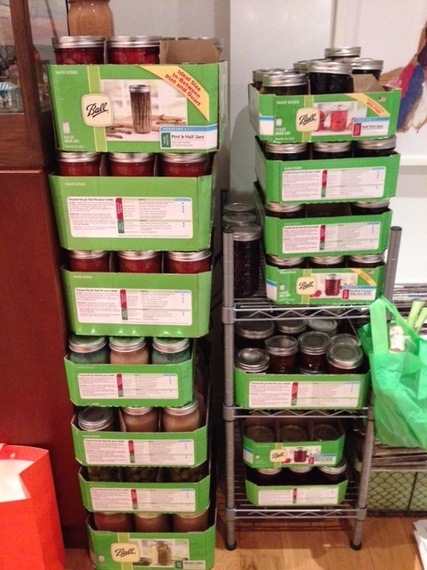 And the vinegars, the key ingredient, are a world unto themselves. White distilled, apple cider (several varietals), red wine, white wine, champagne, rice wine, malt, seasoned and then sometimes combinations of leftovers formed totally new taste sensations. I gained a deep respect for brine and admonish all pickled product recipients or buyers never to discard tasty brine. It is the height of bar fashion to drink a pickle-back shooter -- and brines are great for marinating fish, meat or chicken. They are even medicinal, a sort of digestif (especially mixed with vodka).
A typical pickling session would start innocently with a modest goal of a single vegetable, maybe two. Then somehow, plans changed and improvisation sets in -- ingredients get mixed, brines blend, another few items surface and before you know it, it is 2 a.m. and three cases have been made. I pickled and jammed so fast and furiously without copious notes that there are combinations I am not quite sure I remember and recipes I might not be able to duplicate.
As summer turned into fall, the rush to capture the last of each crop became more urgent. I used my knowledge to preserve tomatoes and for the first time "put up" jars of sauce, which meant leave no tomato behind.
Finally and thankfully, late fall and frost put an end to my vegetable supply. I saw glimmers of hope -- I would get my life back. By then, I had to deal with the question of what to do with all these jars, realizing that I was in fact quite attached to each and every one of them. My husband, who nicknamed the kitchen my "laboratory," started asking when he might be able to help himself to a jar and eat the contents. My heart nearly stopped. They were my children or like art. I needed to look at them as a body of work, undiminished and untouched. And we'd eat them at Armageddon.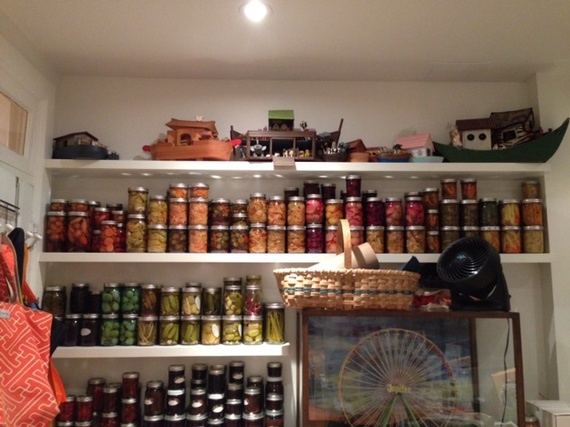 The holidays began to approach and I resolved to give them away as gifts. And I have -- dozens have found their way to friends, colleagues, neighbors, family and clients. And there are still a few hundred jars left -- I have a year to clear them out and have great joy in picking out which to give to whom. The need to pickle has subsided, though I did crank up the pickle works two weeks ago to teach my daughter and her friend the basics. (I kinda think she got the bug!)
The good news is I want write again; I was unsure I would or could. I have had this tale in my head for months but couldn't find the time or focus to share it. I have felt like an absurd Portlandia-type character with the pickle-everything mantra. It is seductive, and for those of us susceptible to pickle power, it is a world you plunge into with passion. But I am back with lots of stories to tell from the past few months. I look forward to catching up.