When Monday leads off with Valentine's Day, the week is then "Love Week," at least in GP world. After monthly food festivals featuring a seasonal harvest item, February -- the dead of winter month -- lends itself to our imagination... and for us, the crop is love.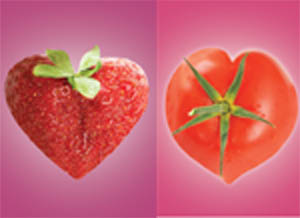 Monday was also the First Annual Dining with the Divas luncheon at the iconic Apollo Theatre. Brilliant -- girl-power, power luncheon, empowering the next generation of artists and dreamers. We were serenaded down the aisle to the gospel sounds of the Abyssinian Baptist Women's Choir, not your everyday musical escort but very appropriate in a house affectionately referred to by our hostess as the Radio City of Harlem. This was a big-deal event, long and lovingly planned, with attention given to every detail.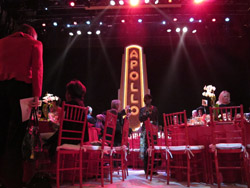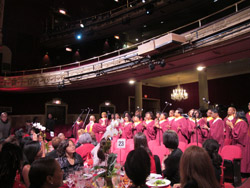 Writes Susan Fales-Hill: Diva is a horribly overused word these days, and so often misapplied to people with negligible talent and horrendous manners, but the ladies in this case were stunning exemplars of the breed: Oscar winner Marcia Gay Harden, groundbreaking director Mira Nair, Emmy award winner Lynn Whitfield, and eternally beautiful Leslie Uggams were all on hand.
Elegant day dresses ruled the day; my hostess, MTV President Marva Smalls wore a chic black, white and grey floral print knee-length number from Prada. MC Deborah Roberts shone in a dusty rose sleeveless charmeuse shift. Mira Nair sounded the ultimate grace note when she summed up the spirit of the Apollo: "If we don't tell our own stories, no one else will." Here's to not remaining silent. What we ate: succulent Moroccan spiced chicken and couscous in a red pepper coulis.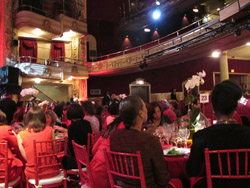 The event was a fundraiser to celebrate and benefit the Educational Programs at the Apollo and to represent the beneficiaries were two young articulate women who spoke about their experiences and personal growth. A house of dreams continues to nurture the next generation of artists and community leaders, connecting them to the elders in the entertainment industry be it on the artistic or management fronts. Community and a powerful sense of the generational obligations were very tangible values that permeated the room. It felt so special to be on stage at the Apollo without taking the risk that aspiring actors, singers and dancers do weekly at Amateur Night, hoping to follow in the footsteps of Apollo Alums like Ella Fitzgerald, Sarah Vaughn, Patti Labelle, Dionne Warwick, James Brown and others. We dined, chatted, networked and celebrated the first spring-like day in weeks. Outside the ice banks were thawing, inside our hearts were melting, and the melody of spring and hope were in the air.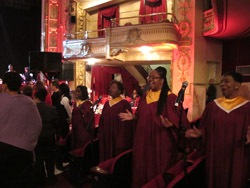 At the same time, on the other end of Central Park in another iconic building, the Plaza, the Rush Philanthropic Arts Foundation was hosting their Valentine's Day luncheon to benefit Rush's Educational Programs. "Rush Education Programs serve 2300 public school children. The programs are designed to inspire students, provide positive alternatives to high-risk behaviors, and support increased academic performance." They were saluted by Mayor (and birthday celebrant) Mike Bloomberg who received a portrait in lieu of a cake.
The 16th was one of my favorite events of the year -- the annual gathering of the board, donors and alumni for Coro New York. Gathering at Frederick P. Rose Hall, home of Jazz at Lincoln Center, it was a celebration of their leadership training utilizing the organization's unique methodology: Coro uses an experiential approach to leadership development.  Coro's intense, community-based selection process identifies bright, high-achieving, self-starting individuals with the greatest potential for learning and growth. 
Selected program participants are then placed in a series of sequential internships in government, business, labor, media and not-for-profit community organizations, as well as in political campaigns of both parties and special community problem-solving projects that require cross-sector organizing, negotiation and coalition building for successful resolution.
Coro participants aspire to lead the change in NYC. They are charged with creating their own vision for change, which defines their efforts. We heard from several program participants as they articulated their individual vision:
Janelle -- in the Manhattan DA office: To ensure that NYC public school students are in the pipeline to become prosecutors, so that it will be a diverse group reflective of the public it represents.
Kevin -- in the Fulton Mall, Brooklyn: To develop a more robust local economy; target and support the growth of small businesses to emerging local markets.
Flora -- Public Affairs: To ensure that NYC remains affordable for artists.
Monisha -- Young Leadership: Every New Yorker can influence change in this city. Link the expertise of public and private sectors - leverage corporate resources to help public education succeed.
Andrew -- a Coro Fellow: Help religious institutions support economic development; help those in low-income communities to expand their businesses.
Erica -- High School Program: Support High School youths in running a website where they can exchange positive messages to counteract the negative and violent school culture.
This year, Coro is nurturing and growing 150 visions of change in NYC, a Valentine's Week gift to all of us. I could have listened to each and every one. There is nothing more inspiring than an articulated vision. The discipline and passion required to transform our city is being molded and mentored in rising leaders, right in front of us.
And finally, on the home front during this week of love, Sam turned 16... sweet. It's a milestone that is a little hard to imagine as it borders on true independence and is mixed with nostalgic maternal desire to embrace the little boy once again. Well, I got about 30 seconds worth of that mushy affection in the aftermath of well received birthday gifts. Whew.
A week of warming and a distinctively different season than February's past ('09, '10) as feelings of optimism were expressed in gatherings all over the city. As economic health slowly seeps back into the life of the city, I sense forgotten promises made in the dark days of the recession about community service and dedicating ourselves to helping our neighbors. It was important to see the commitment in this small representative group of non-profits to sharing the gifts of our culture; investing in new (and sorely needed) leadership and inspiring us to participate and support their efforts with our resources and personal commitment.