"In all things, give thanks" were the words expressed by Sister Maxim, wearing a sweatshirt with the faded printed words: Charlton Locksley Bennington Foundation, in memory of her son, murdered in 2009 for the gold chain he was wearing around his neck. We talked this Thanksgiving Day about how life goes on, and how goodness is created in the aftermath of disaster.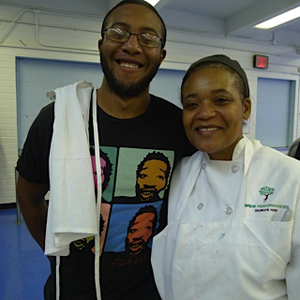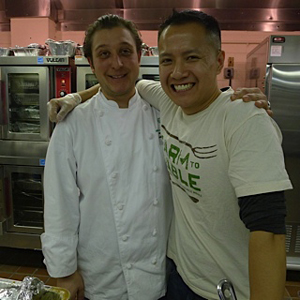 This Thanksgiving morning was spent in the Rockaways with my husband and colleagues from Great Performances, to participate in providing a holiday meal for an anticipated 500 guests. We have volunteered on Thanksgiving Day for several years in communities throughout the city, but the expectation was different this time, against the backdrop of the impact of Sandy on this waterfront neighborhood.
And it was very different from the moment we walked in. There were the meals our kitchen prepared at the behest of City Hall, but that was to be only a small part of the feast.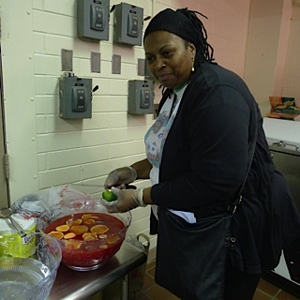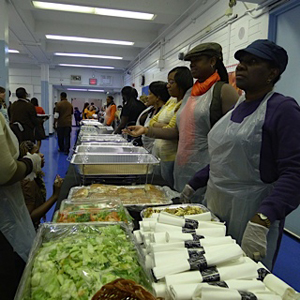 Golden, fragrant whole roasted turkeys -- by the dozens -- were hand-delivered by New Yorkers along with pies, stuffing, breads, cranberry sauce, salads, homemade punch, vegetables, macaroni and cheese, collard greens and ham, jerk chicken, BBQ chicken -- and other dishes made with love.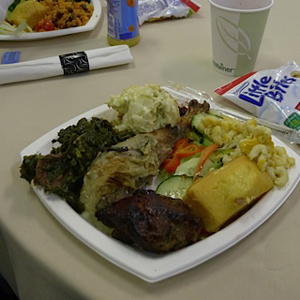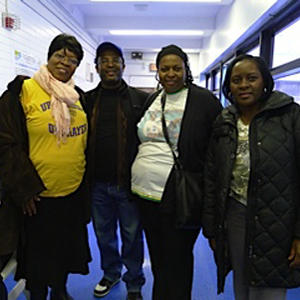 But even more stunning than the endless stream of mouthwatering holiday bounty were the helping hands and open hearts that gathered to share the day with a community in need. And even more than the outpouring of compassion was the range of community and religious groups who routinely dedicate themselves to helping neighbors -- close by or miles away.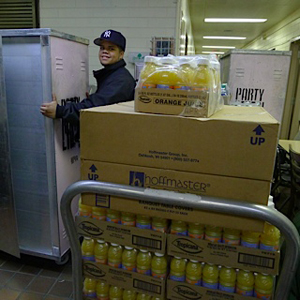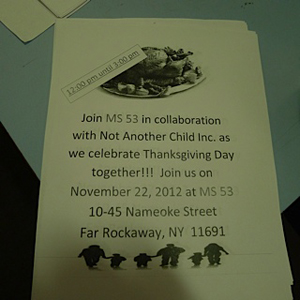 Bishop Lennox Hall, of Glory Light Tabernacle, opened the buffet with a brief prayer. We talked about the storm, the road ahead and the work he does in the community year-round. The next big need, he said, is commonplace household items from kitchen utensils to mattresses to furniture and baby goods. But in the same breath, he talked about the work being done for Supportive Parenting in a community of too many single-parent households. Mentoring boys, organizing parents in supportive groups and working with the principal of the school where the dinner was being served today -- MS 53 -- was an ongoing program. As for his own home, the damaged roof was minor compared to the flooded church and the damaged (and now closed) day care center. Bishop Hall is distributing items and can be found at LHall93007@aol.com.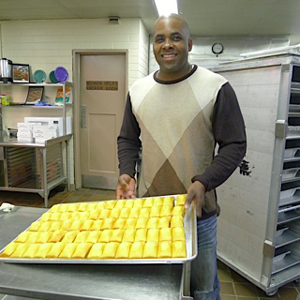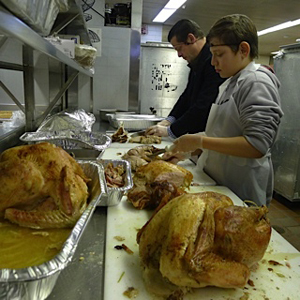 I met an uplifting group of women from Brooklyn's Upper Room of Prayer who directed me to their "Pastor with the pink scarf." Dr. Sylvia White's ministry is located at 1698 Carroll Street in Brooklyn. She had been listening to Sister Maxim who was a guest on 92.1 FM, the Grace Deliverance Radio, Heartbeat Hours, when she heard about today's gathering. Dr. White reconnected to the talk show host, having worked with him over 12 years ago through church work. The church group brought freshly roasted turkeys, rice and beans, homemade pies and new coats (and more) with them. Last week, they were at Coney Island, surprised by the devastation they found. There, Dr. White said, more elderly had died.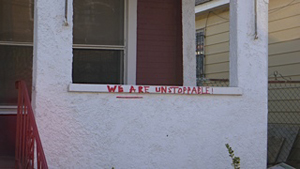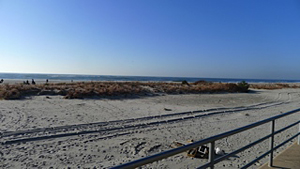 I met Owen (age five) and his sister Isabel (age eight), the youngest of a large family and part of a group from the Calvary Church, who drove in from Lancaster, PA, early this morning. The group was staying for the weekend to assist in rebuilding neighborhood homes.
I chatted with Lisa and Morgan, who came from Hicksville with their group, and Sharay Hashamaya, who brought a fabulous zucchini dish (no, she wouldn't share the secret recipe!) and sweet potatoes... and of course, more. We digressed into theological chitchat, agreeing that it's better to find ways to help each other rather than be divided by religious differences.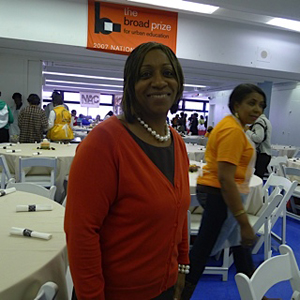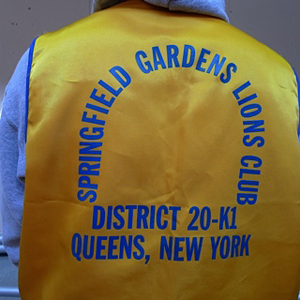 A clear belief in serving humanity first was articulated by Suresh Sugrim, President of New Jersey Arya Samaj Madir. Activated by relief work in Guyana seven years ago and the only group providing vegetarian meals ("I don't celebrate Thanksgiving by taking life"), the group works with FEMA and Red Cross in disasters across the country. A practicing Hindu, he expressed the importance in knowing more than the art of praying. It is the "art of living -- knowing how to embrace the human soul... serving humanity is better than serving God. If everyone is in the temple, who's left to help?"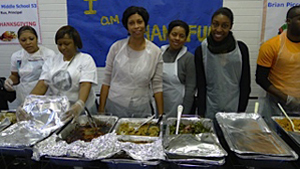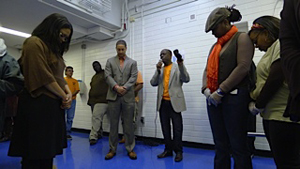 I was hungry and found a beautiful bucket of pickles in the kitchen. They were delicious and the handiwork of Tina Fracier, who was with the Love Fellowship Tabernacle from East New York/Brooklyn, under the leadership of Bishop Hezekiah Walker. Her recipe- Take 6 large cucumbers, half seedless, half regular, and partially peel them. Cut into discs and place in a container. Add ¼ cup of apple cider vinegar, three tablespoons of brown sugar and a package of Ranch Seasoning (dry mix). Mix well and chill for an hour. You can add sliced red onions or sliced cooked beets to the cucumbers for a twist! Tina is Chief Operating Officer and Chef for the Bishop (at 464 Liberty Street/718-235-2266) for the past 16 years, having "escaped" from the world of corporate insurance. She wanted to make a difference and her work in the non-profit world has allowed for that. Financial stewardship and culinary proficiency, added to a license in counseling, make her life rich and productive indeed. The church runs a food pantry, serving 300-500 meals every Tuesday.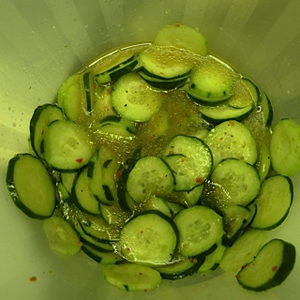 Tyler, my colleague's 11-year-old son, was volunteering as well. I asked him for a sneak preview of what was on his list for Santa. "Health and Happiness," he said, "and please, make all the ugly tree stumps go away. Bring my old neighborhood back."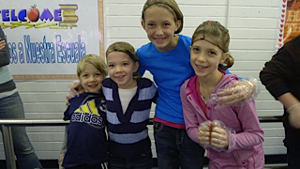 Photographs courtesy of Liz Neumark, with permission.