Oh, those beautiful ramps that say SPRING! I race down to Union Square on Saturday morning now to buy bunches of fresh ramps. Where are they? Just follow your nose. My goal is twofold: pesto and pickled ramps.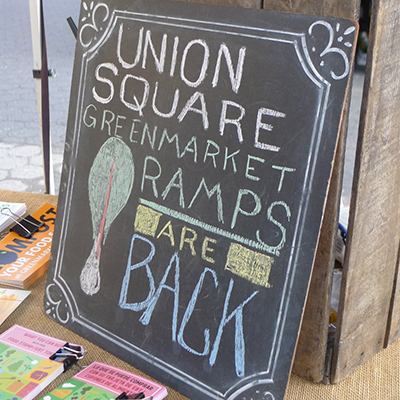 After a good washing and cutting off the stubby root bottom (careful to preserve as much of the bulb as possible), I cut the leafy part from the bulb. The leaves are for the pesto; best to make sure that there is as little white bulb part as possible, as the pesto will be sharp enough.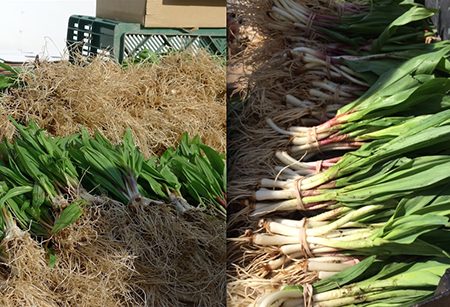 Pickling:
I like a sweet brine for the ramps, so I use rice wine vinegar. In a non-reactive pot, I use the guideline I learned from Chef Adam Kaye -- 9/5/1 -- 9 parts vinegar, 5 parts sugar, 1 part salt. It can be full cups if you are making a lot, or half cups (which I use when pickling 5-6 bunches of skinny ramp bulbs in the early season). Bring to a steady simmer on the stove, stirring and making sure the sugar and salt are dissolved.
Put the ramps into a jar or other container and pour the hot brine on them. Let the mixture cool and then cover and store in the fridge. They will be delicious in 24 hours and will keep for 2 weeks in the fridge. You can shelf stabilize your pickles according to sterilization procedures, but wait until the bulbs are good and fat. Besides, they are such a treat I don't ever seem to have any left after a few short days.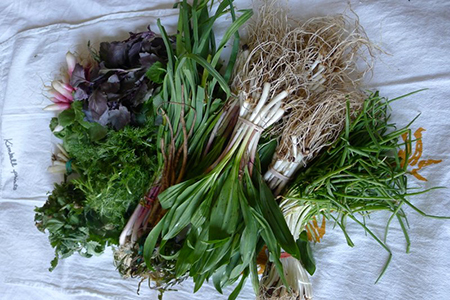 Pesto:
Cut the ramp leaves into half-inch pieces -- it's easier for the Cuisinart to blend in less time (I prefer using my Cuisinart over the Vitamix for pesto). Figure about 4+ cups of packed leaves, 1 cup of shelled, unsalted walnuts, 1+ cup of grated Parmesan Romano cheese (I think this is a little matter of taste) and 3/4-1 cup of olive oil. Put the leaves, walnuts and cheese in the bowl and turn it on. Drizzle the oil into the bowl, and watch the pesto emerge. You might want more or less nuts and cheese than I do. Pesto will freeze well; use small containers and cover with a layer of saran to prevent the top from darkening.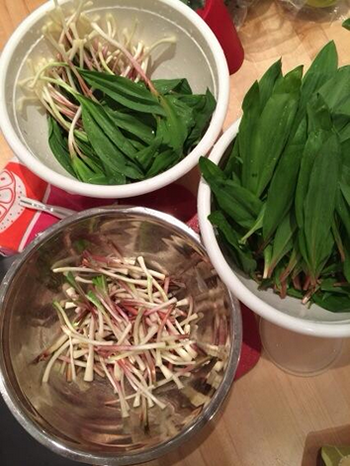 Pesto is both an art and a science; meaning, you can modify the degree of sharpness with ramp pesto by adding more nuts or cheese. It is a very potent bite. I love to eat it with pasta or add as a spread to meat or cheese sandwiches. I cannot keep up with the demand!