So, what's it like in the party business now? Correction - EVENT business. Like the corporate jet, the "party" word has been banished for the moment.
The regulars are not at the trough - and the database is updated weekly as names that were once stalwarts are now vanished from the party calendar. Lehman Bros, AIG, Merrill, and Citibank to name a few once familiar faces. As a taxpayer, I really don't want to see my dollars spent on Franks in a Blanket, however tempting that might be. (You know, at the end of time, more business will have been transacted with a little hot dog in hand than with anything else except perhaps a martini.)
What lies ahead for a high-end business like ours? Adapt.
Our customers are looking for simplicity and comfort; but with style and great taste. So at the start of the second month of the New Year in this new economic era - a few facts from the 'event' professionals in NYC.
Corporations are lying low; but the smart ones recognize the value of bringing people together in effective schmoozing (the combination of wining and dining mixed with business in a comfortable atmosphere). More events are being hosted this season in homes away from the public eye. We experienced a 4-fold increase in private home parties this month. The cultural institutions as party venue are taking a hit as planners gravitate towards creative and less costly alternatives - galleries, showrooms or lofts off the beaten track. The industries we are cooking for range from media, entertainment, healthcare related, academic institutions (from early childhood through university level), boutique financial services, beauty and fashion to the vast range of non-profits.
The fundraising world is reeling. Like everything else, the fundraising vehicle needs retooling. Optics is not the issue in terms of hosting events, but rather how they are constructed. Honorees are harder to recruit, as are corporate sponsors. Constituents want simpler events and organizations are working hard to redefine an elegant evening. The creative approach was evident in an invite I received to a very toney Sunday night event, but the dress code was strictly blue jeans. Then, the invitation to send money, but stay home is making the rounds. (My favorite was the one that came from a film festival organization with a bag of microwaveable popcorn.)
We are hosting over four-dozen prominent NYC charities for a luncheon at the Plaza Hotel Grand Ballroom this week where three speakers will discuss new strategies for fundraising today. Naomi Levine, Karen Hopkins and Jayme Koszyn will present 3 different perspectives on how to navigate the challenges of fundraising today. I will share their comments after the luncheon. The best part of the task for us will be how to set an example for our guests - how to host a new style fundraiser in a venue as opulent and iconic as The Plaza. It is possible! Stay tuned for what each speaker shared as well as the unusual luncheon menu. (And a list of no less than 50 revenue saving ideas will accompany the post.)
The challenge of adapting as a business includes changing not only how we do business but also how we look for new customers. Our cuisine reflects a demand for simpler food offerings while incorporating creative elements, our margins are reduced as prices are negotiated daily, our service staff is on their toes like never before to ensure that each guest experience is perfect and we are working very closely with our vendors to find collaborative solutions for our mutual clients. And on the business development front, we are exploring new frontiers of marketing via a combination of age-old selling techniques (more face to face time with our clients and potential clients) while pursuing new strategies via the Internet universe. The marriage of these strategies could not be more amazing.
We have never been busier or harder at work. In spite of the economic gloom, deals being planned, opportunities for new ventures arise weekly, weddings and life cycle celebrations are being booked, fundraisers and project launches are being planned. WE find ourselves reminiscent of couples that planned families in the shadow of 9/11 when in the face of the absolutely unknown, a baby boom occurred. Life goes on. We find ways to inspire our co-workers and ourselves. Our economic trauma might be unprecedented but what are the options?
Enjoy reading the new menus for Spring 2009!
First Course:
Pan Seared Diver Scallops
Baby Artichoke Salad, Crispy Artichokes, Watercress Sauce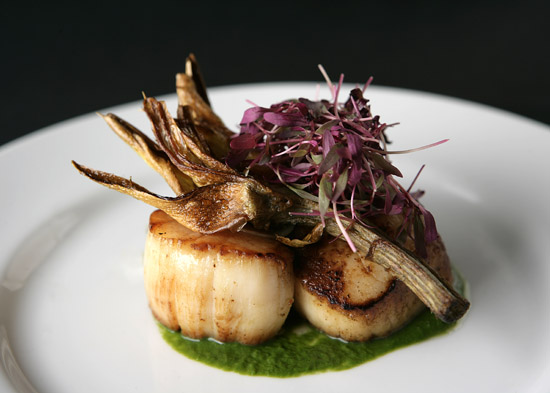 Pan Fried Hudson Valley Camembert
Morels, Rocket and Mustarde Fruits

Tom Berry Tart with Thyme Nage
Baby Aztec Spinach Salad and Balsamic Syrup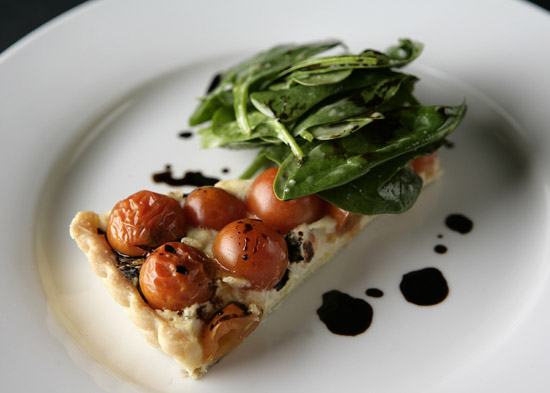 Entree:
Pan Roasted Black Cod
Warm Salad of Candy Striped Beets and Cobalt Carrots, Coucous, Fresh Grated Horseradish, Citrus Beurre Blanc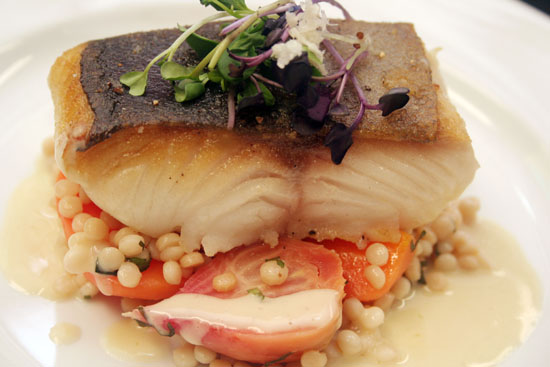 Roasted French Breast of Chicken
Hen of the Woods, Sweet Pea Salad, Fresh Pea Leaves, Carrot Coulis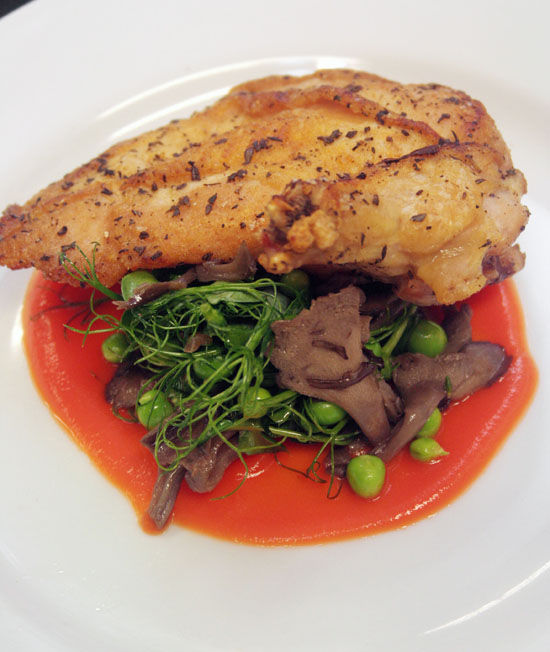 Pan Roasted Rack and Loin of Lamb
Sweet Corn Pudding, Haricots Verts, Zinfandel Demi-Glace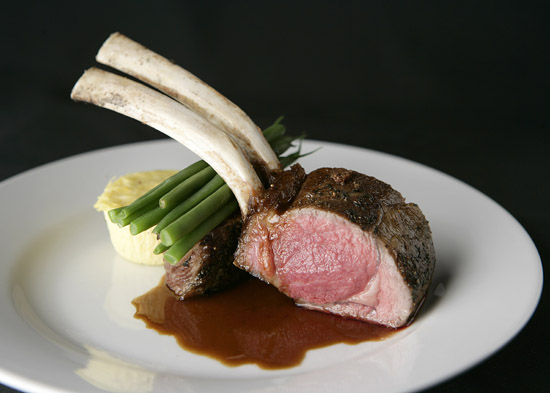 Dessert:
Peanut Butter and Chocolate Torte
Chocolate Sauce and Fresh Raspberries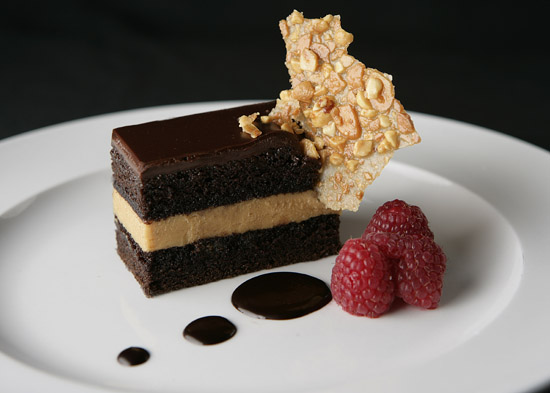 Honey Lime Polenta Cake
Banana Compote and Ginger Chantilly Cream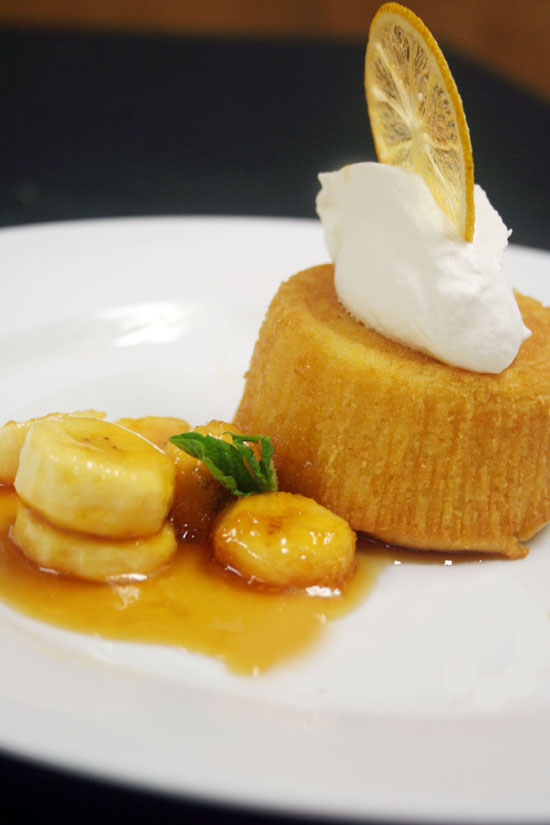 Chocolate Bourbon Pecan Pie
Vanilla Ice Cream and Chocolate Sauce