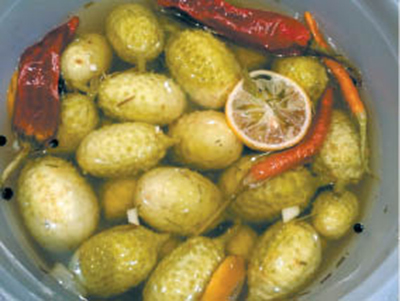 The world is divided into two types of people: pickle lovers and everyone else. I'm with the pickle people.
Growing up in NYC meant early exposure to the best of the brine, a good assortment of Lower East Side merchants, and the development of a discerning pickle palate. The choices were limited: cucumber pickles - full/half sour, green tomatoes and sauerkraut - all out of the barrel. Today, anything goes in the "let's pickle it/Portlandia" tradition.
A little bit of pickling history. It was an ancient craft practiced in Mesopotamia; Julius Caesar fed his troops pickles for strength. Queen Elizabeth enjoyed pickles. Amerigo Vespucci sailed to the New World with barrels of pickled veggies on board (a health benefit). Dutch farmers grew cucumbers all over Brooklyn (foreshadowing today's hipster pickling generation). Thomas Jefferson wrote about the joys of pickle eating on hot days. The Mason jar was patented in 1858. Now, Americans eat over 5 million pounds of pickles annually.
Although pickle history seems to belong to various ethnic heritages, by the late 1800s in New York, the Heinz Company dominated the industry. According to the Tenement Museum, "where the Flatiron Building now stands, a six-foot light up Heinz cucumber pickle once stood." Nonetheless, the Jewish Lower East Side is the emotional center of the pickle world. Much has been written about the pushcarts, barrels and the contemporary pickle war between Guss' and its competitor/offspring.
On Mouth.com, there are over 60 types of pickles to order - including Windy City Wasabeans (Rick's Picks), Ginger Carrots (Sour Puss), Vanilla Pickled Cherries (Unbound Pickling), Pickled Soy Shiitake Mushrooms (Jarred SF), Pickled Watermelon (Pickled Pink Foods) and asparagus, garlic scapes, ramps, jalapeños, peas and carrots, okra....an almost endless list.
I transitioned from being a mere consumer to producer in the spring of '13 after a pickle/preserving class at Stone Barns. That summer, I canned over 600 jars, some jellies and jams, but mostly pickled vegetables. Realizing that my obsessive nature ruined my summer (I spent it in the steam of a constantly boiling giant pot of water), I vowed to take control of my pickling impulses. But the genie was out of the bottle (or should I say canning jar?). It is late September and the case count is at 22 (that's 264 jars) with another dozen or so in the fridge. I'm not done for the season.
What's in the jars?
My first preference is strictly short season items like asparagus, ramps, and garlic scapes. After that, there is a complete breakdown of self-control. I prefer to pickle things that I grow at Katchkie Farm (my farm in upstate NY) - cucumbers, Jamaican gherkins (awesome porcupine-like oval things), nasturtium seeds (hell to pick), zucchini, radishes, beets, cauliflower and green tomatoes. But I frequent the Greenmarket for other veggies quite successfully as well.
What's the drill for pickling?
Sterilizing jars, clean new tops, good sanitation and kitchen cleanliness is baseline. (My husband calls it my "laboratory.") You'll want the right equipment - a large pot with a rack, a few handy tools (funnels, pouring spoons, magnetic wand for lifting lid tops out of boiling water, jar lifter), lots of other pots for brine preparation, mixing bowls and some counter space! Then come the jars - one of my favorite things. I have strong preferences like wide mouth jars in pint and half size. At any moment I have a stockpile of 10 empty cases - you never know when you might have a very long pickling session. Did I mention storage space?
What's the secret to pickling?
You need to be a little nuts for starters. Then you learn the essence. The secret is in the brine - choosing the vinegar, matching the flavor profile with the thing to be pickled and combining with the just right spice mix. People don't share these secrets. You never toss great brine when the last pickle is done. Yesterday's brine is tomorrow's salad dressing or marinade - yes, a secret ingredient.
A few of my favorite pickle concoctions:
Radishes with local fresh ginger in a rice wine vinegar brine
Cauliflower with dried chili pepper, shredded carrots and onions in wine or champagne vinegar, curry and mustard seeds (thank you, Chef Adam Kaye)
Beets in red wine vinegar with ginger, cloves, cinnamon
Nasturtium seedpods in white wine vinegar and herbs
For my Jamaican gherkins, it is cider vinegar with garlic cloves, peppercorns, traditional spice mix, dill flowers and vodka
A rundown on NYC pickle producers, in case you don't want to make them yourself:
McClure's
Rick's Picks
Brooklyn Brine
Divine Brine (some of my faves include horseradish or wasabi)
Guss'
Sour Puss
The Pickle Guys
Katchkie Farm (that's me)
Where to go to eat pickles along with food and drink:
Jacob's Pickles - the man has a deep respect for the art form
Pickle Shack- featuring Brooklyn Brine products
Mae Mae Cafe (that's me too)
The Spotted Pig
The Fat Radish
Mile End Deli
The Library at the Public Theatre
The Queens Kickshaw (Astoria)
Pickling has changed my life. It is the gift I give most often. I never worry about Armageddon or Hurricane Sandy-type events. I am fully stocked. I have lots of love in every jar. That is the true secret ingredient; abandoning oneself to the chaos of pickling madness.
National Pickle Day is Nov 14, 2014, but by all means, don't wait until then.
This piece was originally published in Our Town.