Newborn foal stars in Budweiser Super Bowl commercial
Photo provided by Budweiser
With its 60-second spot "The Brotherhood," Budweiser has scored the first touchdown of Super Bowl XLVII. Tracing the relationship of a Clydesdale foal and his groom/trainer from birth to parade hitch, Annheuser-Busch reveals the enduring bond that develops and persists between horses and their humans. The accompanying Fleetwood Mac soundtrack, Landslide, underscores the poignancy to great effect.
Video provided by Budweiser
The commercial's stars, a week-old foal, an eight-month old weanling named Punky, and a two-year old colt, Pee Wee , were all born, raised and filmed at the company's 300 acre Warm Springs Ranch in Cooper County, Missouri. About 100 horses live on the farm that includes a reproductive barn with a vet lab, 10 pastures with sheds and waterers, and around the clock staffing.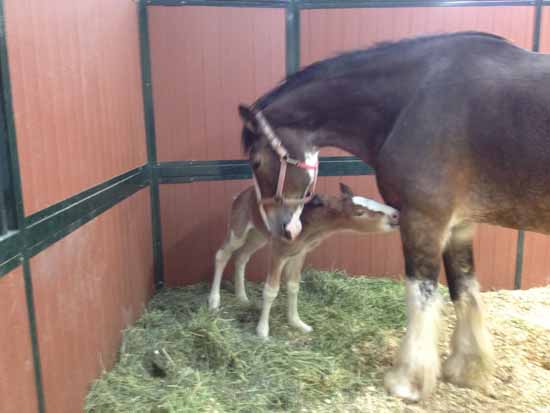 Darla and her newborn foal
Photo provided by Budweiser
Foaled this year on January 16, the baby goes by its mother's name Darla13. Clydesdale fans are invited to help name the foal via Budweiser's Twitter and Facebook accounts. "This newest member of the Budweiser Clydesdale family was 7 days old on the day this part of the Super Bowl commercial was filmed," said Jeff Knapper, general manager of Clydesdale operations, in a press release. "A star was truly born on Jan. 16." In total, thirty foals are expected in 2013.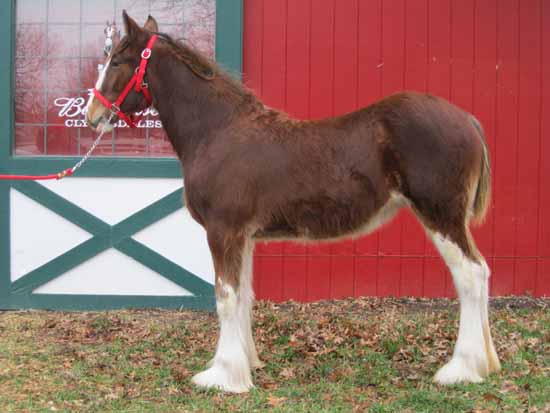 Punky, the playful weanling in the spot
Photo provided by Budweiser
While the concept that horses and humans share long-lasting bonds might seem like wishful-thinking, it's not. Horses know their caretakers. Personally, I've had horses that without seeing me, not only know my voice, but my footstep and even my car. Animal behaviorists have studied and documented this horse-human link. In the article "Positive interactions lead to lasting positive memories in horses, Equus caballus" the researcher Carol Sankey and her team found that horses have "remarkable social cognitive abilities that can be transposed from intraspecific to interspecific social contexts."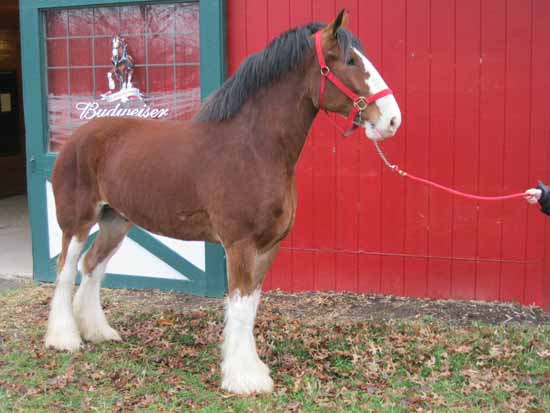 Pee Wee, the two-year old that frolics, then leaves the farm
Photo provided by Budweiser
This year marks the 80th anniversary of the Budweiser Clydesdale hitch. To celebrate the repeal of Prohibition in April 1933, August A. Busch, Jr. and Adolphus Busch III presented their father, August A. Busch, Sr. with a six-horse hitch and beer wagon. A similar hitch was dispatched to New York where it delivered a barrel of beer to Prohibition foe, Governor Alfred E. Smith. President Franklin D. Roosevelt was also graced with a visit from the Budweiser hitch. Within a short time, the number of horses in the hitch was increased to eight, and has remained the same to this day.
The Clydesdales were first seen in a Super Bowl commercial in 1985 and have appeared in 23 spots inclusive of "The Brotherhood."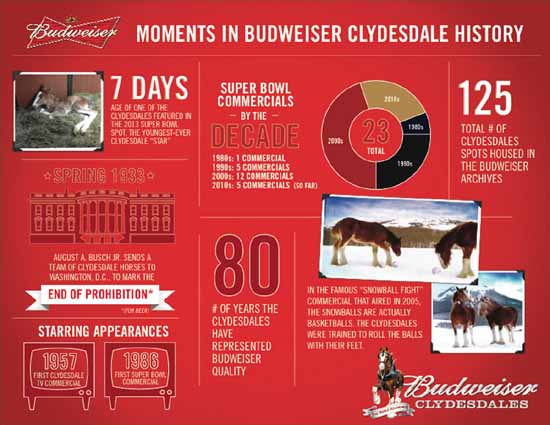 Infographic courtesy of Budweiser