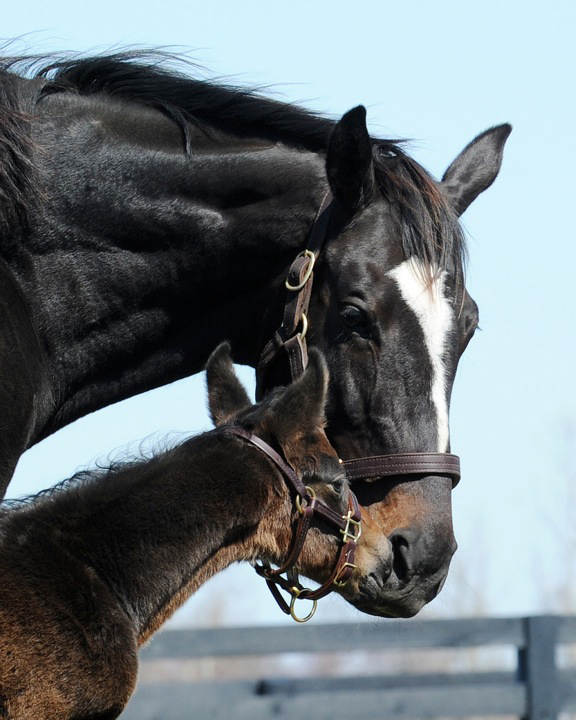 Zenyatta and her newborn colt nuzzling during their first outing.
Photo courtesy of Zenyatta.com
In case you haven't heard, the blessed event occurred Thursday evening, just after 10 in the evening. Zenyatta, the eight-year-old iconic racemare and 2010 Eclipse Horse of the Year, delivered a strapping 130 pound baby boy -- a colt by Eclipse Champion Bernardini, at Lane's End Farm in Versailles, KY.
The colt is a dark bay or brown, with a white star in the middle of his forehead between his eyes. On his left front leg, he shares with his mother a unique type marking -- white interspersed with black freckles, typically called "ermine". He has a handsome head with well-wrought ears and bright eyes. He looks to be balanced with good bone.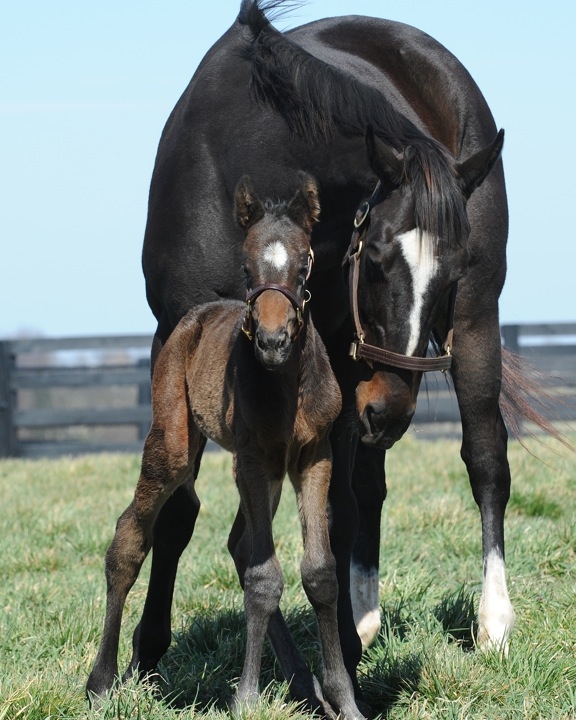 Zenyatta's colt is a looker, just like his mother!
Photo courtesy of Zenyatta.com
By all accounts the birth was uneventful, with the foal on the ground half an hour after Zenyatta's water broke. Her owners Ann and Jerry Moss came to be with Zenyatta when she foaled from their home base in California. Befitting royalty, Lane's End owners and management were present as a team that included a veterinarian ushered the foal's birth.
Unofficial news of the foaling came from the Twitter account of Daisy Farish, granddaughter of Lane's End's owner Will Farish with "ZENYATTA JUST HAD HER BABY! Boy!" The official announcement was made around midnight. An ensuing enormous spike in traffic crashed the source for all things Zenyatta, Zenyatta.com, where Zenyatta channels a daily blog and gives updates of her adventures in motherhood.
Right now, Zenyatta and her foal are each other's universe. Whether in their stall or turned out in a paddock, there is an invisible tether between the newborn and his dam. Even when the baby romps, he does so within a short radius of Zenyatta. Notice in the photographs, at anytime the pair are separated by less than a couple of feet.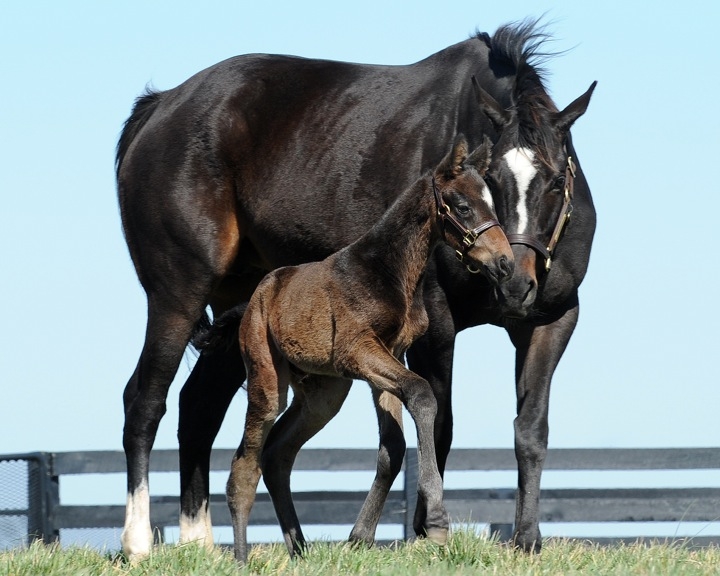 As her colt ventures forth, Zenyatta is close by.
Photo courtesy of Zenyatta.com
As for Zenyatta, she appears to be embracing her new role. She constantly nuzzles her baby, imprinting him to her, and, her to him. In the pictures, her ears are relaxed and her eye is "soft" -- accepting and unalarmed. Physically, Zenyatta is in great shape, carrying good weight with a glossy, thick coat. Motherhood becomes Zenyatta.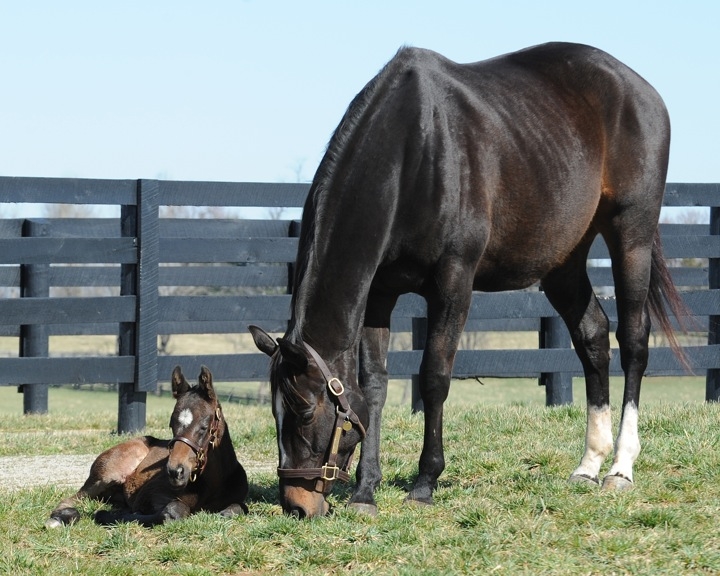 While junior catches some rest, Zenyatta grazes around him. Zenyatta's hind leg black ermine freckles between her hooves and white socks are clearly seen.
Photo courtesy of Zenyatta.com