I just fell in love with ballerina Misty Copeland. And Under Armour.
Misty's an American Ballet Theatre soloist (with an incredible story), and she's featured in the brand's latest campaign. Video here, and below. Watch it.
The voiceover reads a rejection letter from a ballet school, hitting hardest with the line,"you have the wrong body for ballet."
And isn't that exactly what most girls grow up thinking, at one point or another? Even the ones who aren't ballerinas? Especially the ones who aren't ballerinas? That they have the wrong body.
"Wrong body for that sport."
"Wrong body for these jeans."
"Wrong body for this dress."
"Wrong body for that guy."
Under Armour has been pretty transparent about using Misty (and other female athletes) to grow their women's business and female fan base. But as far as I can tell, that only makes their effort more worthy.
Because when I watch Misty's powerful body twist and spin across the stage, I can't help but think of my young niece, Hadley -- a mini-ballerina, obsessed with all things dance. And I have to believe it's just about the best thing in the whole world for young girls like her to have strong-willed women with strong muscles to look up to. The kind of women who can occupy sixty seconds of air time between ads for lipstick and low-fat-everything to remind them that their body is the opposite of wrong.
And if Under Armour wants to use those strong-willed women with strong muscles to sell more sports bras to girls who want to use their own incredible bodies to play sports (and yes, in case there was any question, that includes ballet), even better.
And also: thank you.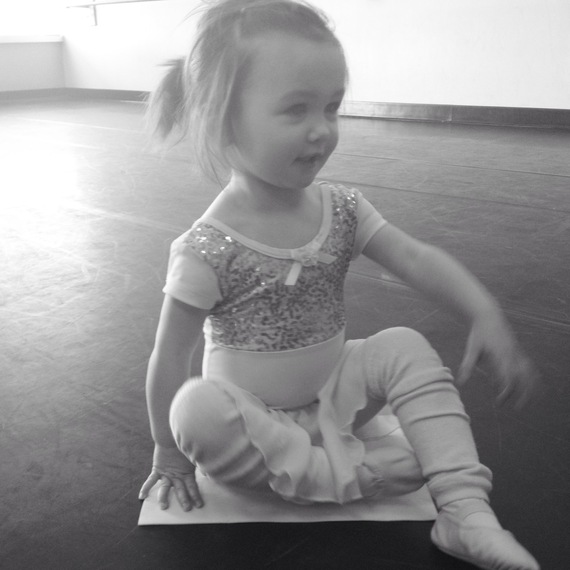 Hadley, a Misty in the making