That moment when...
You're at a hipster coffee place in a gentrified neighborhood and three local middle school kids walk in, camera in hand, ready to interview you and your fellow coffee-goers about your opinion on the effects of gentrification on their community.
Awkward.
This happened to me a couple of months ago while I was getting some work done at The Coffee Bar in the gentrified U street neighborhood here in D.C.
And I didn't know what to say.
When I moved here two years ago my first home was in Petworth, a "burgeoning neighborhood" in northwest D.C., also one of the most rapidly gentrifying neighborhoods in the nation's capital. The difference from one block to another shocked me. The surrounding area of the Petworth metro is home to an organic supermarket, the awesome Qualia coffee house, the ever-present mediocre thai place, brand new apartment buildings and a bunch of Gen Y'ers who frequent them and reside there, but have no roots in the community.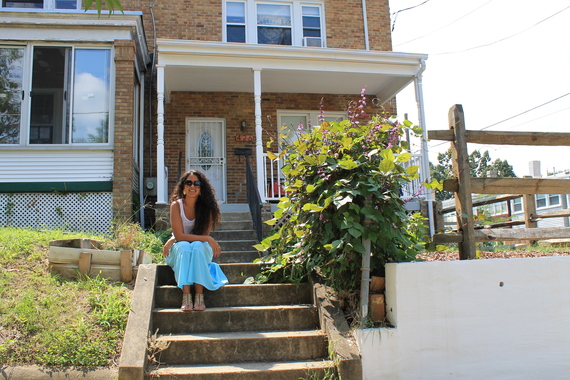 Yet as I would walk home to my shared group house, about 15 minutes from "downtown Petworth," I quickly saw the "real" Petworth emerge; families going to Sunday service at a Baptist church, yard sales to benefit a local youth center, grandmas walking grandkids to the park, Redskins fans decked out waiting for the 70 to take them to the stadium. That is Petworth.
I couldn't help but feel like I was intruding, much like I did at the coffee shop that week.
Newcomers like me are not only changing areas like Petworth, but our hangout spots are sitting atop decades of rich history that few millennial transplants know enough about. Case in point: U street. This area, nicknamed "Black Broadway," was known as the cultural center of D.C., America's first city to have a black majority. In fact, it wasn't until 2011 that D.C.'s black population dropped below 50 percent for the first time in more than 50 years. Specifically in the last 10 years, the district lost nearly 40,000 black residents, many driven out by skyrocketing rents in neighborhoods like Petworth and U street. Most blame this on gentrification.
And the situation is looking even bleaker for those who rely on public housing. The demolishing of public housing in DC has been fierce, resulting in over half of low cost housing being torn down. Next on the list is Barry Farm, one of the oldest public housing communities in Ward 8 of the city.
It seems that the strategy is to disperse poverty without accommodating those that have been bought out by new development. Is the logic that this will somehow make poverty disappear? That's hardly the case. Anywhere from Pentagon City, Virginia, where I currently reside, to Silver Spring, Maryland, homeless people have set up camp, a symptom of the lack of available public housing and unending wait lists for homeless shelters. And figures show that D.C.'s homeless population is getting bigger, having quadrupled since 2008.
Even with these facts and figures, developers argue that residents of low-income households are less likely to move from improved neighborhoods than from other communities; this due to new features including parks, grocery stores and improved security. But many times these amenities are too expensive and drive out those that can't keep up with rising rent and property taxes. Rent in D.C. doubled between 2000 and 2010 and the city is no stranger to redlining, a longstanding hindrance to affordable housing all too present and all too ignored.
Supporters of gentrification claim that the benefits outweigh the consequences. So neighborhoods become safer, cleaner and nicer.
But for whom?
The perception is that those that benefit from gentrification are the well-off. Many say new and improved neighborhoods serve the "rich, non-minority newcomers" more than the residents of said community.
And perception is reality.
The undeniable truth, though, is that gentrification is here to stay. So the question is not how do we avoid the inevitable, but rather how do we ameliorate its negative effects?
Undoubtedly, the government should take the biggest share of responsibility for ensuring that people of all income levels have dignified communities to live in by adopting measures such as rent control policies and property tax caps.
But the rest of us can also do something.
Newcomers should actively support businesses that are historic to where they live, thus helping to preserve their neighborhood's roots. Community members must protect their rights by making sure they are included in zoning and housing committees and by demanding that improvements that come into their neighborhoods be affordable for all. New businesses should also take responsibility. When possible, they should stock up on local products and hire people from the area. Those are just a few of the things we can do to ensure we are contributing to socially just communities.
That day in The Coffee Bar I didn't know enough to answer those kids. I still don't know enough. At the end I suppose the answer is, "it depends who you ask."
What I do know is that the problems faced by those that have been displaced by gentrification in D.C. are all too real. Everyone from the Anacostia bridge to Dupont and in between deserves to live in respectable, affordable and inclusive communities and we should all contribute to making that a reality.